Archive: July, 2009
Jeff McLane, Inquirer Staff Writer
It's official. Sean McDermott will be introduced as the Eagles defensive coordinator tomorrow at 1 p.m. news conference. The Eagles released a statement this morning, although The Inquirer broke the story yesterday.
McDermott had been named the interim DC in May after Jim Johnson resumed cancer treatments. The 35-year-old McDermott was the secondary coach and before that the linebackers coach. He has been with the organization for over a decade and worked under Johnson's tutelage for years.
McDermott played college football at William & Mary and is a product of La Salle High School in surburban Philadelphia.
Bob Brookover
With Brian Westbrook recovering from ankle surgery and a lot of inexperience behind the star running back, there are some who believe the Eagles should sign one of those veteran running backs still standing in the unemployment line.
The Eagles do not share that point of view.
"We're a little inexperienced, but at this point at running back we think we have some real quality people there," Eagles president Joe Banner said today. "We expect that we're going to go into camp and the guys we have are going to put us in a good position to be successful. Running back is one of those positions where younger players can step in and have success."
Bob Brookover
The Eagles announced this afternoon that standing-room only tickets for the eight regular-season games at Lincoln Financial Field will go on sale Thursday at 10 a.m. A limited number of tickets will be available online at Ticketmaster.com or Ticketmaster's charge-by-phone line at 1-800-745-3000. The cost is $55 and there is a limit of four per person. More information is available at philadelphiaeagles.com.
Jeff McLane, Inquirer Staff Writer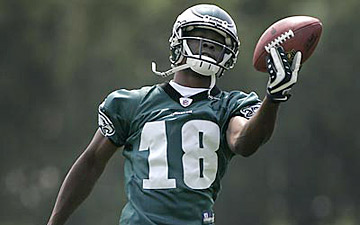 Eagles rookie wide receiver Jeremy Maclin is the team's only unsigned draft pick with training camp less than a week away. But there isn't anything to worry about, at least according to Maclin's agent, Jim Steiner.
The Eagles and Steiner, who also represents former Eagles safety Brian Dawkins, had preliminary discussions last week and "negotiations should intensify in the middle to latter part of this week," Steiner said today.
Maclin, the No. 19 overall pick, isn't the only first round selection without a deal. In fact, only two No. 1 picks have been signed -- quarterbacks Matthew Stafford (Detroit) and Mark Sanchez (N.Y. Jets) -- as of this writing. The entire roster of second round picks hasn't been nailed down with deals either, although Eagles running back LeSean McCoy was inked to a contract last month.
Jeff McLane, Inquirer Staff Writer
It's never too early to bet on football -- right, all you gambling degenerates? -- especially if you want to get half-decent odds on who will win the Super Bowl.
The early betting line from sportsbook.com gives the Eagles 11-1 odds of winning Super Bowl XLIV. The New England Patriots are the favorites at 4-1. Eagles' NFC East rivals the N.Y. Giants are 9-1, with the Dallas Cowboys 12-1. Here are the odds on some other teams:
Pittsburgh Steelers, 15-2.
Indianapolis Colts, 11-1.
San Diego Chargers, 12-1.
Minnesota Vikings, 15-1.
Chicago Bears, 16-1.
Tennessee Titans, 16-1.
Arizona Cardinals, 20-1.
New Orleans Saints, 20-1.
Washington Redskins, 25-1.
Miami Dolphins, 28-1.