Archive: June, 2012
Jonathan Tamari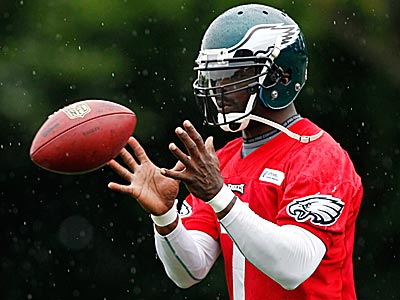 By now, it has been written over and over: the Eagles don't have a chance this year unless Mike Vick stays healthy and protects the football. But no matter how much the issue has already been discussed, questions keep coming and Vick today sounded frustrated by the subject.
"I really don't think I need to discuss what type of game I'm going to play. It's going to be what it's going to be. It seems like the questions are becoming repetitive and I'm tired of answering it because the only thing we can do is wait and see if I'm going to play a more disciplined game," Vick said after practice. "There's not too much more to say or to talk about."
The questions arose today after Vick was asked about protecting himself in a recent WIP interview, sparking a new round of radio talk about the issue.
Jeff McLane, Inquirer Staff Writer
He said, "Doc, I want to live long enough to see the Eagles win another championship."
My grandfather winced. He said this for my benefit. I knew the Eagles weren't top on his list of favorite sports teams, but he had remembered I covered the team. It sounded like the right thing to say for a Philadelphia sports fan battling age and science.
He asked the doctor for two more years. He got three weeks. He sucked the marrow out of 96 years of living.