Archive: March, 2010
Jeff McLane, Inquirer Staff Writer
The clock is still ticking for the Saints, who have until 11:59 p.m. Tuesday to match the Eagles' offer for running back Mike Bell.
A restricted free agent, Bell signed an Eagles' offer sheet on Tuesday that would pay him $1.7 million, with $500,000 guaranteed, over one year. New Orleans had seven days to match, but all signs seem to be pointing to it not doing so.
The Times-Pacayune reported yesterday that there was only an "outside chance" that the Saints would match. They tendered Bell at the lowest level -- $1.176 million -- and would receive no draft-pick compensation were they not to match the offer.
Jeff McLane, Inquirer Staff Writer
If Darryl Tapp is as good a player as he is a nice man, the Eagles may have found themselves their next great defensive end.
Of course, being "nice" has nothing to do with being a good football player.
Tapp met with the local media today at the NovaCare Complex, not long after he signed a three-year extension. The Eagles acquired Tapp on Tuesday after they traded defensive end Chris Clemons and a fourth-round pick to Seattle in exhange for the 25-year-old.
Jeff McLane, Inquirer Staff Writer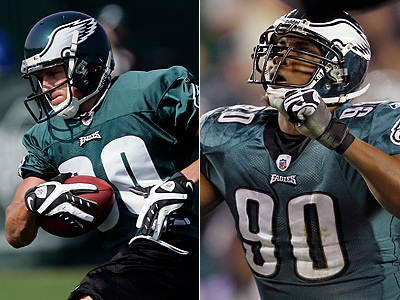 The Eagles continue to release aging players with expensive contracts.
To no surprise, the team announced today that it has cut wide receiver Kevin Curtis and defensive end Darren Howard.
Curtis, 31, was due to earn a $1.1 million roster bonus in early June. The 33-year-old Howard was slated to earn a $1 million bonus today. Curtis' 2010 base salary was to be $3.4 million; Howard's $3.5 million. Curtis was signed through 2012. Howard had a contract that expired in 2011. Of course, contracts aren't guaranteed in the NFL.
Poll: What should the Eagles have done?

(2140 votes)
Jeff McLane, Inquirer Staff Writer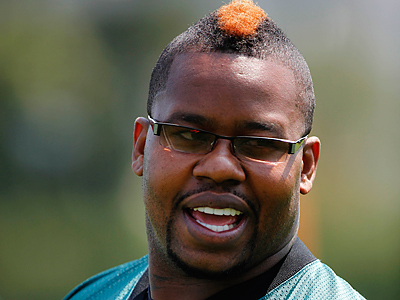 The Eagles have released offensive lineman Shawn Andrews, the team announced today.
"We appreciate the efforts and contributions of Shawn while he was here," coach Andy Reid said in a statement. "We have, however, decided to move in another direction."
Andrews, who has been in Southern California rehabbing his back, wrote on his Twitter account, "Bye, Bye Birds ......" He also wrote that he plans on continuing to play football.
Jeff McLane, Inquirer Staff Writer
Mike Bell might not fit perfectly into the Eagles' offense or their template for a running back. But he's very good at what he does and the things that maybe he hasn't done much of, and the Eagles need him to do, he says he can do.
"I think that me catching the ball will open it up for me in the run game," said Bell, who wasn't asked to catch the ball much in New Orleans. "And I can catch the ball if you go back and watch the tapes."
Of course, Bell isn't exactly an Eagle yet. He signed their offer sheet yesterday, but the Saints have six days remaining to match the Eagles' one-year, $1.7 million deal. Bell, who said he had no preference for either team, had no idea which way his old team was leaning.
Jeff McLane, Inquirer Staff Writer
The Eagles won't match the Titans' offer for free agent defensive end Jason Babin, according to a team source.
Even though Babin is an unrestricted free agent, the Eagles put a clause in his contract that allowed them to match any offer within seven days. Tennessee offered a one-year, $1 million contract for the 29-year-old.
The Eagles acquired Babin during training camp last season and he eventually worked his way into the end rotation. In 12 games, he recorded 20 tackles and 2.5 sacks.
Jeff McLane, Inquirer Staff Writer
As interesting as it is to try and decipher Shawn Andrews on Twitter, here are some excerpts from an interview he had today with 97.3-ESPN in Atlantic City:
ON FINDING OUT HE WAS RELEASE BY THE EAGLES:
"Sometimes when you expect things it doesn't hurt as much. It was just a matter of when. I knew it was going to happen, or had a feeling. I look at things, I'm a realist. I knew it was going to happen sooner or later because they went to their lengths with me."
ON THE LONG-TERM CONTRACT HE SIGNED:
"I was kind of the laughingstock around the NFL. Guys were like, 'Man, your deal is crappy.' ... I was looking for security vs. the long term. I wasn't trying to break the bank."
Jonathan Tannenwald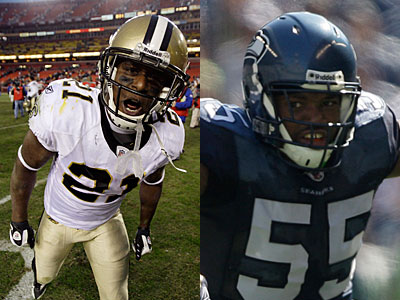 Join The Inquirer's Jeff McLane for a live chat about the Eagles at noon Wednesday.