Archive: December, 2009
Jeff McLane, Inquirer Staff Writer
EAST RUTHERFORD, N.J. -- Jeremy Maclin was listed as active for for tonight's showdown with the Giants. The wide receiver was questionable with plantar fasciitis in his left foot, but has been cleared to play. DeSean Jackson is also set to go. He was held out last week after suffering a concussion the week before against the Redskins.
Kevin Curtis travelled with the team -- probably as a precaution -- but the wide receiver will not dress, as expected. Curtis has missed the last 11 games because of a knee injury.
Brian Westbrook is out for his fourth straight game. The running back practiced some this week but is still not ready to come back from a second concussion.
Jeff McLane, Inquirer Staff Writer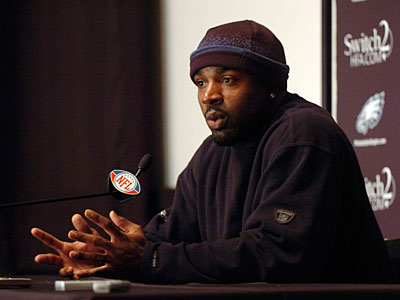 Eagles running back Brian Westbrook has been ruled out for Sunday's big game at the Giants, coach Andy Reid said today. Westbrook is still recovering from a second concussion he suffered last month and will be re-evaluated next week, Reid said.
Westbrook did practice all week, but it was with the scout team. He is wearing a new helmet, Reid said, one with more padding. Asked if there were any significant differences between the new helmet and the old, Westbrook said, "It's a lot bigger."
Jeremy Maclin, meanwhile, returned to practice after missing the previous two with plantar fasciitis. The wide receiver is listed as questionable but Reid said he is expected to play. Kevin Curtis is also listed as questionable. The wide receiver has missed the last 10 games and had arthroscopic knee surgery in October. Reid said Maclin's condition had nothing to do with Curtis' upgraded status. Still, Curtis will travel with the team and would be there just in case Maclin's foot flared up or if DeSean Jackson (concussion) had another headache.
Jeff McLane and Bob Brookover
Eagles rookie wide receiver Jeremy Maclin walked around the locker room in a protective boot this morning as he continues to recover from plantar fasciitis.
Maclin is also expected to sit out of practice for the second straight day, but offensive coordinator Marty Mornhinweg said he believes the rookie will be ready and at full speed for Sunday's game against the New York Giants.
"Oh, yeah, I think he'll be fast," Mornhinweg said.
Bob Brookover and Jeff McLane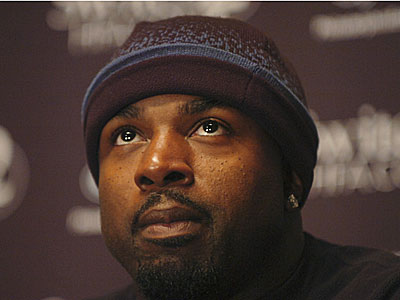 Eagles running back Brian Westbrook said today that his goal is to play again this season, but it appears highly unlikely that his return from a second concussion will come Sunday against the New York Giants.
"Yeah, that's my hope, to get back out there and play," Westbrook said. "I think all the signs right now are aiming toward being able to play before the end of the season."
Coach Andy Reid said the Eagles wanted to "ease" Westbrook back into things and that started this afternoon with him running plays for the scout team.
Poll: Should Brian Westbrook play again this season?

(1190 votes)
Jeff McLane, Inquirer Staff Writer
Although it is sure to change throughout the week, Andy Reid did not rule out any of his active players for Sunday night's tilt at the Giants -- not even Kevin Curtis.
According to the Eagles coach, DeSean Jackson, Jason Peters, Akeem Jordan, Brian Westbrook and Curtis -- the oft-injured wide receiver -- are still eligible to suit up in a pivotal NFC East matchup in New York. Still, it's hard to imagine that happening.
Peters was being evaluated today after he suffered a head and shoulder injury in the Eagles' 34-7 win over Atlanta on Sunday. Reid wouldn't call the injury a concussion. In fact, he never said the word when asked about the left tackle's injury.
Bob Brookover
The vendors outside the Georgia Dome this morning were selling more leftover merchandise from yesterday's Florida-Alabama SEC championship game this morning, but there was one t-shirt on sale that was affiliated with today's NFL game between the Eagles and Atlanta Falcons.
Vick Ball.
No idea how they were selling, but this was the first time on any road trip this year that you found a favorable atmospher for the Eagles' seldom-used quarterback.
Jeff McLane, Inquirer Staff Writer
Wide receiver DeSean Jackson and linebacker Akeem Jordan will not play in Sunday's game at Atlanta, Eagles coach Andy Reid said today.
Jackson and Jordan join running back Brian Westbrook (concussion) and wide receiver Kevin Curtis (knee) on the list of casualties that will not make the trip to Atlanta.
Jackson, who suffered a concussion last game against the Redskins, hasn't practiced all week. In light of Westbrook's two concussions and the increased glare on concussions in the NFL, in was a long shot that Jackson would be cleared to play this week. Reid said the team was still awaiting results from the receiver's lastest test.
Bob Brookover
Eagles defensive coordinator Sean McDermott said he expects to have defensive tackle Brodrick Bunkley for Sunday's game against the Atlanta Falcons, but the status for linebacker Akeem Jordan remains unclear.
Bunkley did not practice Wednesday after suffering a sprained ankle Sunday against Washington. Jordan, meanwhile, worked with the scout team Wednesday for the first time since being sidelined by a hyperextended injury late in the Eagles' Nov. 8 game against Dallas.
Jordan said before this afternoon's practice that he anticipated running with the scout team again today.