Archive: November, 2012
Jeff McLane, Inquirer Staff Writer
The highs and lows from the Eagles' seventh straight loss, a 30-22 defeat to the Panthers on Monday night:
Nick Foles
DOWN -- In a season full of disappointment, the latest has been back-to-back uninspiring performances from the rookie quarterback. Any evaluation on Foles' future has to come with the caveat of playing behind a rotten line. But he has not looked like the answer to the Eagles' quarterback problem.
Jeff McLane, Inquirer Staff Writer
JEFF MCLANE
Record, 3-7.
Week 12: Any hopes the Eagles had of winning the NFC East – as miniscule as they are – were dashed when the 7-4 N.Y. Giants trounced the Packers, 38-10, Sunday night. Last week, several players spoke about that chance as something to hang their hats on. A Giants loss coupled with an Eagles victory would pull them to within two games of the division leaders. With games against all three divisional rivals still remaining – the 5-6 Cowboys next Sunday, the 5-6 Redskins three weeks later and the season finale against the Giants – there would be some hope.
But the Eagles missing the playoffs is now all but academic. Most fans have moved on anyway, already looking ahead to a likely coaching search and the draft. Only three other teams, by the way, have less wins than the Eagles through Sunday's games – the 1-10 Chiefs, the 2-9 Jaguars and the 2-8 Panthers. If the Birds lose tonight, they will have as many wins as the Raiders, Browns and Panthers.
Zach Berman, Inquirer Staff Writer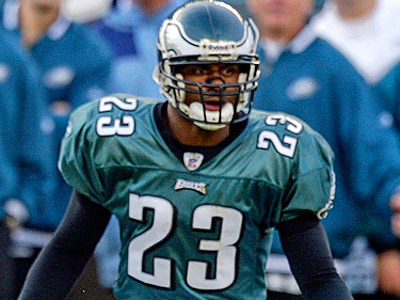 Troy Vincent was once in the situation of the current Eagles, who are 3-7 and playing for a coach who will likely be fired by season's end. In fact, one of the few reasons to cheer in Monday's game against the Carolina Panthers will be the induction of Vincent and Leo Carlin into the Eagles Hall of Fame at halftime.
"I was once there, Ray Rhodes' last year, we were 3-13," said Vincent, who was a key player in Andy Reid's early years. "You knew there was going to be change. And as a player you have to embrace that change. It's out of your control who's going to coach you next. You take it as your responsibility to discuss those things with your teammate and embrace whoever that new individual is.
"It's not a good time to walk out there before that kickoff when people are booing, the bags are out. They knocked down my mailbox when we were living in Yardley, they must have vandalized my house every single day until we had to put up a brick mailbox. That's part of it. Once change was made, we won some football games, the city embraced us."
Jeff McLane, Inquirer Staff Writer
Aside from the four injured players that were already listed as out -- quarterback Michael Vick, running back LeSean McCoy, wide receiver Jason Avant and running back Chris Polk -- the Eagles did not dress defensive end Phillip Hunt, offensive lineman Nate Menkin and wide receiver Greg Salas.
Nick Foles will make his second straight start at quarterback in place of Vick (concussion). Rookie Bryce Brown will make his first career start filling in for McCoy (concussion). And Riley Cooper will be the Eagles' third receiver with Avant (hamstring) sidelined.
As expected, rookie defensive end Vinny Curry was active for the first time this season. The Eagles have five defensive ends active -- Trent Cole, Jason Babin, Darryl Tapp and Brandon Graham are the others -- with Curry up.
Jeff McLane, Inquirer Staff Writer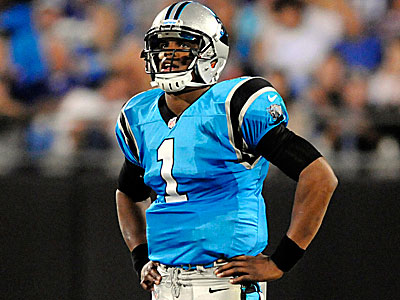 Panthers wide receiver Steve Smith labeled Monday night's lowdown between 2-8 Carolina and the 3-7 Eagles the "Battle of the Bads."
What once looked like a meeting between new-school and old-school multifaceted quarterbacks has fizzled into a game of survival for the coaches of both teams.
Andy Reid and Ron Rivera both appear to be on their way out, but a victory might at least hold off the charge for one week (or not). Rivera was once a defensive assistant under Reid, as was Panthers defensive coordinator Sean McDermott, whom Reid fired two seasons ago.
Jeff McLane, Inquirer Staff Writer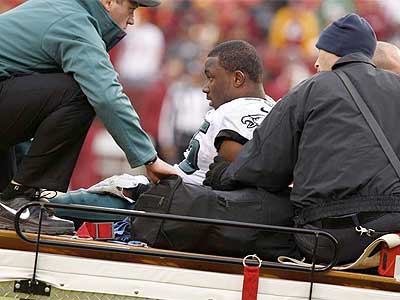 Michael Vick and LeSean McCoy, as expected, were listed as out for Monday night's game against the Carolina Panthers.
Vick and McCoy are both recovering from concussions and still have several steps to take before they can be cleared to return. Vick, who suffered his concussion on Nov. 11 against the Cowboys, is now in Phase 3 of the Eagles' 5-Phase protocol, head trainer Rick Burkholder said Saturday.
Burkholder said that he expected Vick to move onto Phase 4 tomorrow, which would involve football activity and Vick possibly throwing the football.
Zach Berman, Inquirer Staff Writer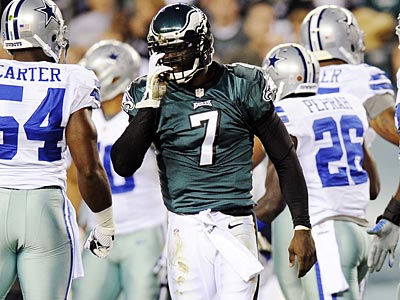 Quarterback Michael Vick, running back LeSean McCoy, wide receiver Jason Avant and running back Chris Polk have all been ruled out for Monday's game against the Carolina Panthers. Some other quick notes from Andy Reid:
- Bryce Brown will start at running back. Dion Lewis will also mix in. Stanley Havili and Damaris Johnson can also line up at running back.
- Brandon Boykin will likely start off at kick returner, with other potential options after him. Boykin was benched last week for Bryce Brown, but Brown will now start.