Archive: October, 2010
Jeff McLane, Inquirer Staff Writer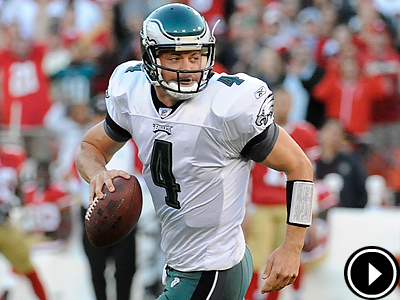 Video: If Kolb performs well next week, will Andy Reid name him as the starter? Was Dunta Robinson's hit on DeSean Jackson an illegal one? The Inquirer's Jeff McLane answers these questions and more.
Jonathan Tannenwald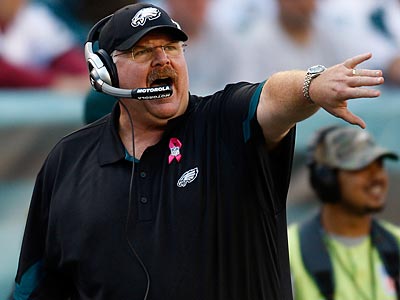 Join The Inquirer's Jeff McLane for a live chat about the latest Eagles news at 1 p.m.

On a mobile phone? Click HERE to join the chat!
Jonathan Tamari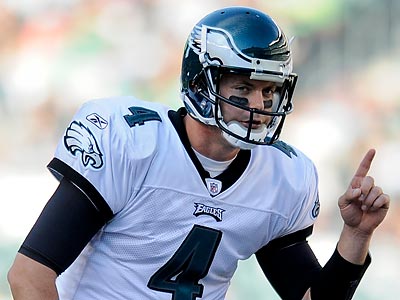 Kevin Kolb looks likely to start Sunday at Tennessee. Head coach Andy said it would be a "reach" for Michael Vick to recover enough to play this week.
"There's a pretty good chance Kevin's the guy this week," Reid said.
Vick is still coping with pain and a limited range of motion due to torn cartilage in his ribs.
Jonathan Tamari
DeSean Jackson was sensational before taking a vicious hit and leaving the game, Kevin Kolb looked his best yet and the Eagles defense once again stopped the run in a first half full of stories.
And that doesn't even get to Michael Vick's absence from the sidelines. The Eagles lead 21-7.
The biggest issue in terms of potential long-term impact is Jackson, who had 78 total yards of offense, including a 31-yard rushing touchdown and 34-yard receiving score in just over one quarter of work.
Jeff McLane, Inquirer Staff Writer
Michael Vick will be the emergency third quarterback for today's Eagles-Falcons game at Lincoln Financial Field.
In spite of that, he arrived late for pre-game warm-ups. His late arrival, however, was approved by Eagles coach Andy Reid, according to a team spokesman.
Vick was not on the sidelines for the start of the game, nor was he expected to be there for the remainder of the game even though the third quarterback normally dresses.
Jeff McLane, Inquirer Staff Writer
The Eagles will not trade quarterbacks Michael Vick or Kevin Kolb before Tuesday's NFL trade deadline, according to a team source.
Last month after he benched Kolb in favor Vick, Eagles coach Andy Reid could not definitively say that Kolb would not be dealt before the deadline. But a lot has changed since Reid made his infamous decision.
Vick injured his ribs against the Redskins in Game 4 and has not played since. Kolb, in his place, has played splendidly, especially in the last two games. He has guided the Eagles to two straight wins, including Sunday's 31-17 pasting of the Atlanta Falcons.
Jonathan Tamari
(OK, maybe not really "rapid," but we're trying something new, so please bear with us).
Quick reactions to the Eagles 31-17 win.
What it means: Several Eagles said after the game they saw this week as a "measuring stick," an acknowledgment that they had yet to beat a heavy-hitter. Well, they measured up. The Eagles dominated a playoff contender and at 4-2 are tied for best record in the NFC.
Jonathan Tamari
The Eagles played a complete game in their 31-17 win Sunday, burying a Falcons team that looked very good coming into the week.
It was perhaps their most impressive performance to date. Only the 28-3 victory at Jacksonville comes close.
The only real worry is DeSean Jackson, who left the game after taking a vicious hit in the second quarter. He was electric in the first half, racking up 78 total yards and two touchdowns in about 15 minutes of work. Kevin Kolb looked his best yet, completing 79 percent of his passes and hitting on three touchdowns against just one interception. We'll see what Andy Reid has to say about his quarterbacks shortly.