Archive: January, 2010
Jeff McLane, Inquirer Staff Writer
Dave Spadaro will not be reprimanded for his videotaped spit on the Dallas Cowboys' star, according to an Eagles spokesperson.
Spadaro, editor of philadelphiaeagles.com and a team employee, will attend Saturday's playoff game at Cowboys Stadium, site of where he spat twice on the iconic midfield star.
Eagles coach Andy Reid was asked to comment on the spit.
Bob Brookover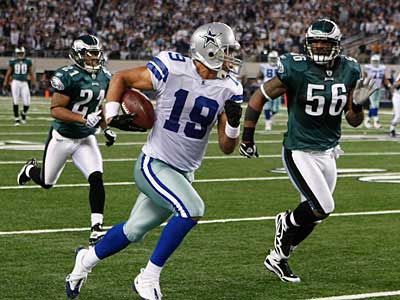 Fresh off a 24-point loss in which they failed to score, the Eagles know they need to do something different in their Saturday night rematch with the Dallas Cowboys.
It's far more likely that personnel changes for this game will be made on defense rather than offense.
Rookie linebacker Moise Fokou has started the last two games at strongside linebacker and received the majority of playing time at that position in the last three games. But Fokou said today that he is splitting reps at that position this week with Chris Gocong, who had been the team's primary strongside linebacker the last three seasons.
Jeff McLane, Inquirer Staff Writer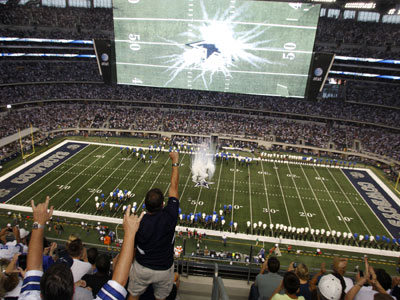 Apparently, Terrell Owens isn't the only person to have disgraced the Dallas Cowboys' star.
Dave Spadaro, editor of philadelphiaeagles.com and an employee of the Eagles, videotaped his spitting on the centerfield star at Cowboys Stadium on Sunday before the Eagles played the Cowboys. The video was posted on the Web site, but was taken down sometime today.
Dallas media outlets picked up on the video and one – 105.3 "The Fan" -- posted it on its Web site. Here's the link.
Jeff McLane, Inquirer Staff Writer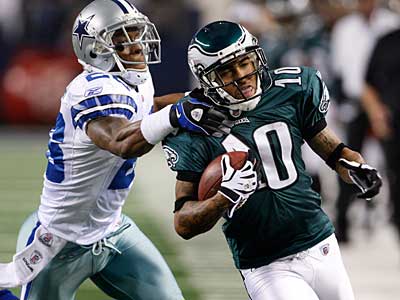 Donovan McNabb and DeSean Jackson apparently cleared the air over McNabb's "youth" comment and Jackson's response to that comment on his radio show Monday night.
"Whatever his comment was about, I didn't hear the question he was asked," Jackson said today. "We talked and, you know, it's nothing big. We just got to keep it in-house and stick together as a team. Don't let things like that break us up. We talked about it, cleared it up and it's alright."
FROM EARLIER
Bob Brookover
Andy Reid said Friday that Michael Vick would be the second quarterback after missing the last game against Denver with a bruised quad muscle.
But when the inactives came out this afternoon, Vick was listed as the third quarterback, which means you won't be seeing the Wildcat package with the quarterback in the Eagles' showdown with the Dallas Cowboys today.
The other mild surprise among the inactives was safety Quintin Demps, who will miss his second straight game with a sprained ankle. Demps had hoped to return kickoffs today, but that role will likely go to wide receiver Jeremy Maclin with Macho Harris as the reserve.
Jeff McLane, Inquirer Staff Writer
For the first time in quite some time, Andy Reid didn't have to update the media on the status of his injured players the Friday before a game. The Eagles are about as healthy as they can be heading into Sunday's showdown at Dallas.
Yes, center Jamaal Jackson is out and that has brought about its own concerns, but Reid doesn't have to worry about any of the players on his active roster being any less than probable for the Cowboys. Quarterback Michael Vick practiced for the second straight day and is ready to go despite a quadriceps bruise. He will be the No. 2 quarterback, Reid said.
"He's feeling good. He practiced today," Reid said. "We have a couple things in for him. I look forward to getting him back in there and playing."