Archive: August, 2012
Zach Berman, Inquirer Staff Writer
Updated Reid quote at 2:18 p.m.
Brian Westbrook started his retirement ceremony on Wednesday by thanking a building full of supporters, ranging from team owner Jeffrey Lurie to head coach Andy Reid to the trainers to the public relations staff to those who serve food in the cafeteria. Nearly seven minutes of thank yous included his eight seasons in Philadelphia, his career at Villanova and his life growing up in the Washington area.
"When I think of myself, I think of Brian Westbrook from Fort Washington, Maryland, to DeMatha, injuries, to Villanova, injuries, to Philadelphia, injuries," Westbrook said. "All the good news, all the bad days, a third-round pick that was too small, would only be a special teams player, to an All-Pro, to a two-time Pro Bowl selection, to a franchise player in total yards from scrimmage. It's been a great ride, and I thank all you people and everyone who's been here every step of the way.
Jeff McLane, Inquirer Staff Writer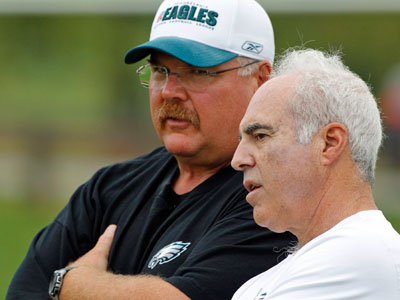 Jeffrey Lurie will hold his annual state of the Eagles press conference tomorrow at 4 p.m. at Lincoln Financial Field before his team hosts the New York Jets in the preseason finale.
The owner was originally scheduled to meet with reporters on Aug. 5 during training camp, as usual. But on that morning Andy Reid's son, Garrett, was found dead in his Lehigh University dorm room. The Northampton County Coroner has not yet released an official cause in the death of Garrett Reid.
Lurie spoke briefly after the Eagles' afternoon practice that day, about Reid's loss and the coach's devotion to the team and desire to return. Reid missed only two days of practice and was back with the Eagles three days after his son's death.
Poll: Who is the better backup quarterback?

(1616 votes)
Zach Berman, Inquirer Staff Writer
QUESTION OF THE DAY
What was your favorite Brain Westbrook moment? Comment and discuss below.
FROM THE INQUIRER
Jeff McLane, Inquirer Staff Writer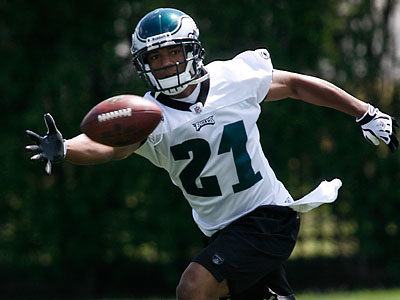 When it's all said and done and the Eagles trim their roster to 53 on Friday there will end up being only a few players on the bubble that won't make the team. But that won't stop us from guessing who stays and who goes. Here are the most likely players to be teetering on that bubble with arguments for and against. I'll have my final 53-man projection in Thursday's Inquirer (or here at philly.com).
QUARTERBACK
Mike Kafka
Poll: Who is the better backup quarterback?

(1616 votes)
Zach Berman, Inquirer Staff Writer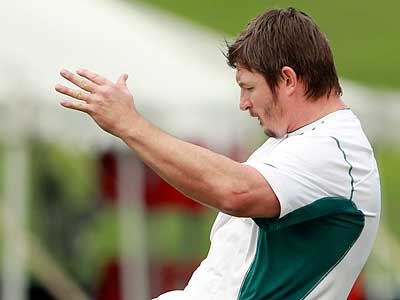 Updated at 4:43 p.m.
Eagles punter Mat McBriar has not yet been released, but he has lost the competition to Chas Henry. McBriar will not punt in Thursday's game against the Jets, although the Eagles did not release him yet.
FROM EARLIER
Poll: Who is the better backup quarterback?

(1616 votes)
Jeff McLane, Inquirer Staff Writer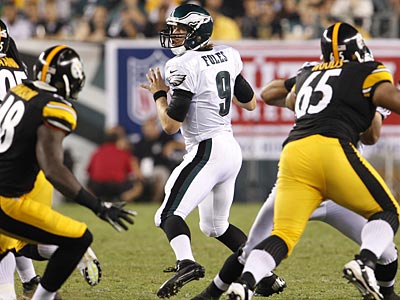 Andy Reid confirmed what many Eagles fans had hoped: Nick Foles is his backup quarterback.
"He's in that position right now," Reid said Tuesday.
There are a few qualifiers to Reid's statement. First, Mike Kafka, currently listed second on the depth chart behind Michael Vick, will not play in Thursday night's preseason finale against the New York Jets. So, technically speaking, Foles is the No. 2 because he will start against the Jets.
Zach Berman, Inquirer Staff Writer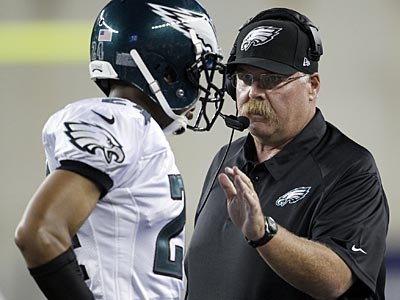 The Eagles' final preseason game against the Jets on Thursday won't feature many players. Here's what to expect:
- Safety Nate Allen, Defensive end Jason Babin, linebacker Casey Matthews and wide receiver Riley Cooper have been ruled out. Allen has a hamstring spasm.
- Mike Kafka is not expected to play, which could hurt his chances of making the roster.
Zach Berman, Inquirer Staff Writer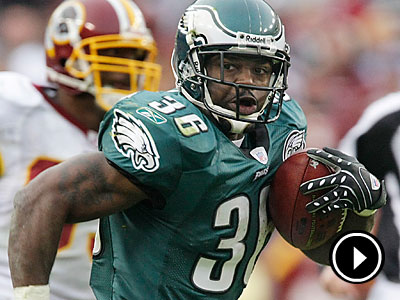 One of the top running backs in Eagles history, Brian Westbrook will retire with the Eagles on Wednesday. He will also be honored at halftime of the Dec. 23 game against the Redskins.
Westbrook played 107 games in eight seasons from 2002-2009. He is second in team history in rushing yards with 5,995 and third in receptions with 426 and total touchdowns with 68.
"I will always remember Brian for the electrifying, game-changing plays he made during his great career in Philadelphia," team owner Jeffrey Lurie said in a statement. "He was one of those players you knew could score from anywhere on the field and one of the most exciting players I have ever watched. He was a great runner, receiver and returner and was certainly a fan favorite. We are thrilled to have him retire as an Eagle and we look forward to honoring him at Lincoln Financial Field on December 23 against the Redskins in what should be a very exciting atmosphere."