Archive: July, 2010
Jonathan Tamari and Jeff McLane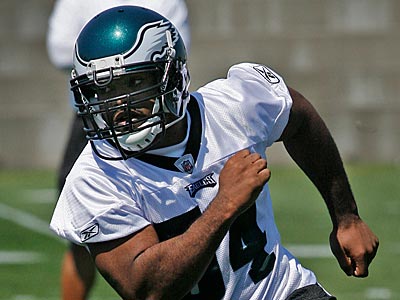 The Eagles and Brandon Graham, the first round pick expected to bolster their pass rush, have agreed to terms on a five year contract, the team said Thursday night.
Graham, a defensive end taken 13th overall in April's draft, is expected to report to Eagles training camp at Lehigh University on Friday and could participate in the first full team practice of training camp, scheduled for 3:30 p.m., if his signing goes as planned. Financial terms of the deal were not disclosed.
"It feels good, because I really wanted to get to training camp and Coach (Andy) Reid really wanted me to get to camp and now it's time to show them why they picked me," Graham said in comments provided by the team. The Eagles traded three draft picks in order to move up and select the Michigan product in the draft. "I have a lot of work to do, but I'm ready to go."
Jeff McLane, Inquirer Staff Writer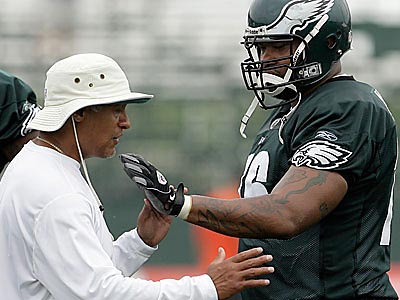 BETHLEHEM, Pa. -- It's good to know Andy Reid isn't worried about Stacy Andrews.
Because everyone else seems to be anxious about the Eagles right guard.
"I'm very comfortable with Stacy right now," Reid said Wednesday after morning practice at training camp. "I think he'll be fine. I think he's healthy and strong and understands what we're asking. I'm not too worried about Stacy."
Jeff McLane and Jonathan Tamari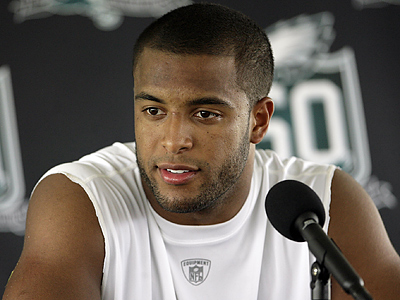 BETHLEHEM, Pa. -- It wasn't exactly a smooth start for Eagles safety Nate Allen.
He missed the first day of training camp while contract negotiations dragged out. Then, with a deal close (and already announced by the team), last minute haggling prevented him from signing until around 2:30 Wednesday morning. Working off less than four hours sleep, he dropped the first ball lobbed his way in warm ups, and owed his team some push ups.
"It was kind of a wake up call, I guess you could say. Just don't drop the ball," Allen said.
Jonathan Tamari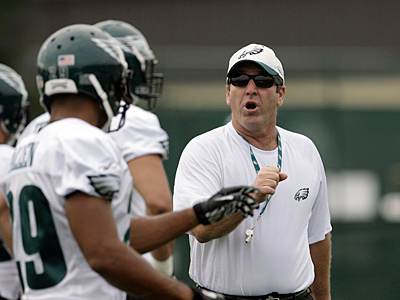 Special teams coach Bobby April is easily among the most entertaining people in the Eagles organization. He was teaching kick off returns today, and spent several minutes stressing a particular formation he wanted his blockers to use. Then, as the eager rookies prepared to fall back into their spots, he had Ken Parrish dribble out an onside kick, catching the return team completely off guard.
April was making a point: nothing else matters if the team gives up the ball to a surprise onside kick. No matter how eager the blockers are to set up a return, they need to watch the ball go over their heads before rushing back to position.
"They can end up with egg on their face if they don't do what they're supposed to do first," April said.
Jonathan Tannenwald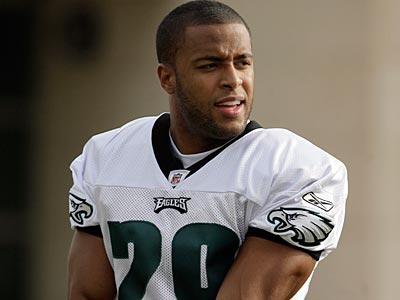 Join The Inquirer's Jeff McLane for a live chat about Eagles training camp today at 1 p.m.
Jonathan Tamari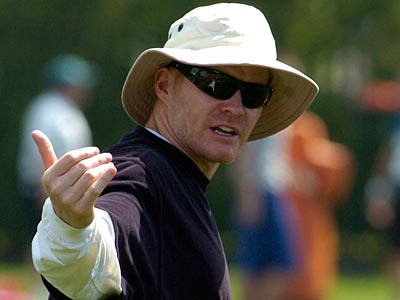 After a year marred by poor tackling, Eagles defensive coordinator Sean McDermott said he is going back to basics in the early days of training camp 2010.
"If you don't tackle well, and we didn't tackle well last year, you don't win football games on defense," McDermott said Tuesday after the first practice of training camp.
"I think when you're trying to build the way we're trying to build it on defense, with the youth that we do have, it's important that we start day one with fundamentals," he said. "It's not a sexy term for you guys to report about – we're going to work on tackling, we're going to work on getting off blocks, we're going to work on catching the football, scooping the football when there's a ball on the ground. That's what wins football games."
Jonathan Tamari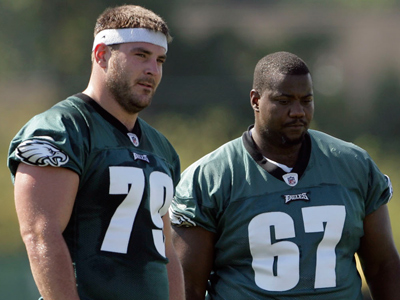 Eagles Guard Todd Herremans said he doesn't expect to play in the Eagles' first pre-season game, Aug. 13, but added that he is not very worried about the foot injury that kept him out of June practices and has him on the sidelines of training camp, at least for now.
"The goal is to be ready for the regular season," Herremans said today after rookies and selected veterans held their first practice of camp. "I plan on getting some snaps in the pre-season."
Asked if he would do that in the first pre-season game, though, Herremans said "I doubt it."
Jeff McLane, Inquirer Staff Writer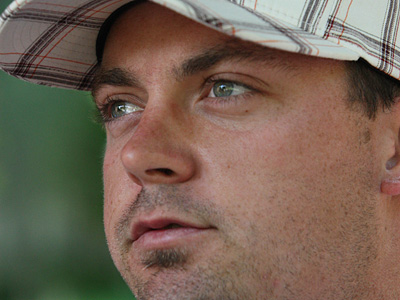 BETHLEHEM, Pa. --
On the day before his first training camp as the Eagles' starting quarterback Kevin Kolb received a large number of phone calls and messages with best wishes.
But one text message stood out. Kolb heard from the man he's replacing -- Donovan McNabb.
"He told me to take one practice at a time and be patient," Kolb said Tuesday following the first practice of training camp. "And I said, 'Yeah, I hear you. It's a long season.' That's what I was saying before. You kind of get caught up in the whole realm of the whole season and whatever expectations. Just take it one practice at a time at this time of year and that will help you get a lot better."