Archive: July, 2009
Bob Brookover
Brian Westbrook's second day of on-the-field rehab work here at Lehigh University consisted of a football game.
It just wasn't the kind of football that has made Westbrook an NFL star. In fact, the Eagles' running back looked quite uncomfortable when team trainer Rick Burkholder introduced him to a soccer ball during this afternoon's rehab workout.
Burkholder, a former soccer player at the University of Pittsburgh, put Westbrook through several different soccer-related drills that require the kinds of foot skills that seem foreign to someone who has never played the game. Eventually, the two men even played a one-on-one soccer game with two cones about 10 yards apart serving as the goals.
Jeff McLane, Inquirer Staff Writer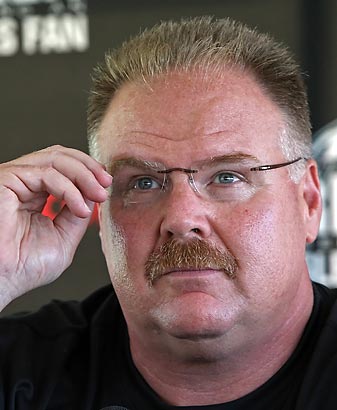 BETHLEHEM, Pa. -- Who is that svelte man patrolling the practice fields of Eagles training camp? Sean McDermott? Ted Daisher? Todd Pinkston? No. No. And no. It's your head coach, Andy Reid. OK, I might be exaggerating a tad here, but Big Red has dropped as much weight as a young lad.
Reid told espn.com that he lost approximately 75 pounds in the last three months using the Medifast plan. Andy looked thinner during minicamps in the spring, but the weight loss has become more pronounced with the start of training camp. He still self-admittedly has a ways to go, and said he'd like to shed 75 more.
A few years back, Reid lost a ton on the L.A. Weight Loss plan. But T.O., family strife and a few down seasons caused him to gain it all back. I'm not sure, but I think L.A. Weight Loss went out of business. I'm fairly sure it dropped Reid as a spokesman before it went down the tubes, so to speak.
Bob Brookover
Another morning workout has been completed without rookie wide receiver Jeremy Maclin taking part today.
Jim Steiner, the St. Louis-based agent who represents Maclin, said Monday night that he felt "some progress" had been made in his talks with Eagles consultant Andrew Brandt, but a team source painted a different picture earlier this morning.
"I guess if you go from ridiculous to slightly less ridicculous you can call that real progress," the source said.
Jeff McLane, Inquirer Staff Writer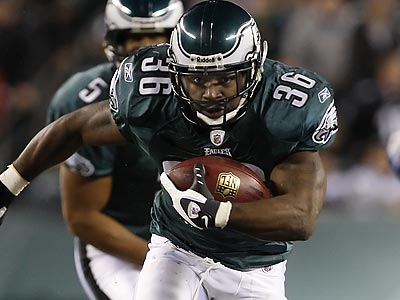 BETHLEHEM, Pa. -- Brian Westbrook made his first public appearance of training camp. The injured running back is rehabbing with trainer Rick Burkholder this afternoon as the rest of the reporting players work on special teams.
Westbrook, who is unable to practice as he recovers from off-season surgery, worked out on the field adjacent to where regular practice was being held. He ran gingerly as Burkholder led him through various exercises. He also did a varying number of stretches -- the kind you would expect an athlete that was recovering from ankle surgery to do. Later in his workout, Westbrook ran sprints alongside his trainer. I'd say he looks good, but who really knows?
Westbrook had bone spurs removed from his right ankle in June. Coach Andy Reid said yesterday that he expects his starting RB to return to practice by the middle of August. Still, there are many variables that could keep the oft-injured Westbrook away longer.
Jeff McLane, Inquirer Staff Writer
BETHLEHEM, Pa. -- I can't imagine how ESPN managed to alter its NFL power rankings being as that there hasn't been a single game played since they last ranked the teams two months ago, but here they are. The Eagles remain at No. 4 behind the Patriots, Steelers and Giants.
Why should we care? I don't know. Men love lists, right? What are your top ten favorite top ten lists (e.g. Top Ten Martin Scorsese movies. My take: 1. Raging Bull, 2. Mean Streets, 3. Age of Innocence, 4. Goodfellas, 5. The Last Waltz, 6. The Last Temptation of Christ, 7. The Color of Money, 8. The Departed, 9. Casino, 10. After Hours)?
While you're thinking that over, here's espn.com's list:
Bob Brookover
Donovan McNabb likes the changes the Eagles made this offseason, but he wasn't about to parrot team president Joe Banner's declaration that the best roster in football is practicing here at Lehigh University this summer.
"We have a lot of young faces and a lot of new faces," McNabb said. "For me to sit here and say, 'We're a Super Bowl team and we're going to win the Super Bowl,' I don't believe in all that. That's something at the end of the year we'll find out. I think we have a great team and we have some great athletes here, but we've got to put the pieces of the puzzle together. If we can do that, hopefully we can write our own ticket to Miami and finish this thing off. You have to give guys a chance to develop into the offense and the schemes they've been drafted into."
McNabb was asked if Banner's comments put pressure on the players and coaching staff.
Jeff McLane, Inquirer Staff Writer
Join Inquirer Eagles writer Jeff McLane for a live chat today at 11:30.
Jeff McLane, Inquirer Staff Writer
BETHLEHEM, Pa. -- As of his 5 p.m. press conference, Andy Reid said that Jeremy Maclin had yet to be signed to a contract. Of course, that means the No. 1 draft pick of the Eagles has not yet reported for training camp here at Lehigh University. Players cannot practice until they are under contract.
"He hasn't signed yet," Reid said. "We'll see how things go through the day here. We feel close on a couple of areas. We need to get closer on a couple of other areas."
Maclin, the No. 19 overall pick out of Missouri, has until tomorrow morning before actual practices begin. A message left with Maclin's agent Jim Steiner was not immediately returned.
Bob Brookover
Thanks to Les Bowen's computer aide, I'm going to be able to blog the same thing he just blogged here at Lehigh University, where we're watching rookies, selected veterans and two notable former players check into their dorm rooms
As training camp moments go, the rookie reporting date is always a special one. Who will have a hyperbaric chamber? Will Jeremy Maclin report with the other rookies? Will we have to dodge a violent thunderstorm?
The most notable veteran to check in so far was guard Stacy Andrews, who is here early after spending the offseason rehabilitating from surgery to repair a torn anterior cruciate ligament in his right knee.
Jeff McLane, Inquirer Staff Writer
Sean McDermott was formally introduced as the new defensive coordinator for the Eagles today at the NovaCare Complex. The secondary coach, who had carried the interim tag since May, replaces long-time coordinator Jim Johnson.
Johnson is currently in a battle with cancer and had taken a leave in May just after the draft. The 68-year-old coach, who had guided the defense under head coach Andy Reid since 1999, hovered over the news conference.
"Both Sean and I are both sensitive to this situation with Jim and the battle that he is continuing with melanoma," Reid said. "I have been contact with both Jim and Vicky [Johnson's wife]. They fully support this situation with announcing Sean."