Archive: May, 2010
Jeff McLane, Inquirer Staff Writer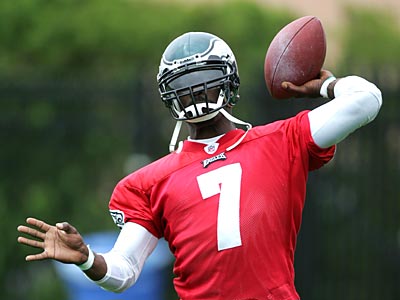 A year ago May 21, Michael Vick was released from federal prison after an 18-month stay on dogfighting crimes.
The Eagles quarterback is still not back to being a starter in the NFL.
"Being a competitor you always want to start," Vick said Monday, his first day participating with rookies and selected veterans during organized team activities. "I know in my future that's there for me. I'll be a starter in this league again. Right now I'm just having fun honing my skills.
Jonathan Tamari
On Wednesday, at Redskins Park, the team made it clear that it is looking to Donovan McNabb to be a leader on a team that has struggled for some time now.
"Donovan, he's not a big yeller, but it means a lot to him, it's important to him," said Redskins' offense coordinator Kyle Shanahan. He said McNabb has been "grinding" to learn the team's new offense, and that fellow players know that they have to follow his lead.
McNabb said he was working hard – quizzing himself on the playbook, taking film home – but said it would take time and patience.
That's something many in Philadelphia ran out of, but that McNabb may have in Washington. While McNabb was the face of the Eagles from 1999 on, the Redskins in that same period, they have started at quarterback: Brad Johnson, Tony Banks, Jeff George, Shane Matthews, Patrick Ramsey, Danny Wuerffel, Mark Brunell, Jason Campbell and Todd Collins.
Center Casey Rabach said McNabb's experience was "what we desperately needed on offense, was for a quarterback to come in here and be a leader and play to a high caliber."
Rabach said McNabb had been welcomed by the team, which he said enjoys his sometimes playful nature.
Asked about reports that a Redskin had used HGH, McNabb cracked, "was my name mentioned? You know, I've been recently losing weight."
Later Artis Hicks, a onetime Eagle teammate, approached from the back of the press corps and shouted, "how do you feel about the recent hair loss over the last couple of years?" McNabb smiled.
- Jonathan Tamari
Jeff McLane, Inquirer Staff Writer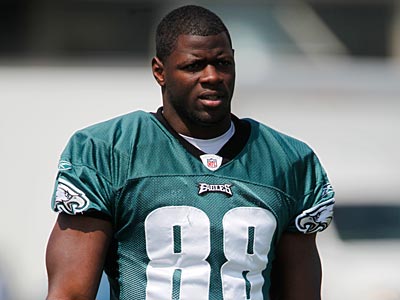 There's a deja vu feeling to watching Cornelius Ingram practice during Eagles OTAs.
A year ago, the rookie tight end was recovering from a torn ACL that he had suffered the previous August. This year, Ingram is trying to come back from the same injury to the same knee that occurred in the same month last summer during training camp.
But there is one notable difference, Ingram said after Thursday's session.
Jeff McLane, Inquirer Staff Writer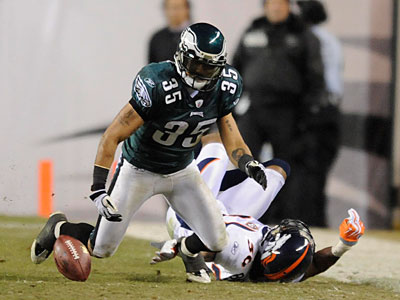 At minicamp two weeks ago, Macho Harris was the starting free safety. But that was about as "penciled in" as a player can get.
Marlin Jackson, who the Eagles acquired in the off-season, wasn't practicing because of the torn ACL he suffered in October. And rookie Nate Allen, the Eagles' No. 2 pick in the draft, was held out because of a nagging quadriceps strain.
Apparently, the Eagles coaches got their erasers out between then and now.
Jonathan Tamari
Gov. Rendell is still an Eagles fan, but he told the website Politico that he intends to root for Donovan McNabb and the Redskins in the playoffs – because he doesn't expect the Birds to make it without their longtime quarterback.
"They're going to be in it, and we're not," Rendell told the site's Ken Vogel, according to a blog post from fellow Politico writer Ben Smith.
The comment came at the end of an interview about the tea-party. Rendell was asked about his thoughts on the McNabb trade.
"It's be careful what you wish for," the former Philadelphia mayor said.
He added, "I'll tell you this, Donovan's going to be great for the Redskins."
Smith wrote that the comments are "another sign that Ed Rendell has become even more unencumbered by political considerations during his waning months in office." He is barred by term limits from running again for governor, almost certainly ending his elective political career in Pennsylvania.
Jeff McLane, Inquirer Staff Writer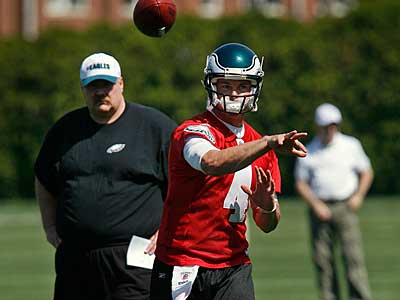 The Inquirer's Jeff McLane takes your questions about the Eagles in a live chat at 10 a.m.
Inquirer Staff Report
The Redskins have invited former Eagles running back Brian Westbrook for a visit Wednesday, according to numerous reports.
The Redskins already have Clinton Portis, Willie Parker and Larry Johnson
in their backfield already.
Westbrook would be reunited with former teammate Donovan McNabb.
Jonathan Tannenwald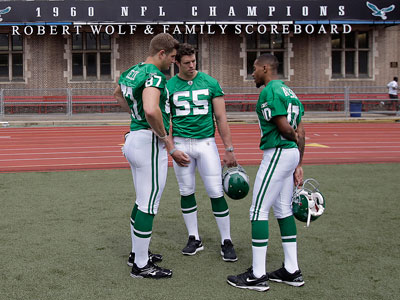 The Inquirer's Jeff McLane takes your questions about the Eagles in a live chat at noon.