Archive: May, 2009
Jeff McLane, Inquirer Staff Writer
Yes, it's probably way to early for this kind of thing, but espn.com unleashed its first power rankings for the 2009 season. And where do your Eagles rank? If you read the headline, you know by now. ESPN's NFL bloggers have the Birds at No. 4 behind the Steelers, Patriots and Giants. Sounds rather optimistic.
Here's their take on the Eagles:
"With the additions of Jeremy Maclin, Jason Peters and LeSean McCoy, this should be one of the top offenses." Should.
Jeff McLane, Inquirer Staff Writer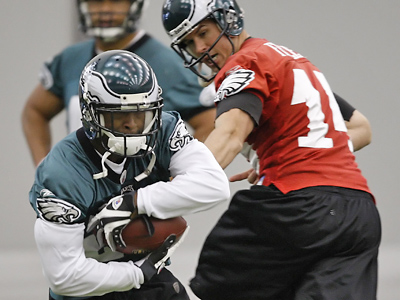 Eagles rookies and an assortment of veterans gathered today for the start of another set of OTAs -- or Organized Team Activites for those who hate acronyms.
There were three more veterans at the NovaCare Complex than there were for last week's rookie minicamp. Running back Lorenzo Booker, cornerback Ellis Hobbs and defensive tackle Dan Klecko were in the house (practice was held inside because of a light rain). Of the 83 players on the current roster, 46 were in attendance, according to your humble reporter.
Booker is obviously trying to make an impression with rookie LeSean McCoy penciled in as the No. 2 tailback behind Brian Westbrook. The third-year pro, however, said that he's in camp early partly to help Shady. "Even though I'm not getting reps, I'm able to help LeSean," Booker said. "That's really what my role is, as well as Brian's, for the OTAs. It's not like we're out here trying to learn the offense. For us, installing the base package is like watching the paint dry."
Jeff McLane, Inquirer Staff Writer
"Next agent!"
Cardinals wide receiver Anquan Boldin has reportedly ditched super(annoying)agent Drew Rosenhaus. Team Boldin has tried its best to force a trade or get a new contract this off-season to no avail. Obviously, Rosenhaus, who may have spent too much time on Twitter, has paid the price.
You gotta love Drew's response: "Regarding Anquan Boldin, let me say that I have great respect for him. I'm hopeful we can work this out and he can return to the Rosenhaus Sports family in the near future. We are proud to continue to represent his brother, D.J. Boldin. We would also like to take this opportunity to announce that we have signed Will Allen to a 2-year contract extension with the Dolphins worth $16.2 million. We are pleased to announce today that we have re-signed New Orleans Saints tight end Jeremy Shockey [to a representation agreement]."
Jeff McLane, Inquirer Staff Writer
Two of Jim Johnson's acolytes are sending their best wishes to the Eagles defensive coordinator who is undergoing another round of treatment for a metastasized tumor near his spine. Johnson was granted an indefinite leave by the Eagles earlier this week as he starts another session of chemotherapy, and Brian Dawkins and John Harbaugh are pulling for the 67-year-old defensive wizard.
"I left Jim a little text message yesterday, 'We need to talk about quarters coverage. We've got some questions that have come up,'" Harbaugh said Tuesday at Ravens passing camp, according to USAToday. "I need to find out what Jim thinks."
Harbaugh, now the head coach in Baltimore, worked alongside Johnson as the Eagles special teams coach for nine seasons and one season under him as the Birds' secondary coach. Harbaugh said talking strictly about football will help keep Johnson's mind off the cancer.
Bob Brookover
With Donovan McNabb off until the Eagles hold their next full-squad camp next month, Kevin Kolb is the team's top quarterback this week and next at these rookie camps that also include some selected veterans.
After the Eagles went through their paces Wednesday, Kolb, beginning his third season in Philadelphia, drew a crowd of reporters and offered some honest opinions about his status as the No. 2 quarterback on the roster.
Apparently it was a slow news day because some people thought it was earth-shattering news when Kolb confessed to being "a little bit antsy" about becoming the Eagles' full-time No. 1 quarterback.
Bob Brookover
Cornelius Ingram didn't play a single down for the University of Florida's national champion football team last season, but when it came time to visit President Barack Obama at the White House last month, the players and coaches felt as though the Eagles' rookie tight end was the best man to present a football and jersey to the commander in chief.
"No one even batted an eye when that decision was made," Florida coach Urban Meyer said earlier today during a phone interview. "Everybody was thinking it might be (Tim) Tebow or (Brandon) Spikes, but C.I. was so respected among the players that everybody was fine with that."
Ingram missed his senior season after suffering a torn anterior cruciate ligament during a summer practice and spent the entire season rehabilitating from his injury. He said he was honored that he still got to make the presentation to the president.
Jeff McLane, Inquirer Staff Writer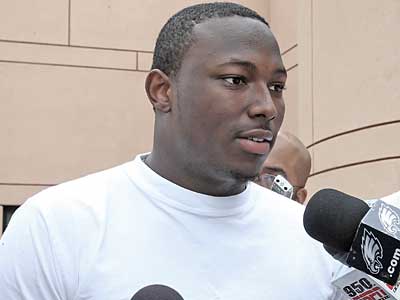 LeSean McCoy may be out of college, but the Eagles rookie running back is getting his learn on, as they say. The second-round draft pick has spent the last few weeks immersed in the Eagles' offense and will spend the better part of the next month studying the playbook. Whether McCoy can grasp the scheme will go a long way in determining how much playing time he'll see (cough, hack, Ryan Moats, hack, cough).
McCoy answers that question, plus a few others, during a brief chat after Wednesday's minicamp.
Is the offense coming quickly?
I wouldn't say quickly because I have my mess ups, my mistakes. I'm human. But I think I'm learning better than the average rookie because being kind of familiar with a lot of the stuff they do here [from his days at Pittsburgh]. It's just they word it different.
Bob Brookover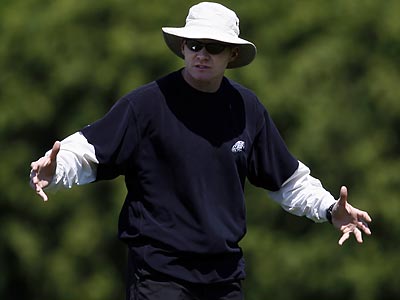 The Eagles open a rookie camp this morning with local good guy Sean McDermott standing in for Jim Johnson as the defensive coordinator. The hope and prayers here are that legendary good guy Johnson returns soon having conquered cancer.
The possibility exists, however, that McDermott will be the Eagles' defensive coordinator in 2009. During a lengthy conversation with Ike Reese, the former Eagles linebacker and current 610 WIP host raised some interesting points about the prospect of somebody other than Johnson working as the team's defensive coordinator.
This was Reese's most interesting point: "Andy has always trusted Jim with doing it. He had the luxury of trusting Jim's experience. There's nobody coaching the defense now that gives him that luxury. That means Andy is going to have more of a role with the defense. There's automatically more on his plate. To what degree, I don't know."