Archive: April, 2012
Jeff McLane, Inquirer Staff Writer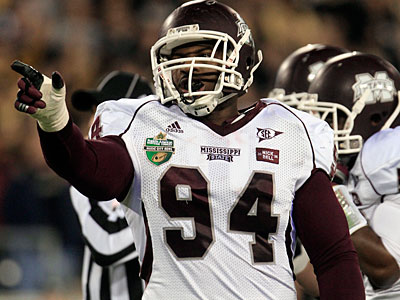 Click here for Jonathan Tamari's mock draft.
From Jeff McLane:
1. Indianapolis Colts: Andrew Luck, QB, Stanford.
Jonathan Tamari
Who won and who lost in the first round?
Winners:
Eagles: The Eagles got a defensive tackle who should fit immediately in their attack-minded front four and, if he pans out, will be the quarterback menace you need in the pass-happy NFL. Somewhere, Jim Washburn is in a dark, isolated room playing death metal and drawing up new plays.
Jeff McLane, Inquirer Staff Writer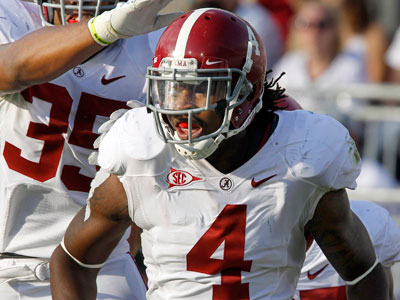 Back by popular demand (OK, one reader asked for it) it's the Fourth Annual Not-so Fearless Forecast of what the Eagles may do in the draft. Here's the hook: rather than try and predict what they might do over the next three days, I'll give you the top ten things I think the Eagles won't do.
Two years ago, I hit the mark, more or less, on eight out of ten. Last year, my batting average went down and it was only six out of ten. (Best predictions: The Eagles won't draft a linebacker before the third round; quarterback and wide receiver won't be addressed. The worst: The Eagles will not draft a kicker. Oops.)
Jeff McLane, Inquirer Staff Writer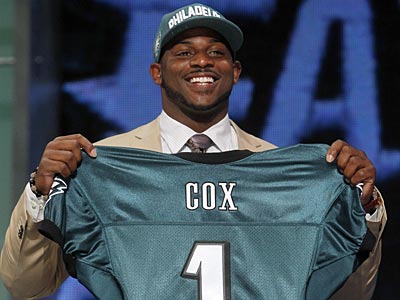 Jim Washburn LOVES Fletcher Cox.
"He's such a good athlete," Washburn said not long after the Eagles selected the Mississippi State defensive tackle Thursday night in the NFL draft. "I told Andy [Reid] when I came back from working him out in Starkville, [Miss.] he's the biggest 296 pounder I've ever seen."
Cox goes 6-foot-4, 296 pounds. He'll play defensive tackle for the Eagles, but he can line up anywhere on the line, Reid said.
Jonathan Tamari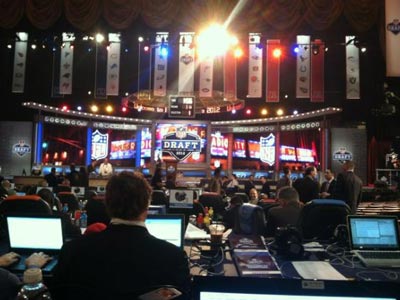 NEW YORK —The Eagles rivals are getting aggressive early. Dallas traded up from the 14th pick overall to grab the best cornerback in the draft tonight, landing LSU's Morris Claiborne with the sixth pick in the draft.
The Cowboys sent their first round pick and second (45th overall) to the Rams in the deal.
In grabbing Claiborne, Dallas got a player who will be expected to improve a Cowboys pass defense that ranked 23rd in the league a year ago.
Jonathan Tamari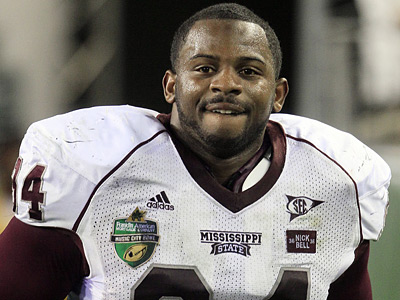 I've probably written more words this week about things that might or might not happen than at any other time in my reporting career. Buried somewhere in that analysis was a point a tried to come back to, one probably obscured by an avalanche of my own speculation. So, hours before the draft kicks off and we can start talking about what actually does happen instead of what might, here is my last word on what, to me, would make for a successful first round for the Eagles: go aggressive, and go big for defensive difference-maker.
To me, the first choice would be a defensive tackle such as Fletcher Cox, because defensive linemen can have such an impact on every single snap, especially when it comes to pressuring the top-flight quarterbacks you need to beat to get to a Super Bowl. Cox would seem to fit with exactly what the Eagles want to do up front; that's why I have the Eagles trading up for him in my mock draft. Even if he didn't start immediately, the Eagles play all of their defensive linemen in their high-energy rotation and he could be a terror for years to come.
But only the Eagles really know what they think of Cox compared to the other prospects on the board, and if there is another stud they like better – be it cornerback Stephon Gilmore or one of the draft's many edge rushers or safety Mark Barron – and they can get him at 15, great. But if it takes a move up to get a defensive playmaker near the top of the team's board, go get him. Find someone who can stand out in coverage or as a pass rusher against Eli Manning and Drew Brees and Aaron Rodgers and Cam Newton and Robert Griffin, III.
Jonathan Tamari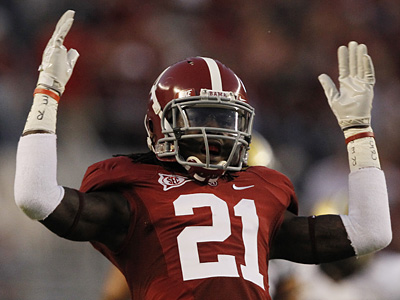 With the trade of Asante Samuel, the Eagles will complete a purge of recent starting cornerbacks, moving away from the smaller group that once manned the defensive backfield and toward a roster of cover men with the rare and increasingly important blend of speed and height.
It's a trend that the Eagles embraced last offseason, one that coincides with a rising number of big receivers around the league and that we could very well see continued when the Eagles make their first round pick Thursday.
If Stephon Gilmore (6-foot) or Dre Kirkpatrick (6-2) are there when the Eagles choose at 15, and Fletcher Cox is off the board, don't be surprised if the Eagles add to their stable of big cornerbacks who can play physical, press coverage. Gilmore has risen farther in many analysts' eyes, but Kirkpatrick was more noted for his physical play in college and ability to press wide receivers at the line of scrimmage.
Philly.com Sports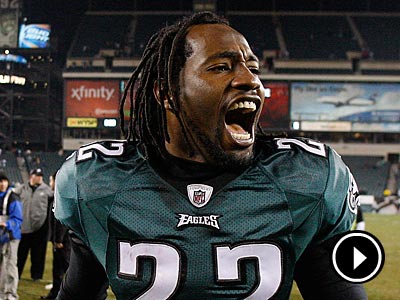 Video: The Eagles sent Asante Samuel to the Falcons. Jeff McLane of the Inquirer discusses the move with CineSport's Noah Coslov and The Atlanta Journal-Constitution's D. Orlando Ledbetter.