Archive: April, 2011
Jonathan Tamari
Philadelphia fans might like this: in his hockey days, new Eagle Danny Watkins was known as something of a goon.
"I was a defenseman, but in the later half of my career I was, the, I don't know what the word is, I was the designated goon, I suppose you could say," Watkins said, drawing laughter.
His father, Todd, spent a long time talking to reporters about his son's days playing hockey as he grew up in British Columbia. He described a defenseman who laid out his opponents – even his local friends – and was constantly being whistled for roughing, not because he was dirty, but because he was so big that every hit crushed the other guys.
Jonathan Tamari
Video: The Inquirer's Jonathan Tamari and CineSport's Noah Coslov take a look at the Eagles first round draft pick, Baylor offensive lineman Danny Watkins.
Jeff McLane, Inquirer Staff Writer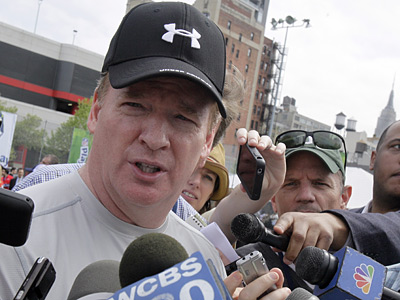 As of Friday morning 8 a.m. the Eagles will be permitted to contacts players and allow them full entry into their facilities, according to a statement from the NFL.
As for whether the Eagles can make trades or sign free agents, that issue appears still be in question.
Here's the full statement released by the league:
Jeff McLane, Inquirer Staff Writer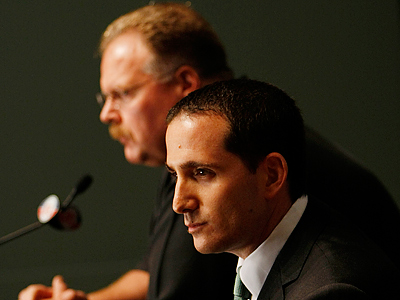 Back by popular demand (OK, one reader asked for it) it's the Third Annual Not-so Fearless Forecast of what the Eagles may do in the draft. Here's the hook: rather than try and predict what they might do over the next three days, I'll give you the top ten things I think the Eagles won't do.
Last year, I hit the mark, more or less, on eight out of ten. (Best prediction: Eagles will take only one offensive player in first five picks. They actually didn't grab one until their sixth pick. Worst: Eagles will trade down before they trade up. Oops.)
Based upon conversations with the Eagles and around the league, analysis of past drafts, reading the lines on Andy Reid's forehead and whatever Mike Mayock says, here are my anti-predictions:
Jeff McLane, Inquirer Staff Writer
When can Kevin Kolb be traded?
That seemed to be the No. 1 question on the minds of Eagles fans and around the NFL on Thursday after U.S. District Judge Susan Richard Nelson denied the owners' request for a stay Wednesday night.
The lockout has been lifted, and the owners are incrementally scheduling the order of league business. But it appears as if the first day the Eagles could potentiallytrade their backup quarterback won't come until Monday.
Jeff McLane, Inquirer Staff Writer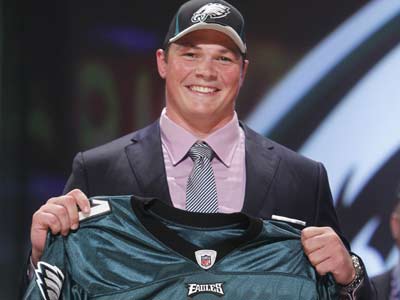 Despite a number of holes on defense, the Eagles addressed the offensive line and Michael Vick's protection when they selected 26-year-old Danny Watkins of Baylor in the first round of the NFL draft.
Watkins has only played tackle but projects as a guard in the pros, although Eagles coach Andy Reid said Thursday night that Watkins could play anywhere on the line. Reid said that the 6-foot-3, 310-pound lineman could step in and start immediately at either guard spot.
"We felt he was as good a football player as there was in the draft," Reid said at the NovaCare Complex. "It's not a glamour position, but it's a position that is crucial to us. He's got a toughness and a blue collar attitude."
Jeff McLane, Inquirer Staff Writer
1. Carolina Panthers: Cam Newton, QB, Auburn.
2. Denver Broncos: Von Miller, LB, Texas A&M.
3. Buffalo Bills: Blaine Gabbert, QB, Missouri.
Jeff McLane, Inquirer Staff Writer
A month ago, the general consensus was that the Eagles would take either an offensive lineman or a cornerback in the first round of the draft. However, with one day left until the draft the ever-shifting mock draft winds are drifting towards the Eagles taking a defensive end.
Ron Jaworski agreed. The former Eagles quarterback and current ESPN talking head has his former team selecting Wisconsin defensive end J.J. Watt with the 23d overall pick. Many have him going a little earlier. If so, Jaworski thinks the Eagles will take Iowa defensive end Adrian Clayborn. He isn't the only one.
"I love this kid," Jaworski said. "What he did to the Gabe Carimi kid from Wisconsin [also projected to go in the first round] in the pass rushing game. Well, I looked at that tape and I went, 'Wow.' This kid almost humiliated Carimi in that game he was beaten up that bad. He did get blocked a little bit by Carimi in the running game. But as a pass rusher I thought Clayborn was outstanding."