Archive: February, 2013
Zach Berman, Inquirer Staff Writer
INDIANAPOLIS -- Tom Gamble's departure from the San Francisco 49ers to the Eagles to become Howie Roseman's deputy as vice president of player personnel was notable not only because of the magnitude of the move -- Gamble is well regarded as a personnel evaluator -- but also the timing of the move.
Losing a key executive one week before the NFL Scouting Combine, when teams are already deep in their offseasons plans, is uncommon. But 49ers general manager Trent Baalke said Thursday at the Combine that there was "a lot that went into that decision" and it was not as simple as leaving one organization for another.
"It was a chance for him to go home," Baalke said. "It certainly is a difficult time ot lose somebody, especially of Tom's caliber. But at the same time, sometimes in life, you have to make those decisions. And you have lto left people go home. It was something that him and I talked about for over a year. And it came up again. Through those discussions, we were able to allow that to happen. Tough timing, obviously, but I think both sides feel good that the decision was made."
Zach Berman, Inquirer Staff Writer
INDIANAPOLIS -- If the Eagles switch to a 3-4 defense, it's expected that Fletcher Cox and Mychal Kendricks will be able to adjust. But there are more questions about other players on the roster.
One of the key positions is nose tackle. Antonio Dixon, who is 6-foot-3, 322 pounds and 27 years old, would seem a potential candidate for the spot. Eagles general manager Howie Roseman sounded confident on Thursday that Dixon could play that spot.
"I don't think any question about it," Roseman said. "That's his skill set. He has good use of his hands. He's a run stopper. He's what you're going to look for if you're going to look for a nose tackle."
Poll: Which QB fits best in Chip Kelly's system?

(3378 votes)
Zach Berman, Inquirer Staff Writer
INDIANAPOLIS -- Whether the Eagles are trying to raise the price or are genuinely excited about Nick Foles, both coach Chip Kelly and general manager Howie Roseman were outspoken in their support for the second-year quarterback
"I want to coach Nick and I want to get a chance to spend time with him and see him," Kelly said. "I've said it before, I was a big fan of his – the way he plays the game, his toughness, his ability to throw the ball very accurate. So hopefully I get a chance to get him out on the practice field and we can see what Nick has."
Kelly also said there have not been any internal discussions about trading Foles. Foles has been linked to the Kansas City Chiefs, where Andy Reid coaches. Reid said Foles is a member of the Eagles, and noted that Roseman drafted Foles, too.
Jeff McLane, Inquirer Staff Writer
INDIANAPOLIS – Conclusions should not be drawn from Chip Kelly's and Howie Roseman's lukewarm endorsement of Nnamdi Asomugha on Thursday at the NFL Scouting Combine.
Neither the Eagles coach nor the general manager came out and said that they had no interest in keeping the 31-year-old cornerback or at least at his projected $15.5 million salary for 2013. But the Eagles' brain trust – especially Kelly, who has already lavished praise on certain players – did not give the indication that Asomugha will be part of the team's plans moving forward.
Kelly, who said he had finished watching most of the tape of the Eagles from last season, was asked what he thought of Asomugha after viewing his segment of plays.
Poll: Which QB fits best in Chip Kelly's system?

(3378 votes)
Jeff McLane, Inquirer Staff Writer
When the Eagles announced last week that Tom Gamble was leaving the 49ers to become the Eagles' vice president of player personnel, the obvious question was why?
Why would Gamble take a job that was in essence a lateral move, and leave a franchise that has had great recent success for a team that was starting over with a new head coach and from near bottom?
Gamble, who spoke to a handful of Eagles reporters today on the phone, admitted that his situation in San Francisco was great. But he said the allure of returning to the first NFL team he worked for, and to the area that he was raised proved too much to resist.
Philly.com sports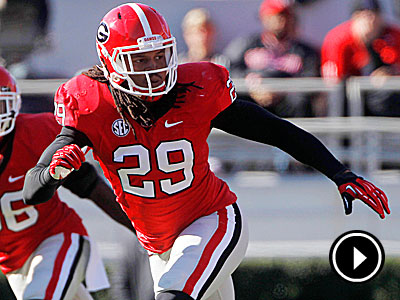 Video: NFL teams descend upon the NFL Scouting Combine to evaluate talent. The Inquirer's Zach Berman breaks down who the Eagles could target.
Philly.com sports
Join the Inquirer's Zach Berman as he takes your Eagles questions in a live chat, beginning Tuesday at 1 p.m.
On a mobile device? Click HERE to join the chat!
Zach Berman, Inquirer Staff Writer
It's been five years since Dennis Dixon played for Chip Kelly when Kelly was the offensive coordinator at Oregon, so the new Eagles quarterback does not know entirely what to expect from the new Eagles coach. But he knows enough about Kelly to feel strongly about how Kelly's fast practices and innovative mind will fare in the NFL.
"If everybody buys into what Chip Kelly is selling, the sky's the limit," Dixon said Monday.
Whether Dixon figures into those plans remains to be seen. Dixon must first fight for a roster spot, then fight for a starting job. The other quarterbacks on the Eagles roster are Michael Vick, Nick Foles, and Trent Edwards.