Archive: December, 2012
Zach Berman, Inquirer Staff Writer
By ZACH BERMAN
Eagles wide receiver Jeremy Maclin returned to practice on Friday after missing Thursday's practice. Maclin tweaked his knee on his Wednesday, but his return is a finale that he'll likely play in the season finale against the New York Giants.
The same cannot be said for linebacker Mychal Kendricks and defensive tackle Fletcher Cox, both of whom missed all week with concussions. Tight end Evan Moore also missed Thursday and Friday's practice with back spasms.
Jeff McLane, Inquirer Staff Writer
JEFF MCLANE
Record, 7-8.
Week 17: Before the season I wrote the following about the Eagles' chances in 2012:
"I see a 9-7 record at best. That's better than 8-8 – the low bar Jeffrey Lurie set for Andy Reid– but it's not a "substantial improvement." I've felt all along that Reid needs to get to the playoffs and win at least one game, perhaps two, to be back in 2013. I know there are a lot of skeptics that think Lurie doesn't have the stones to cut the cord. A 9-7 mark and missing the playoffs will make it easy."
Philly.com Sports
The Eagles are preparing for their final game of the season, which may be Andy Reid's last game as head coach. The Inquirer's Jeff McLane reports from the NovaCare Complex.
Zach Berman, Inquirer Staff Writer
The narrative of what is likely Andy Reid's final game will be discussed in Philadelphia all week -- just not by Reid. As has been the case all season, Reid did not discuss the potential for his final game.
"I'm spending my time getting ready for New York," Reid said. "Want to make sure we play well, play better than we've been playing and coach better and play better. So, that's really where my energy's gone."
When asked specifically about whether he thinks it's his final game, Reid said, "I haven't gone there." And he said it's not a problem to think that way.
Philly.com sports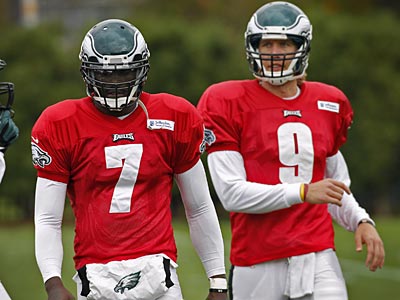 Join the Inquirer's Zach Berman as he takes your Eagles questions in a live chat on Thursday at 10 a.m.
On a mobile device? Click HERE to join the chat.
Zach Berman, Inquirer Staff Writer
Merry Christmas and Happy Holidays from The Inquirer's Eagles writers. Here are the stories from the day...
FROM THE TUESDAY INQUIRER
- The latest twist in the Eagles' quarterback drama brings Michael Vick the starting job.
Zach Berman, Inquirer Staff Writer
Nick Foles has a hairline fracture in his right hand and will not play Sunday against the New York Giants, Andy Reid announced Monday. Michael Vick is expected to start in Foles' place.
"There's a pretty good chance Michael will be the starter," Reid said. "That's the direction I'm going, as we speak right now."
Foles suffered an injury right before halftime and played the entire second half with the injury. It was believed to be a contusion before he underwent an MRI on Monday.
Poll: Is Nick Foles the QB for 2013?

(7918 votes)