Archive: December, 2008
Inquirer Sports
From Eagles press release:
The Eagles today announced FS Brian Dawkins and CB Asante Samuel were named to the NFC Pro Bowl squad.
In his 13th season in Philadelphia, Dawkins joins Hall of Famers Chuck Bednarik and Reggie White as the only three players in team history to earn seven Pro Bowl selections. Bednarik was selected eight times, while White made seven Pro Bowl appearances during their Eagle careers. In 2008, Dawkins has recorded 123 tackles, including nine for a loss, four forced fumbles, two sacks, one interception, one fumble recovery and 11 passes defensed. Last night, Dawkins played in his 181st career regular season game, passing Harold Carmichael for the franchise record, and is currently tied with Eric Allen and Bill Bradley for the franchise lead with 34 interceptions.
Bob Brookover
With Correll Buckhalter returning from a knee injury, running back Lorenzo Booker was once again among the Eagles' inactives for tonight's game against the Cleveland Browns.
Coach Andy Reid's decision not to dress Booker meant that running back Kyle Eckel was activated for the third straight game. Eckel converted a couple of third-and-one situations in the Eagles' games against Arizona and the New York Giants, and it'll be interesting to see if he continues to get the call on those plays against the Browns.
Wide receiver Reggie Brown also was deactivated for the second straight game.
Bob Brookover
It looks like Minnesota or bust for the Eagles.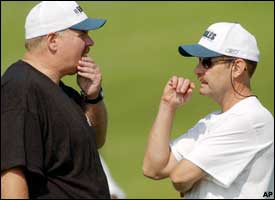 With the Atlanta Falcons pulling out a 13-10 overtime win against Tampa Bay today, the Eagles are certain to remain at least a half-game out in the NFC wildcard race even if they beat the Cleveland Browns tomorrow night at Lincoln Financial Field.
Both the Falcons and the Buccaneers are 9-5 and if they win their final two games, they'll represent the conference as the wildcard teams even if the Eagles were to win out against Cleveland, Washington and Dallas. In that scenario, it would be that hideous tie in Cincinnati that prevented the Eagles from going to the playoffs.
Bob Brookover
The Eagles are growing as a football team.
Actually, they're growing beards, stealing a page from hockey players who have been known to grow playoff beards.
"It's just a little something we decided to do as a team," veteran safety Brian Dawkins said. "It's not just a defense or offense thing. For me ... it's a reminder every time I get up and look in the mirror and every time this thing itches, it reminds me of what's going on right now. It reminds me of the task at hand and that's the run we're trying to make."
Bob Brookover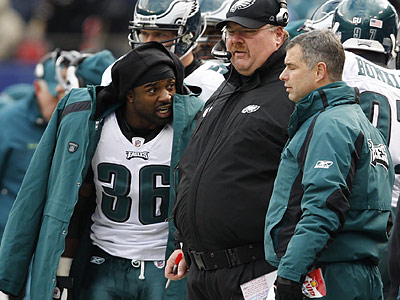 In a shocking development, Eagles coach Andy Reid was asked about running the football 41 times during Sunday's 20-14 win over the New York Giants.
"Some of it was dictated by the weather conditions," Reid said. "You weren't going to be very successful throwing the football in that weather."
In another shocking development, Daily News beat writer Les Bowen asked a smart-aleck question: "So should the fans who want the head coach to run more cheer for high winds every week?"
Bob Brookover
Safety Brian Dawkins has reached the milestone stage of his career.
In last week's win over the Arizona Cardinals, the Eagles' Pro Bowl safety tied cornerbacks Eric Allen and Bill Bradley for the franchise record for career interceptions with his 34th. Sunday against the New York Giants, he will tie the franchise record for games played.
This will be Dawkins' 180th game with the Eagles, tying him with receiver Harold Carmichael.
Bob Brookover
Running back Brian Westbrook has been named the NFC offensive player of the week for his performance Thursday night during the Eagles' 48-20 win over the Arizona Cardinals.
Westbrook ran 22 times for 110 yards and caught three passes for 20 yards against Arizona. He also scored four touchdowns, two each rushing and receiving. That's the kind of performance the Eagles will need from Westbrook again Sunday when the Eagles travel to the Meadowlands for a must-win game against the 11-1 New York Giants.
The Eagles are hopeful that Westbrook's big game is a sign of things to come for both him and the offense. In his previous four games before Arizona, Westbrook had run 61 times for just 186 yards and caught 14 passes for 74 yards. He had also gone four games without scoring a touchdown.