Archive: November, 2009
Jeff McLane, Inquirer Staff Writer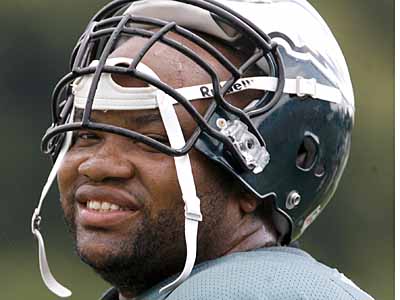 CHICAGO -- Eagles guard Stacy Andrews will not dress for tonight's Bears game. Andrews wasn't listed on the team's injury report coming into the game, although he has been slowed by off-season knee surgery. This will be the first game in which the Eagles' prized off-season, free agent acquisition has not dressed. Andrews hasn't played much this season. He joins his brother, Shawn, on the sidelines. Shawn is on injured reserve with a back injury and is out for the season.
Sheldon Brown, meanwhile, is active and will play in his 134th consecutive game. The Eagles cornerback hardly practiced last week because of a hamstring strain but will start against the Bears.
There are no surprises from the rest of the Eagles' inactives: RB Brian Westbrook (concussion), LB Akeem Jordan (knee), S Quintin Demps (ankle) are WR Kevin Curtis (knee) injured. RB P.J. Hill and G Mike McGlynn are healthy scratches.
Jeff McLane, Inquirer Staff Writer
The Eagles listed Sheldon Brown as questionable for Sunday night's game at Chicago, but the cornerback sounded fairly positive that he'll be able to continue his consecutive games-played streak.
"I have two days and the good thing about it is it's Sunday night, so I have all day to rehab, too," Brown said.
Brown was a limited participant in practice today, as he's been all week. There's a chance he could be used only sparingly against the Bears, splitting time with Dimitri Patterson, who would be his replacement if Brown couldn't. Ramzee Robinson could also figure into the mix.
Jeff McLane and Bob Brookover
One day after his visit with concussion specialists in Pittsburgh, Eagles running back Brian Westbrook was back at the NovaCare Complex beginning his attempt to return to the football field this season.
Westbrook was not on the practice field, but he was in the building and based on what he was told by doctors at the University of Pittsburgh Medical Center Wednesday, it definitely seems possible that he will return before the end of the season.
Dr. Joseph Maroon, a neurosurgeon employed by the Pittsburgh Steelers, and Dr. Michael Collins, a neuropsychologist, said in a statement that Westbrook "has an excellent prognosis" and the doctors "expect a full recovery" for the veteran running back. Westbrook is scheduled to go through another battery of tests in two to three weeks, according to Maroon and Collins, which means the running back probably will not return until at least some time next month.
Jeff McLane, Inquirer Staff Writer
All signs are pointing to Joe Mays being the starting middle linebacker when the Eagles face the Bears Sunday night.
He and several players said that he took most of the repetitions in the middle during practice today.
"They're giving me some reps right now so they can give me a feel for the game just in case my number is called," Mays said.
Bob Brookover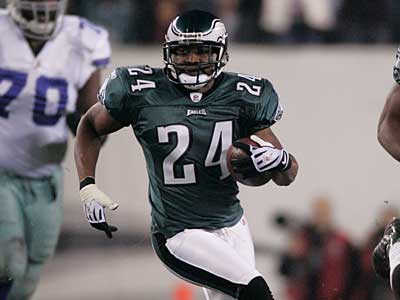 UPDATE
Cornerback Sheldon Brown was a limited participant in practice this afternoon and said there was "a good chance" he'll play Sunday night at Chicago despite a strained hamstring that forced him out of Sunday's loss at San Diego.
Brown has played in 121 straight regular-season games and 133 overall counting the postseason.
Jeff McLane, Inquirer Staff Writer
Brian Westbrook will make a full recovery from his latest concussion, according to a pair of concussion specialists from the University of Pittsburgh Medical Center.
The Eagles running back was examined at UPMC today, three days after he suffered his second concussion in 20 days, and came away with favorable results, according to neurosurgeon Joseph Maroon and neuropsychologist Michael Collins.
Maroon is a long-time team neurosurgeon for the Pittsburgh Steelers.
Jeff McLane, Inquirer Staff Writer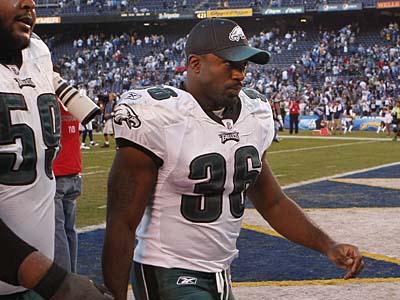 Brian Westbrook will visit with two concussion specialists tomorrow in Pittsburgh, according to the Eagles.
Eagles head trainer Rick Burkhalter released a statement this afternoon:
"The Eagles will first have Westbrook consult with neuropsychologist Mark R. Lovell, PhD," the statement read. "Following that visit Westbrook and Lovell will consult with neurosurgeon Joseph Maroon, MD. Dr. Lovell has been consulting with the Eagles' medical staff on Westbrook's recovery from the first concussion during the past three weeks."
Poll: Should Brian Westbrook retire?

(4165 votes)
Jeff McLane, Inquirer Staff Writer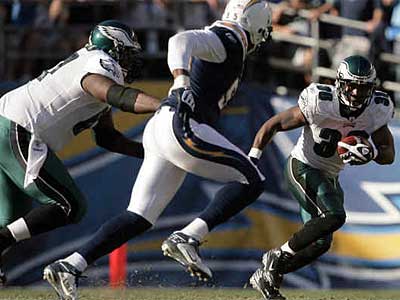 Eagles coach Andy Reid said that it was "too early" to decide if Brian Westbrook, who suffered his second concussion in three weeks yesterday, was done for the season.
"The important thing is that we get him analyzed, tested and taken care of," Reid said. "And we'll go from there. Not that we didn't do that before."
The Eagles running back got injured in the third quarter of the Eagles' 31-23 loss at San Diego. It occured on a screen play in which he was sandwiched in between a block by Jason Avant and a Chargers defender. "It was another big hit," Reid said.