Archive: October, 2010
Jeff McLane, Inquirer Staff Writer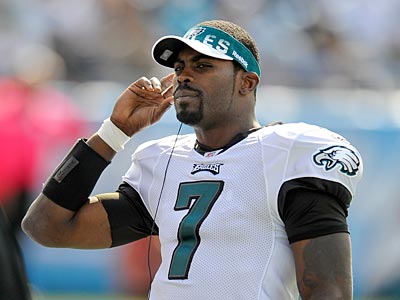 NASHVILLE, Tenn. -- Asked who his starting quarterback was heading into the bye, Eagles coach Andy Reid answered simply with, "Michael."
That's Michael Vick, in case you need reminding.
Reid had said coming into the game that Vick was his starter, so sticking with Vick over Kevin Kolb wasn't necessarily a surprise. But the coach did leave himself a little wiggle room to make a change last week, perhaps in case Kolb performed brilliantly against the Titans Sunday.
Jonathan Tamari
What it means: The Eagles are 4-3 and dropped back to the pack in the NFC just when it looked like they had a chance to beat a good opponent on the road and establish themselves as one of the top teams in the conference. A second consecutive win over a playoff contender would have made a big statement. Instead it's still hard to know what to make of the Eagles, even after seven games. At some point, inconsistency goes from a problem to address to the team identity. Kevin Kolb took a step backwards -- not the kind of performance that makes you think he can keep Michael Vick on the bench. He had one touchdown and two interceptions and underthrew open receivers on several big play opportunities. When the Eagles needed to drive and eat up clock late, they could not manage a first down.
Big moment: Momentum swung against the Eagles after they fumbled on a first and goal early in the third quarter. Up 16-7, they had a great chance to put the game away. Instead the Titans came back with a field goal. When Kenny Britt went for an 80-yard touchdown and the Titans took the lead, you had a feeling the Eagles weren't coming back.
Big Britt: The Eagles had no answer for Britt, who had six catches for 199 yards in the second half alone. He routinely torched Ellis Hobbs and Nate Allen, even after it became clear that he was the main (and maybe only) target. On a day the Eagles contained Chris Johnson, they let the Rutgers alum destroy them.
Jonathan Tamari
Michael Vick will dress as a back up against the Titans Sunday, though his exact role this week -- and beyond -- is unclear.
"I can't tell you right now whether he's going to be two or three," on Sunday said head coach Andy Reid. "We'll just see how he does (Saturday), how he feels."
Vick is listed as "questionable" on the Eagles injury report and worked with the scout team at practice today.
Jonathan Tamari
The reaction in the Eagles locker room to the NFL's new penalties for illegal hits was varied and insightful. Only a fraction of them fit into today's story.
Here, then, is a collection of additional comments from several Eagles players on how they view the NFL's new stand,the violence of the game and how they will, or won't, adjust. The most striking themes that emerge are that the players understand exactly what they have signed up for, and don't want to see changes to the game. Several said the hit on DeSean Jackson was a clean one.
Safety Quintin Mikell:
Jeff McLane, Inquirer Staff Writer
Michael Vick was a full participant in Thursday's practice. It was the first time since the Eagles quarterback injured his rib cartilage over two weeks ago that he's been full-go.
Vick mostly did scout work, however, as Kevin Kolb led the first team under center. Kolb will make his third straight start Sunday at Tennessee. Vick will fill a not-yet-to-be-determined backup role as the No. 2 guy or as the emergency third quarterback.
Running back LeSean McCoy (ribs) also returned to practice a day after sitting out.
Jonathan Tamari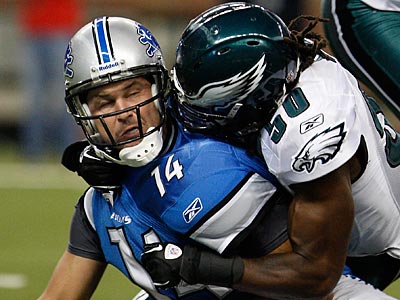 If you ask most Eagles defenders what they think about the NFL's crack down on helmet-to-helmet hitting -- instituted in part because of a vicious shot on teammate DeSean Jackson -- the response is near universal: they think the league is putting another limit on defenses.
And they don't like it.
Linebacker Ernie Sims called the new rules "crazy" and was among several defenders who said they don't intend to change their styles of play. He said he can't go out thinking about exactly how to hit a ball carrier.
Jeff McLane, Inquirer Staff Writer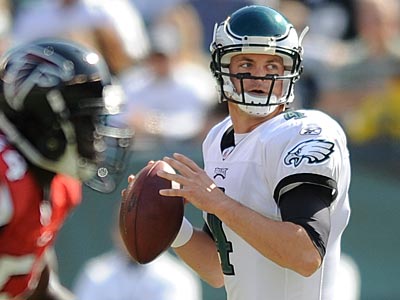 Quarterback Kevin Kolb was named NFC Offensive Player of the Week for his performance in the Eagles' 31-17 victory over the Atlanta Falcons Sunday.
Kolb, filling in for the injured Michael Vick, completed 23 of 29 passes for 326 yards and three touchdowns. It's the second time in five career starts that Kolb has won the award. He was also honored last season after the Kansas City game.
Kolb is expected to start for the third straight week when the Eagles visit the 4-2 Tennessee Titans on Sunday. Eagles coach Andy Reid said Monday that "there's a pretty good chance Kevin is the guy." Vick, during an appearance on a Virginia Beach radio station Monday, said that he wouldn't be able to return from his rib injury until after an Oct. 31 bye The Eagles then host the Colts on Nov. 7.
Jonathan Tannenwald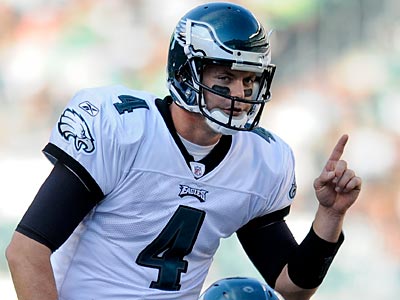 Join the Inquirer's Jonathan Tamari for a live chat about all the latest Eatles news today at 1 p.m.