Archive: September, 2012
Zach Berman, Inquirer Staff Writer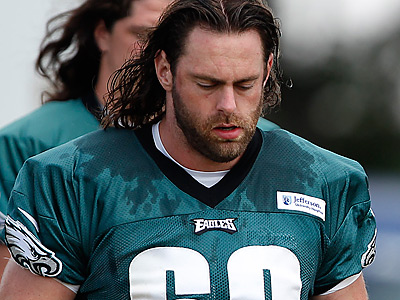 There was once a chance that Evan Mathis would be on the opposite sideline this weekend.
Before Mathis signed a $25-million contract with the Eagles in March, Mathis met with the Baltimore Ravens. The meeting went so well that the Ravens convinced Mathis to stay overnight and were hoping he'd sign a contract before leaving. But Mathis knew that the Eagles would come back with an offer, and that was the deal he wanted.
"The way it played out, Howie kind of let set someone else set the market," Mathis said. "I knew he was very open and up front about doing that. They made an offer, and he blew it out of the water. Ultimately, I knew what we had here, I wanted to be a part of it. But I was in a great position there. I was choosing between the Ravens and the Eagles, two great franchises."
Philly.com Sports
What does Andy Reid need to do differently offensively & defensively vs. the Ravens? The Inquirer's Jeff McLane previews Sunday's Eagles-Ravens matchup in a chat with CineSport's Noah Coslov.
Jeff McLane, Inquirer Staff Writer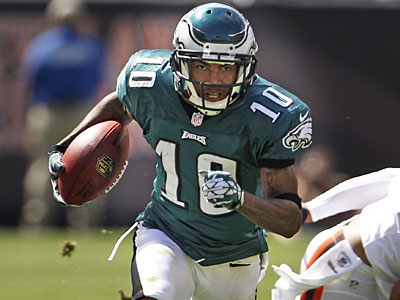 FORT DIX, N.J. -- When DeSean Jackson was drafted by the Eagles he knew very little about Philadelphia, except perhaps that his cousin lived there.
Jackson said he didn't know his father's first cousin, Jimmy Jackson, very well until he arrived in 2008. But he was family and the receiver was far from home and they started spending a significant amount of time together.
His cousin, Jackson said, "Showed me the ropes" of living in Philly. Jackson said he learned much more from Jimmy Jackson, 64, who served in the Vietnam War.
Poll: Can Michael Vick solve the Ravens' defense?

(2259 votes)
Jeff McLane, Inquirer Staff Writer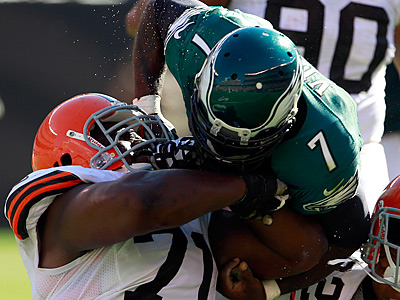 News flash: Michael Vick gets hit too often. It's difficult to measure how much is too much compared to other quarterbacks but the 16 hits he endured Sunday against the Browns can safely be described as too many.
The NFL keeps a tally of quarterback hits in its official stat sheets, although STATs, Inc., which compiles the numbers, said that the quantifying of "hits" is subjective and depends upon the stat keeper in each stadium across the league.
By the league's count Vick was hit 11 times behind the line of scrimmage, including two sacks. The numbers don't include the shots he took when he scrambled. By comparison, his counterparts in the NFC East took a significantly less number of hits in Week 1. Vick did take considerably more snaps (95) on Sunday than usual.
Zach Berman, Inquirer Staff Writer
Eagles wide receiver Jeremy Maclin suffered a hip injury on Sunday, coach Andy Reid said Monday. The injury is a hip flexor strain and a hip pointer, and Maclin is "pretty sore today."
There is no word yet on Maclin's availability for Sunday, but the injury could linger even though Maclin was able to finish the game. Reid said the injury hurts more in the days after than that day.
"He battled through it," Reid said. "You got to give him credit for that. He got himself through it, but he's awful tender today."
Zach Berman, Inquirer Staff Writer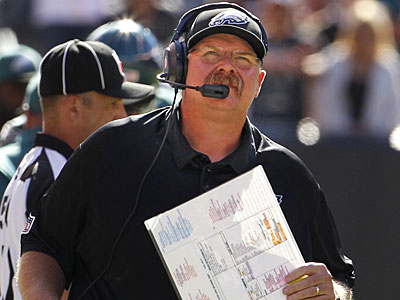 We spend so much time talking about depth charts and personnel packages, but the proof is in the pudding. Here is the Eagles' playing time distribution from Sunday's 17-16 win over the Browns:
OFFENSE
Danny Watkins -- 100%
Poll: Is the Eagles' defense back on track?

(2043 votes)
Philly.com Sports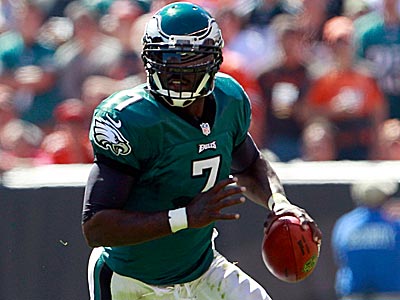 Join the Inquirer's Zach Berman as he takes your questions about all things Eagles.
If you're on a mobile device, click here to follow along and post questions.