Archive: September, 2010
Jonathan Tamari
LeSean McCoy's number from Sunday don't pop out: 11 carries for 54 yards, two catches for seven yards, no touchdowns. But offensive coordinator Marty Mornhinweg said the running back stood out in blitz protection.
"The stats don't show it, but I think LeSean may have had one of his better games," Mornhinweg said Thursday. "He did an excellent job with his blitz recognition."
The Eagles used their backs, McCoy, Mike Bell and Owen Schmitt, to supplement their pass protection against the Jaguars. They still gave up three sacks, but it was far fewer than the five against the Packers and six against the Lions.
Jonathan Tamari and Jeff McLane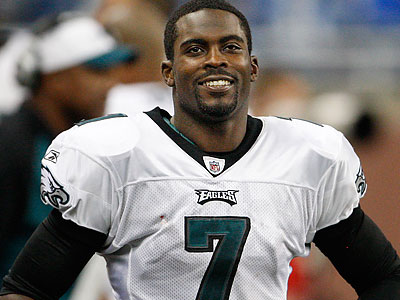 Michael Vick was named NFC offensive player of the month for his exploits in September. The Eagles quarterback, in three games, completed 54 of 89 passes (60.7 pct) for 750 yards, throwing six touchdowns and zero interceptions. Vick also ran 23 times for 170 yards and one score.
Also, free safety Nate Allen was named NFC defensive rookie of the month. Allen had two interceptions and 19 tackles in three games.
FROM EARLIER:
Poll: Who'll have the better game on Sunday?

(785 votes)
Jeff McLane, Inquirer Staff Writer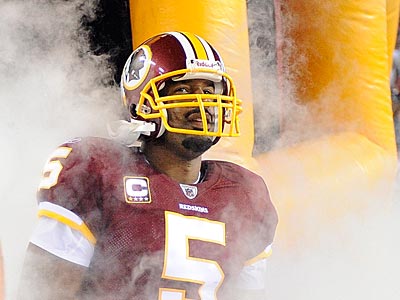 After 11 years of meeting with the Philadelphia media at the NovaCare Complex and/or Veterans Stadium for his regularly scheduled Wednesday press conference, Donovan McNabb for the first time spoke to local reporters via conference call.
The Eagles are hosting the Washington Redskins on Sunday at Lincoln Financial Field -- in case you hadn't heard -- and McNabb will be making his first appearance at the stadium in a different uniform.
"Hopefully, I walk out the right tunnel," McNabb said. "I may need some help with that."
Jeff McLane, Inquirer Staff Writer
Video: The Inquirer's Jeff McLane chats with CineSport's Noah Coslov about Donovan McNabb's return to the City of Brotherly Love.
Jonathan Tamari
Join the Inquirer's Jonathan Tamari as he answers all your Eagles questions.
On a Mobile device? Click here.
Jonathan Tamari
Michael Vick got a raucous ovation at Imhotep Charter School as he spoke to the students about the dangers of, as he put it, losing focus on his life long goals and the legacy he hopes to leave for himself. Afterward, he said he hopes Donovan McNabb gets a "positive" reaction from fans Sunday.
Vick was speaking at the West Oak Lane school as part of his agreement with the Humane Society of the United States to take part in presentations meant to discourage dog fighting. Standing in front of an "End Dogfighting" banner, he urged the high school students to stay focused on their goals and not stray into destructive behavior. A recap of the event is here.
After speaking, Vick talked to reporters mostly about his work with the Humane Society, but was also asked about how fans might react to McNabb.
Jeff McLane, Inquirer Staff Writer
Join Jeff McLane of the Inquirer for an Eagles chat starting at 10 a.m. today.
If you're on a mobile device, you can join the chat by clicking here.
Jeff McLane, Inquirer Staff Writer
Video: Andy Reid said in his Monday press conference that the team needs to prepare for the entire Washington Redskins team and not just Donovan McNabb. The Inquirer's Jeff McLane reports.
Jeff McLane, Inquirer Staff Writer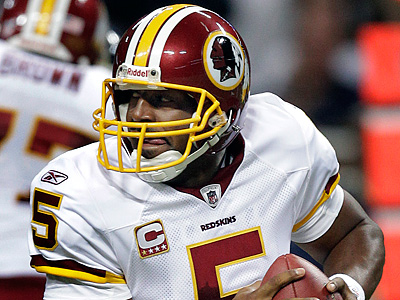 What kind of welcome will you extend to Donovan McNabb upon his return to Lincoln Financial Field as a Washington Redskin?
Will you give him a standing ovation and cheer?
Will you simply applaud the former Eagles quarterback for his 11 years of service?
Poll: How will Philly welcome back McNabb?

(3589 votes)
Jonathan Tamari
Behind another strong start from Michael Vick, the Eagles brushed aside the Jaguars, beating an inferior opponent for the second consecutive week.
Vick went 17 for 31 passing, for 291 yards and three touchdowns and a 119.2 passer rating. For the second week in a row, he led the Eagles to several explosive plays while avoiding turn overs.
Against a punchless Jaguars team, the game really felt like it might be over after one half. The Eagles took a 14-3 lead on their final drive of the second quarter, and it seemed unlikely that Jacksonville could catch up. Vick added a 45-yard touchdown pass to Maclin and a 17-yard scoring run in the third quarter to put the game completely out of reach.