Archive: June, 2012
Jonathan Tamari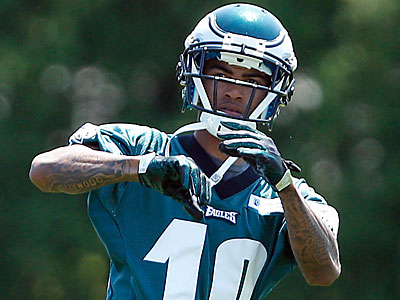 As the Eagles wrapped up the last of their offseason practices today, DeSean Jackson looked ahead to a season that will be critical for the future of the franchise and several of its players.
After adding significant talent each of the past two offseasons, expectations and hopes are high, but so could be the consequences if there is another disappointment after last season's 8-8 finish.
"As far as a team, coming together and working as one, I think that's what the mindset is. It's a common goal that we all have and we know how crucial this year is for us," Jackson said. He didn't want to look back on last year but said, "we have to live with what's in front of us and what's at stake. I think everybody understands that."
Philly.com Sports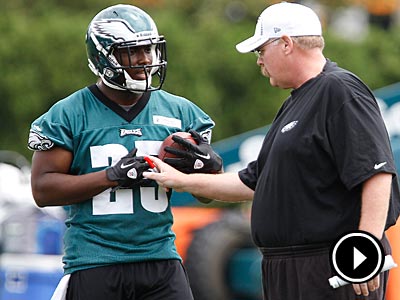 Video: The Eagles players say they have learned a lot about each other, their roles, and the system the team is running during mini-camp at the NovaCare complex. The Inquirer's Jon Tamari reports on the day's action.
Jeff McLane, Inquirer Staff Writer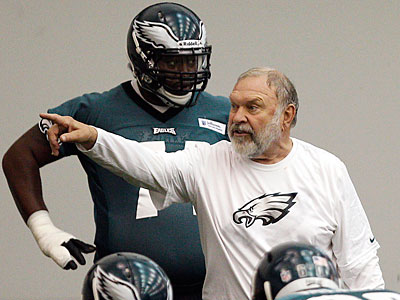 Howard Mudd has returned, or as guard Evan Mathis put it in so many words, the principal was back.
The Eagles offensive line coach was given the first four weeks of spring practices off so that he could rest and remain fresh once the long slog of training camp and the regular season begin. Mudd, 70, had hip replacement surgery last October and has had trouble standing for long periods.
But he returned to Philadelphia on Monday -- sans cane -- and was at the NovaCare Complex Tuesday for the Eagles' three-day mandatory minicamp. He said he liked what he saw after the first day of workouts, and said he told Jason Kelce that when the second-year center asked.
Philly.com sports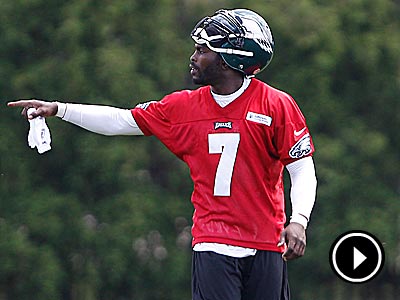 Video: What must Michael Vick do at Eagles minicamp to get the media off his back? CineSport's Noah Coslov and the Inquirer's Jeff McLane discuss Andy Reid's goals for the team at minicamp.
Philly.com Staff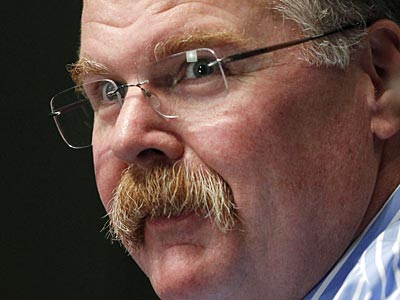 Eagles head coach Andy Reid joined us Monday for a live chat. Read the transcript below to find out what Big Red had to say.
On a mobile device? Click here to review the chat.
Jonathan Tamari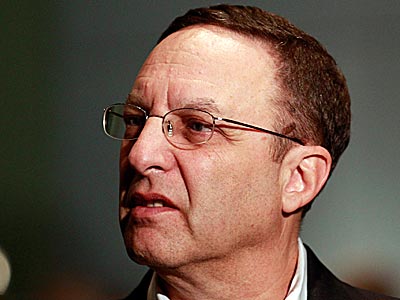 When Joe Banner left the Eagles' NovaCare Complex offices last night, his last as team president, he said he paused to look back on a gleaming facility with first class offices, a welcoming locker room and cafeteria where players can eat comfortably and healthily.
It was a lot different than his first day as president, when he walked into crumbling Veterans' Stadium, when the Eagles were a bottom-dwelling franchise with facilities that were a punchline.
Banner hopes his next step helps him similarly turn around another NFL team.
Jeff McLane, Inquirer Staff Writer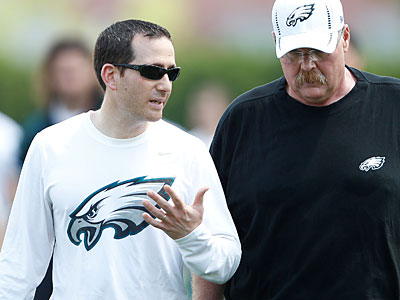 Joe Banner and Howie Roseman — mentor and mentee — are similar in many ways. Both have vast knowledge of the salary cap and how to manage it. Both are tough negotiators. And both came to the NFL from non-football backgrounds.
But one area in which they did differ is how they relate to players. Banner did not mingle with Eagles players much, in part, because he felt it would compromise his position when it came time to negotiate their contracts. Roseman has tried to foster closer relationships with players since he became general manager in 2010.
"He's got a great relationship with players," Eagles tight end Brent Celek said Thursday after practice. "I knew Howie before he was GM, was always friendly with him. He knows how to communicate with the guys, connect with the guys, and I think you need to be that as a GM. You need to know how to talk to your guys and just generally run the team a little bit, like he does."
Philly.com Sports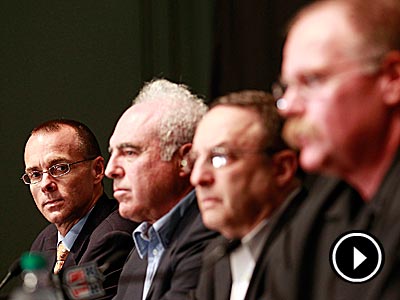 Video: Joe Banner is out as the president of the Eagles. Jeff McLane of the Inquirer examines what the move means for the franchise.