Archive: June, 2010
Staff report
According to an Associated Press report out of Las Vegas, authorities say the 2-year-old son of former Eagles quarterback Randall Cunningham is dead after apparently drowning in a backyard hot tub.
Las Vegas police Lt. Dennis Flynn says it appeared to have been an accident. He says a woman at the house with several other children found the boy about 4:30 p.m. Tuesday and began trying to resuscitate him.
The child was pronounced dead at St. Rose Dominican Hospital Siena campus in Henderson.
Cunningham starred at UNLV and played for 16 years in the NFL, mostly for the Philadelphia Eagles.
The 47-year-old Cunningham is now an ordained minister and pastor of a church in Las Vegas. He wasn't home when the boy was found.
Information from: Las Vegas Review-Journal, http://www.lvrj.com

Jeff McLane, Inquirer Staff Writer
The Eagles picked up safety Brett Johnson off waivers from Buffalo, the team announced Monday. Signed as an undrafted rookie free agent by the Bills following the 2010 draft, Johnson played college football at California.
The 6-foot-1, 194-pound rookie played free safety with the Bears. He recorded just three interceptions in 49 career games. Johnson comes with the tag of being an exceptional athlete but an underperformer on the field.
The Eagles were down a safety by the end of spring practice after Marlin Jackson ruptured his Achilles tendon. He is done for the year. The team was also without rookie Kurt Coleman, who could not participate in practices as he finished up his college requirements. Coleman is expected to be at training camp.
Jeff McLane, Inquirer Staff Writer
Whether Michael Vick had any connection to the early Friday morning shooting that allegedly occurred outside a Virginia Beach party celebrating his 30th birthday or not -- and apparently he didn't, according to a Virginia Beach police spokesman -- what may be of more consequence for the Eagles quarterback is his team's and the NFL's reaction to his apparent involvement in the incident.
As of now, both the Eagles and the league are in the process of gathering facts from the shooting that injured one of the co-defendents in Vick's dogfighting case, Quanis Phillips.
The Eagles released the following statement Friday afternoon: "We are aware of the incident that occurred in Virginia early this morning and are in the process of gathering all of the facts. Until then, we will not have any comment on this matter."
Jonathan Tamari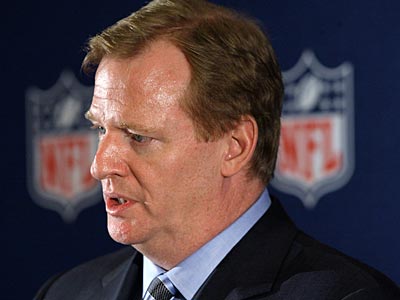 No Eagles draft picks signed today (at least not yet - though the team did make a roster move in releasing undrafted free agent cornerback Devin Ross) so I thought it would provide a good chance to talk about one of the more divisive issues of the off season: expanding the NFL schedule to 18 games.
The New York Times has a story today with some details of the idea, which boils down to this: the owners would like to ditch two of the league's meaningless (but full priced) pre-season games and replace them with regular season contests. This would pave the way for more money in the owners' pockets, with some of that cash presumably finding its way into players' paychecks.
The players, though, are not enthused and have some strong arguments on their side, namely that extending the season would increase the risk of injury in a sport where injuries are already prominent and potentially devastating. Before anyone jumps on the players as pampered millionaires, one of the most outspoken opponents is the Ravens' Ray Lewis, hardly a softie.
Jonathan Tamari
The Eagles have signed defensive end Daniel Te'o-Nesheim, their third round draft pick. He was chosen 86th overall, out of Washington and signed a four-year contract.
Te'o-Nesheim finished his college career with 30 sacks, a Washington record. He is part of a remade defensive end grouping, which includes Pro Bowler Trent Cole, Juqua Parker, first round pick Brandon Graham and Darryl Tapp, acquired in an off-season trade with Seattle.
Coach Andy Reid has praised Te'o-Nesheim's intelligence and flexibility. On some nickel packages in recent practices the smallish (for a defensive end) rookie was playing on the interior of the line.
Jonathan Tamari
The Eagles have signed fourth round draft picks Mike Kafka, a quarterback, and Clay Harbor, a tight end.
They each signed four year deals.
Kafka, out of Northwestern, is likely to be the third string quarterback this year, behind Kevin Kolb and Mike Vick. He is athletic and has been working hard in camp, but doesn't have a big arm and is still working to transition from a spread offense to the NFL. We wrote about his work ethic here.
Jeff McLane, Inquirer Staff Writer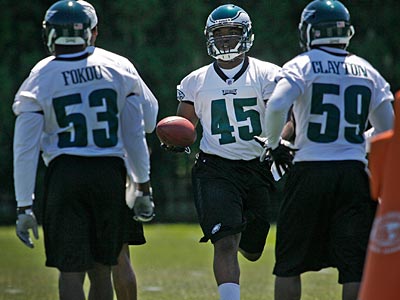 As promised (sorta), here are observations and 53-man roster predictions on the defense (Sorry for the one-day delay. I forgot I had jury duty Monday.):
DEFENSE
Defensive end: There is very little you can gather from watching a defensive lineman practice in shorts. "Boy, that Darryl Tapp really knows how to power through that tackling dummy. And look at that Brandon Graham hustle over to the next drill!" That being said, I'd have to say I came away most impressed with Graham and rookie Daniel Te'o-Nesheim among the new guys. Graham looks to have a quick first step, but also had the good fortune to often be matched up against King Dunlap. Te'o-Nesheim just looks relentless. He's going to play some inside on passing downs, which is remarkable (unsafe?) considering his size (6-3, 263).
Trent Cole is the man once again at right end and Juqua Parker looks like he'll hold down the starting spot on the left side – at least for now. Graham, Te'o-Nesheim and former Seahawk Tapp will be part of the rotation.
I'm not sure what to make of Alex Hall and rookie Ricky Sapp. Each has practiced with both the defensive linemen and linebackers. They ended OTAs with the d-line. It's no secret they'll have a role in Sean McDermott's assortment of blitz packages and faux 3-4 looks. I'm just not sure how big of a role it will be.
Jeff McLane, Inquirer Staff Writer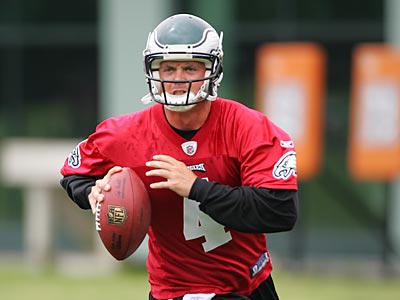 The Eagles' OTAs are over and the countdown to the start of training camp is on (45 days and counting). During my weekly chats, I'm often asked to give my impressions of the team and of certain players, but it's difficult to really offer a detailed answer when I'm typing as if the hair on my arms has been set aflame.
So after watching all 17 practices of the spring, here are some post-OTA observations and some predictions for who ends up making the 53-man roster. Sure, it's way too early to project that far ahead, but isn't that what blogs are for? (I'll have the offense today and the defense on Monday.)
OFFENSE
Quarterback: Kevin Kolb had, by most estimates, a successful spring. He did pretty much everything he had to do. He made the delicate transition from backup to starter with his authoritative presence during practice. He made all the throws and all the reads he needed to make. And when he may have had an off day here or there he came back 24 hours later and was sharp.
He even made a slight adjustment. After watching him in the first minicamp and early in rookie camp, I noticed that Kolb could be demonstrative after he made a bad throw. He looked to be pressing a little bit. However, by the end of OTAs, Kolb seemed very much in control of his emotions.
Overall, he took a solid – albeit a very small – first step. Training camp and the preseason are next.
Michael Vick, meanwhile, was a mixed bag. There were times he would amaze with a tightly thrown 50-yard bull's-eye and there were times when he would woefully misfire on a quick, 5-yard out. If Kolb were to ever get hurt, there is no way Vick could run the same offense because he is nowhere near as accurate. I envision an offense similar to the one Donovan McNabb ran in his first two seasons as the Eagles starter.
Mike Kafka, obviously, still has a lot to learn. He's a quick thinker and is effective with all the short, timing throws. But his arm strength just isn't there yet. He'll have a season as the third QB to watch and observe.