Archive: April, 2012
Jonathan Tamari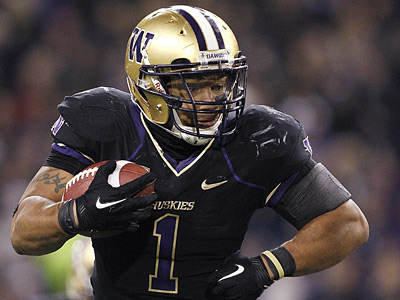 The Eagles have signed 13 undrafted rookies since the draft ended, and while many will simply come and go at Lehigh this summer, history says at least one of them, and maybe more, will make the roster and some could have long NFL careers.
At the end of last season the Eagles had 12 undrafted players on their 53-man roster and two more on injured reserve. They included Jason Peters -- probably the best left tackle in the game -- and longtime starters or contributors Cullen Jenkins, Joselio Hanson, Jon Dorenbos, Jamaal Jackson and Juqua Parker, plus rising special teams ace Colt Anderson (who was one of the two on IR).
Other undrafted Eagles when last season ended were Antonio Dixon, Akeem Jordan, Chad Hall, Phillip Hunt, Tom Nelson, Chas Henry and Cedric Thornton.
Philly.com Staff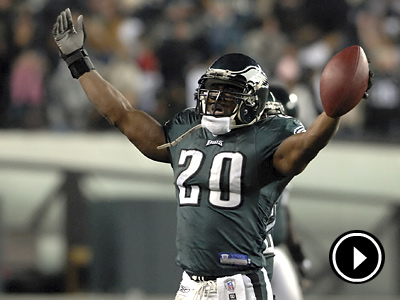 Video: It was an emotional day for former Eagles safety Brian Dawkins, who learned the organization would retire his number after he signed a one-day contract to retire with the team. Jeff McLane of the Inquirer reports.
Jonathan Tamari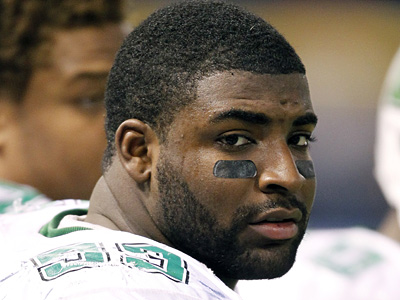 Sometimes, coaches can exaggerate about players they've just drafted. But Andy Reid wasn't kidding when he said that defensive end Vinny Curry "might be the biggest Eagles fan ever."
When the second round pick from Neptune, N.J. met reporters Saturday, he displayed all the emotion, passion, sense of history and pride of the thousands he'll soon be playing in front of at the Linc. His eyes welled as he talked about meeting heroes such as Brian Dawkins and Mike Vick. He name-checked Randall Cunningham and Troy Vincent, and insisted that it was Freddie Mitchell who originated the championship belt celebration. He said he wouldn't allow cameras into his home on draft night, because he didn't want to have to take down all of his Eagles gear.
"It would have been my last day as an Eagle fan if I would've gone to a different team," Curry said, "but I wouldn't have taken it down."
Poll: Are you satisfied with the Eagles' draft?

(3081 votes)
Jeff McLane, Inquirer Staff Writer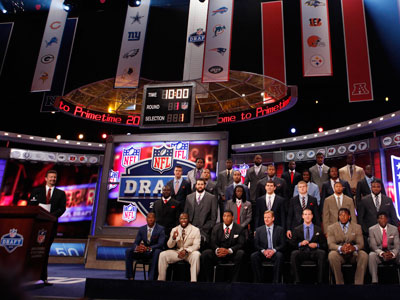 Fletcher Cox? Yeah, everyone seems to be happy the Eagles traded up to grab the Mississippi State defensive tackle. He'll be introduced by the team today at 4 p.m. at the NovaCare Complex. But he's yesterday's news (for now) because the Eagles still have work left to do.
They have three picks on the second day of the draft – not one of which they had to part with to get Cox in an exchange with Seattle. The Eagles have the 14th pick in the second round (46th overall), the 19th (51st overall) in the second round and the 24th in the third round (88th overall).
So where are they most in need after the first round and where will they go? Will they take the best player at each spot or cater the pick – like they did last season in taking safety Jaiquawn Jarrett in the second round – to their needs? Let's take a quick look at who is still on the board at the positions the Eagles may be looking to upgrade:
Philly.com Sports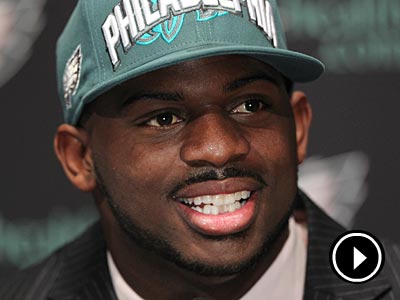 Video: Defensive tackle Fletcher Cox, the Eagles' first-round draft pick, met with the media for the first time at the NovaCare Complex. The Inquirer's Jeff McLane reports.
Jonathan Tamari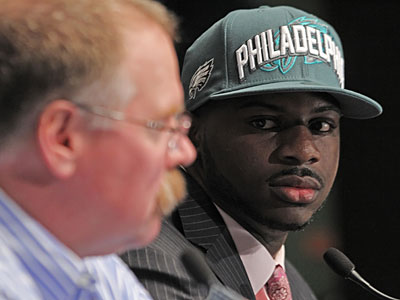 Fletcher Cox arrived in Philadelphia today with a stomach virus, the obligatory green number one jersey, a pink shirt and tie and immense confidence.
In his first face-to-face meeting with Philly reporters Cox came off as relatively quiet, but with deep belief in his own ability and he seemed comfortable, at least on day one, with the spotlight.
Cox said he didn't play football until 8th grade – his mother didn't want him to get hurt – but by 10th grade believed he could go to the NFL.
Jonathan Tamari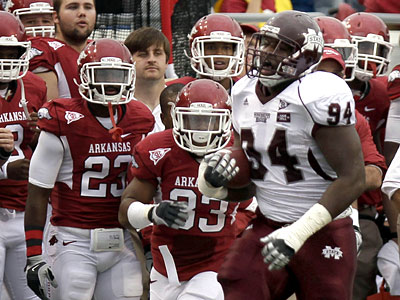 Click here for Jeff McLane's mock draft.
From Jonathan Tamari:
1. Colts: Andrew Luck, QB, Stanford
Philly.com Sports
Video: The Eagles traded up to 12th in the NFL Draft to get defensive tackle Fletcher Cox. The Inquirer's Jonathan Tamari discusses why Cox is a good fit in Philly.