Archive: October, 2009
Jeff McLane, Inquirer Staff Writer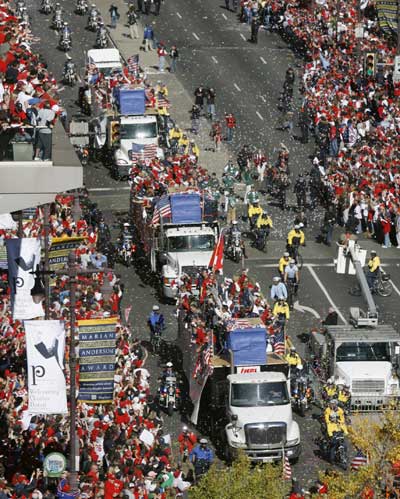 Brian Westbrook and Macho Harris are questionable for the Giants game, Eagles coach Andy Reid said today. Both players did not practice, but will be game-time decisions.
Westbrook suffered a concussion Monday night and hasn't practiced all week. Reid said that the headache the running back had earlier in the week was gone and that Westbrook was "feeling pretty good right now."
"This is going to end up being a game day decision I'm sure," Reid said. "These things take time and they're all different so we'll just see how it works here."
Jeff McLane, Inquirer Staff Writer
The Eagles apparently got a little healthier today. Wide receiver DeSean Jackson and defensive end Darren Howard were back practicing today after sitting out yesterday's session with various injuries.
Brian Westbrook, meanwhile, watched practice as his backup, LeSean McCoy, took all the first-team repetitions as the Eagles prepared for Sunday's big NFC East showdown with the Giants. Westbrook, who suffered a concussion against the Redskins on Monday, is expected to be a game-time decision.
Eagles coach Andy Reid said that the running back would begin doing some aerobic exercises tomorrow, which presumably means that his headache has either gone away or has gotten significantly better.
Bob Brookover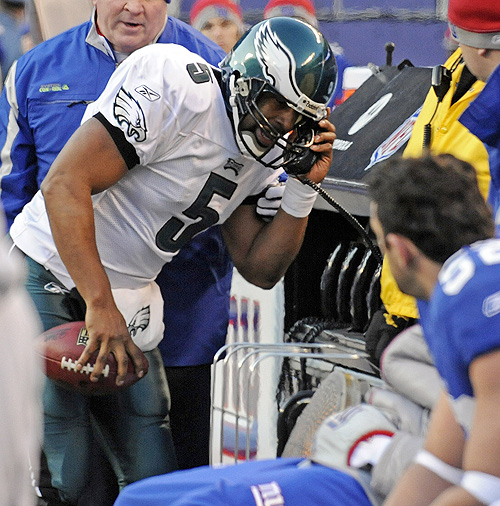 They haven't forgotten Donovan McNabb's phone call up at the Meadowlands.
With just over three minutes remaining in the Eagles' playoff victory at Giants Stadium last season, McNabb scrambled out of the pocket and ran eight yards before going out of bounds on the New York sideline. A giddy McNabb picked up the telephone to the coaches' box near the Giants' bench and acted as though he was making a call.
It was a phone call that drew a 15-yard unsportsmanlike-conduct penalty and the ire of the Giants.
Jeff McLane, Inquirer Staff Writer
Test are still being conducted on Brian Westbrook, who suffered a concussion Monday night, and a decision as to whether he can play Sunday against the Giants will be a game time decision, Eagles coach Andy Reid said.
Westbrook was knocked off for several moments in the first quarter of the Eagles' 27-17 win over the Redskins. He walked off the field, but never returned. Reid said that Westbrook felt fine and that the running back has shown positive signs of recovery.
Several other Eagles players will be held out of practice today. There are: wide receiver DeSean Jackson (foot), safety Macho Harris (ankle), defensive end Darren Howard (calf) and cornerback Dimitri Patterson (quadriceps). Wide receiver Kevin Curtis (knee), defensive end Victor Abiamiri (knee) and linebacker Omar Gaither (foot) are most likely out for Sunday.
Jeff McLane, Inquirer Staff Writer
This may tell you all you need to know about the severity of Brian Westbrook's concussion: The Eagles signed running back P.J. Hill off the Saints practice squad today, according to a team spokesman.
To make room on the 53-man roster, the team placed linebacker Omar Gaither (foot) on Injured Reserve. That means that Gaither's season is officially over, if there were any doubt.
The 5-foot-10, 218-pound Hill was originally signed by the Saints as a rookie free agent and rushed 26 times for 128 yards during three preseason games. He was released prior to the season before final cuts, but was brought back to the practice squad. He played college at Wisconsin and ran for over 1,000 yards in each of his three seasons with the Badgers.
Bob Brookover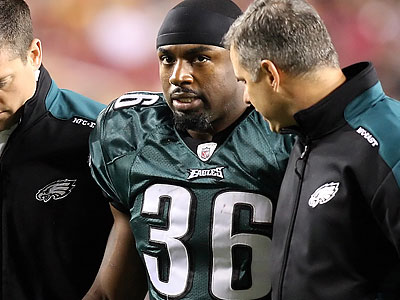 Eagles coach Andy Reid said during his 610 WIP radio show tonight that he's "counting on" running back Brian Westbrook to be on the field for Sunday's showdown with the New York Giants, but given the medical guidelines for a concussion, that scenario seems unlikely.
Reid confirmed that Westbrook was unconscious after taking a knee to the helmet from Washington linebacker London Fletcher midway through the first quarter of last night's game at FedEx Field. He also said that Westbrook did not remember what had happened.
Those two signs, according to former Eagles and Flyers team physician Art Bartolozzi, indicate that Westbrook suffered a severe concussion. According to the American Academy of Neurology's grading system, Westbrook suffered a Grade 3 concussion, the most severe type.
Jeff McLane, Inquirer Staff Writer
LANDOVER, Md. -- Brian Westbrook suffered a concussion in the first quarter of tonight's Eagles-Redskins game and the running back won't return.
On the Eagles' second possession, Westrbrook took a handoff and forged ahead six yards, but at the end of the carry he was kneed in the helmet by Washington linebacker London Fletcher. Westbrook laid motionless on FedEx Field as many players from both teams surrounded him. Some were visibly concerned.
One of the Redskins was Brian's younger brother, Byron, a special teams player. After several minutes, however, Westbrook rose and was helped off the field. LeSean McCoy took over full for Westbrook.
Jeff McLane, Inquirer Staff Writer
LANDOVER, Md. -- Max Jean-Gilles is out for tonight's game against the Redskins. The Eagles guard was questionable coming in with a right shoulder strain. Jean-Gilles, who had started the last four games at right guard, wasn't expected to start, but was eligible to rotate with either Nick Cole on the right or Todd Herremans on the left.
Herremans is playing in his first game of the season after sitting out the last two months with a stress fracture in his foot. Stacy Andrews is available at guard.
Kevin Kolb is the emergency third quarterback for the second straight week. Donovan McNabb and Michael Vick are the Eagles' two active quarterbacks.