Archive: October, 2008
Bob Brookover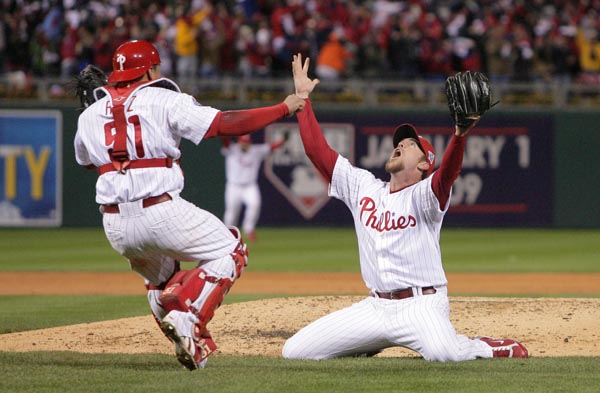 This is supposed to be a place for inside Eagles information, thoughts and predictions, but today is the Phillies' day.
They are the team I spent 15 years of my life covering and my entire life watching. Harry Kalas introduced me and my wife at our wedding reception with a classic call of "Brookie, your bachelorhood is outta here!"
I made so many friends and learned so much about this business by hanging around the ballpark that no matter how long I cover football or anything else, baseball will always run through my blood.
Bob Brookover
Eagles coach Andy Reid predicted that the Phillies will win the World Series at home tonight against the Tampa Bay Rays during his news conference at the NovaCare Complex.
"You know what, they're going to win," Reid said. "I'll take the if out of that and the city will love every minute of it."
Reid said he was at Sunday night's game when the Phillies moved within a victory of their second World Series title with a 10-2 rout of the Rays.
Bob Brookover
Eagles Pro Bowl guard Shawn Andrews will be out from six weeks to the remainder of the season after undergoing back surgery Tuesday in Marina Del Ray Hospital in Southern California to repair a herniated disc.
Trainer Rick Burkholder said Dr. Robert Watkins performed the surgery on Andrews' fourth and fifth lumbars.
"He had good success with the surgery," Burkholder said before today's practice. "He took the fragments out and Shawn's ... recovering now. Dr. Watkins gave us the six weeks to three months category (for recovery). Dr. Watkins believes he got the fragments of the herniated disc out and he didn't have any kind of the narrowing of the spine that can cause a longer term effect."
Bob Brookover
The latest twist in the Eagles' fullback saga took place this afternoon as the Eagles signed Philadelphia native and former Naval Academy star Kyle Eckel.
In order to make room for Eckel, the Eagles released safety J.R. Reed.
Eckel, who attended Episcopal Academy, spent all of last season with the New England Patriots. He was signed from the Patriots' practice squad Oct. 1 and participated in the team's final 12 games and two of the team's three playoff games. Eckel scored two touchdowns and gained 90 yards on 33 carries.
Bob Brookover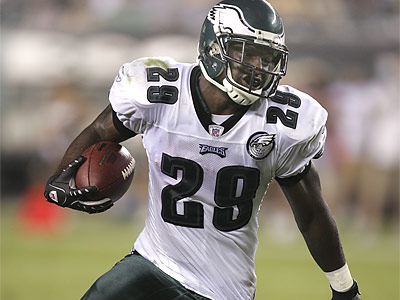 Tony Hunt had to see the writing on the depth chart.
In one week, he went from the Eagles' starting fullback to fourth-string tailback who couldn't get on the field Sunday at San Francisco even in the absence of Brian Westbrook.
And now he's the latest third-round pick to be released by the team.
Bob Brookover
Saw a Phillies banner hanging from the car of a tailgater this morning at Candlestick Park, which was odd because I had never seen one here in all the years I covered Phillies games. Something must be happening with the team I used to cover.
Also odd: The person sitting next to me in the press box works for the San Jose Sharks. When do the Eagles play the Sharks?
Anyway, it's the 2-3 Eagles who are playing the San Francisco 49ers today in this antiquated stadium.
Bob Brookover
Neither running back Brian Westbrook (fractured ribs) nor wide receiver Reggie Brown (strained groin) will be on the Eagles' charter flight to San Francisco for Sunday's game against the 49ers.
Westbrook will miss his second game in three weeks and Brown will miss his third game of the season after suffering his groin injury Wednesday during practice.
That leaves Correll Buckhalter starting again at tailback while Hank Baskett and DeSean Jackson figure to be the top two receivers. Wide receiver Kevin Curtis, who is recovering from surgery to repair a sports hernia, has practiced this week and did make the West Coast trip, but even if he plays it figures to be in a limited role.
Bob Brookover
As the Eagles continued to prepare for what amounts to a must-win game against the San Francisco 49ers Sunday, the list of walking wounded remained long.
Defensive end Juqua Parker, hampered by a knee injury, missed practice for the second straight day, but said afterward that he does expect to play. Darren Howard ran with the first-team defense in Parker's absence.
The status for wide receiver Reggie Brown, however, is not as certain. Brown, who missed the first two games with a hamstring injury, left practice Wednesday with a groin injury and did not practice today. Brown has caught a team-high 10 passes for 163 yards in the Eagles' last two games and had 106 receiving yards in a game at San Francisco two seasons ago.