Archive: January, 2010
Jeff McLane, Inquirer Staff Writer
The Eagles introduced Howie Roseman as their new general manager today, so it was no time like the present to ask about the quarterback situation.
That is, unless, you're asking Andy Reid. The Eagles coach, of course, doesn't talk about issues that he feels are unrelated to the gathering at hand, which in this case was the introduction of Roseman. Eagles president Joe Banner, however, offered some clarity (we say that sarcastically) on the McNabb-Kolb-Vick conundrum.
"Here's the reality on that, it sounds evasive, but it isn't," Banner said. "[After] we finished playing we all stayed here for a week and kind of finished the evaluation of the season. We all took a week off and then went to the Senior Bowl -- some of us went to the Senior Bowl, some of us didn't -- and we've literally been back one day. So we really have not had the meeting to start figuring this stuff out. Obviously we have to do that. ... Obviously we have to make a decision on what we're going to do. But at this moment I can tell you that we haven't even laid out a plan or sat down and even exchanged our different ideas or thoughts on that."
Bob Brookover
With Arizona quarterback Kurt Warner expected to announce his retirement this afternoon, Donovan McNabb fielded questions about the man who twice beat the Eagles in an NFC championship game.
"Kurt and I have been friends pretty much since the year 2001 when we played in the NFC championship against each other," McNabb said. "We've communicated back and forth and I actually talked to him after his last game against New Orleans. I told him it has been a storybook career for him."
Of course, Warner's decision to retire enhances the McNabb offseason story.
Jeff McLane, Inquirer Staff Writer
The Eagles made it official today: Howie Roseman is the team's next general manager.
The 34-year-old Roseman, who has acted as the team's vice president of player personnel for the last two years, replaces Tom Heckert. Heckert took the GM job at Cleveland two weeks ago. Although his title suggests it, Roseman will not have the final say on personnel matters. Head coach Andy Reid is the de facto GM.
Roseman doesn't have a formal background in football, but he has been with the organization for 11 years, moving over from the business side several years ago. He has been credited with spotting several players that are now on the team, including defensive end Juqua Parker. He has already developed a reputation around the league for doing his homework. According to some within the organization, he watches as much film as anyone.
Bob Brookover
It was impossible not to notice Drew Rosenhaus' arrival this morning at St. Thomas Aquinas High School here in Fort Lauderdale.
He was the high-profile NFL agent engaged in a massive hug with Eagles wide receiver DeSean Jackson, a client he picked up in the middle of the 2009 season.
We all remember what happened the last time Rosenhaus became the agent for the Eagles' most talented receiver.
Bob Brookover
Eagles kicker David Akers has been named to the NFL's All-Decade team after leading the league in scoring over the past 10 seasons with 1,169 points. Akers is here in Fort Lauderdale for his fourth Pro Bowl of the decade.
"It is obviously a huge honor just to play that length of time in the NFL," Akers said. "To be able to be looked at in that high regard is surreal to me. I couldn't have done it without the Mike Bartrums, the Koy Detmers, the Jon Dorenboses, the Sav Roccas and great offensive lines and coaches helping me along the way. The Eagles have always beleived in me and I am truly grateful for that."
Brian Dawkins, who spent nine out of the 10 years this decade playing for the Eagles, was also selected to the All-Decade team.
Bob Brookover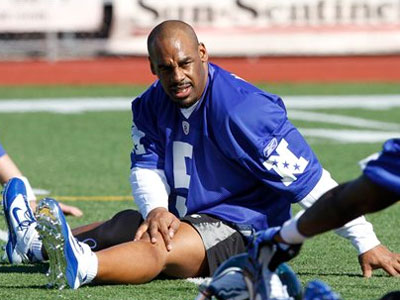 Donovan McNabb remains convinced that he will remain an Eagle.
Furthermore, he insists that's exactly what he wants.
After practicing with the other players on the NFC roster this morning at a Fort Lauderdale High School, McNabb was surrounded by a large media gathering here to cover the Pro Bowl.
Bob Brookover
Quintin Mikell thought for sure he had a Pro Bowl-worthy season in 2008 and he did, which is probably why he'll board an airplane bound for Miami tomorrow and join the rest of the NFC roster when they begin practice Wednesday in Fort Lauderdale.
Both the Eagles' veteran safety and quarterback Donovan McNabb were added to the NFC roster today, bringing the total number of Eagles participating in Sunday's game to nine. It's the first Pro Bowl for Mikell, who replaced New Orleans' Darren Sharper on the NFC squad and the sixth for McNabb, who replaced Saints quarterback Drew Brees.
The Saints, of course, will be playing against Indianapolis in their first Super Bowl the week after the Pro Bowl in Miami.
Bob Brookover
Another Eagles player was added to the NFC's Pro Bowl roster today, but it wasn't quarterback Donovan McNabb.
The team announced this morning that long snapper Jon Dorenbos has been added to the roster, bringing the total number of Eagles on the NFC squad to seven.
That number will rise to eight when McNabb, a first alternate, is officially added over the weekend. McNabb's addition is a lock because either Minnesota's Brett Favre or New Orleans' Drew Brees will be eliminated from the Pro Bowl roster because one of them is going to the Super Bowl after Sunday's NFC championship game.
Jeff McLane, Inquirer Staff Writer
The Eagles have fired special teams coordinator Ted Daisher, after one underwhelming season, and named Bobby April as his replacement today.
The Eagles also terminated the contracts of strength and conditioning coach Mike Wolf and assistant strength and conditioning coach Jay Merlino.
"We appreciate the efforts and contributions of those three men," Eagles coach Andy Reid said. "I have the highest regard for Ted as a special teams coach and as a person. He's an excellent football coach and the numbers and production on the field this past year proved that. We just decided to go in another direction. I have no doubt Ted will land on his feet with another NFL team and do a great job. As far as Mike Wolf, he has been nothing but a professional and diligent strength coach for this franchise over the past 15 seasons. He has been a big part in the success the Eagles have had in recent years. We appreciate all the work he and Jay Merlino put in with our players to help them maximize their efforts on the field."
Bob Brookover
Eagles fullback Leonard Weaver was voted a first-team All-Pro by the Associated Press and four others were voted to the second team.
Weaver, who is likely to be a restricted free agent when the new league year begins in March, had a career-best season with 70 rushes for 323 yards and 15 catches for 140 yards. He also scored four touchdowns.
The quartet of second-team All-Pros includes defensive end Trent Cole, punt returner DeSean Jackson, cornerback Asante Samuel and kicker David Akers.