… about this team heading into the first preseason game against the Baltimore Ravens Thursday night. Why 53? Because that's the final roster number. There are 23 days and four preseason games until final cuts, so there is plenty of time for players on the bubble to make their mark. But here's a roundup of tidbits on everyone from Michael Vick to Graig Cooper that I've gathered from watching practices and talking with coaches,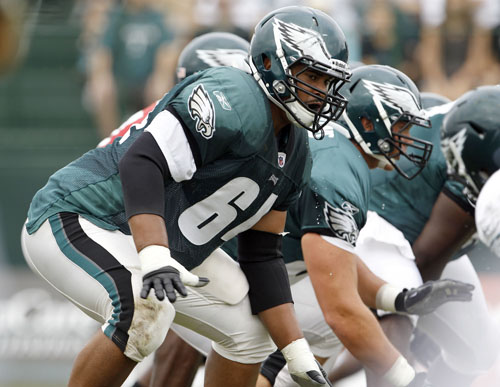 players and front office personnel after the first two weeks of Eagles training camp.
1. I've already seen enough of Ryan Harris, left, at right tackle to know he's better than Winston Justice.
2. It's amazing what one off-season and a new position coach can do to a player. Mike McGlynn started 14 games last season at center and was expected to come in and compete with Jamaal Jackson for that spot this training camp. With Howard Mudd replacing Juan Castillo as the new offensive line coach, McGlynn has slipped down the depth chart. He's third at center and second at right tackle and could be on the outs. I think he stays because of his flexibility, but Mudd has "his guys" and I'm not sure if McGlynn is one of them.
3. Marty Mornhinweg has supreme confidence in his ability to coach up quarterbacks that have either failed or gotten sidetracked elsewhere. Almost all of them have been conducive to change. I think he may have met his match in Vince Young.
4. We've reached the first preseason game and Casey Matthews is still the starting middle linebacker. The Eagles like the progress he's made lining up the front seven and calling the plays. The concern is that he isn't big enough (listed 6-foot-1, 232 pounds) to fend off big-bodied fullbacks in the run.
5. Matthews may be in middle, but Jamar Chaney plays a more valuable position for the Eagles as their strong-side linebacker. He's the only linebacker that will play all three downs and could end up being the best pass-cover linebacker the Eagles have had in years. If Matthews isn't ready to start and the Eagles don't pick up a veteran, it won't take much to move Chaney inside.
6. The hosannas tossed in Curtis Marsh's direction have been well earned. The rookie cornerback – big (6-foot, 200 pounds), athletic and aggressive -- is already ahead of Trevard Lindley on the depth chart. Lindley will get every opportunity to make the team since he's a former fourth-round draft pick and only in his second season. But Brandon Hughes – a former Giants practice squad player -- could push him out.
7. After an off-season in which he spent more time throwing to Eagles receivers than even Vick, Mike Kafka has taken that necessary next step in his progression. It's like night and day between last training camp and this year's. He's just got that look when he's under center. His arm strength is still below average but in the right offense he could excel.
8. Jim Washburn may have mouth like a sailor, but Mudd can get downright nasty when he sees something he doesn't like. Let's not mince words, most of the offensive linemen don't like the guy. But coaches don't need players to like them; they just need their charges to play for them.
9. Cornelius Ingram is back for his third training camp with the Eagles and he's still yet to play in a regular season game. The tight end is two years removed from a torn ACL, three from the first knee tear. He's not wearing a brace and doesn't appear to be running with a hitch, but the explosion we saw from the former fifth-round pick just isn't there anymore.
10. I don't think I've ever seen a linebacker as short as Brian Rolle. The rookie is listed at 5-foot-10, but he's more like 5-8. That doesn't mean he can't play. It just limits him, especially in pass coverage.
11. Andy Reid recently called Jason Avant the best slot receiver in the game. Reid probably forgot about Wes Welker and, well, a receiver he would land a few days later in Steve Smith. The former Giants receiver, who could be back as early as September, said that he can play outside – and he may with Jeremy Maclin's unidentified illness still in search of an identity. But with Smith better suited for the slot, Avant could be playing more on the outside than ever before.
12. Eagles Nation was beside itself when I wrote last week that Nate Allen was the starting strong safety and Kurt Coleman the starting free safety. The alarm? They played opposite positions last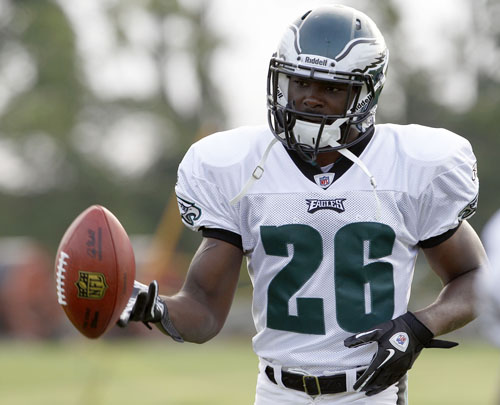 season. No worries, Castillo simply switched the names because he's tinkered with a few responsibilities.
13. Jaiquawn Jarrett, right, has had a quiet camp, but that was expected with live hitting limited. Jarrett is a banger and tonight's game should be the first glimpse of what the rookie safety can bring to the defense. His feet have been getting tangled up in pass coverage, but there's going to be a learning curve considering he's only had the playbook for two weeks.
14. Remember these numbers: 1,300 yards rushing. 90 catches for 700 yards. Those are the figures LeSean McCoy is touting he'll produce this season. They're realistic, although with so many receiving options 90 catches may be a stretch. McCoy feels like he was snubbed out of a Pro Bowl selection last season. I agree.
15. Everyone wants to know: What will Castillo's scheme look like? I've heard players say, "He's simplifying things for us," or "He just wants you to play fast and play hard," or "He just wants you to beat the man opposite you." There isn't much detail in that talk, and some have speculated that Castillo doesn't have much scheme planned. But the Eagles aren't normally ones to divulge information.
16. Brent Celek spent much of last year's training camp receiving treatment following practices. He was banged up at the start of the season and that apparently affected some his early-season drops. Many had thought that his slip in production had to do with the Eagles keeping him in to block more often, but really it had more to do with Vick losing confidence in his tight end. The less strenuous camp could benefit Celek, who has caught nearly everything thrown in his direction thus far.
17. In the battle between Jamaal Jackson and Jason Kelce at center I got the rookie. Jackson would be the safe choice, but he's also coming off two major injuries (ACL and torn triceps). Kelce is a Jeff Saturday clone – he even has the heavy beard -- and Mudd is looking for his Saturday.
18. For a team that says it values cornerbacks last season's neglect was astounding. Beat reporters get many things wrong, but every writer in this city was shocked that the Eagles didn't do anything to replace Sheldon Brown. How much better are Nnamdi Asomugha and Dominique Rodgers-Cromartie than Ellis Hobbs and Dimitri Patterson? It's like comparing The Clash to Creed.
19. Speaking of Rodgers-Cromartie, he's been phenomenal in camp. He's very smooth in the hips and even when he bites on a move, he can quickly make up ground with his world-class speed.
20. I think Chas Henry will have a more consistent season than Alex Henery. Punting is an easier job than kicking, but he's looked more reliable thus far in camp.
21. Riley Cooper was telling me the other day how it was hard to not let the off-season rumors that the Eagles were going to acquire Plaxico Burress affect his psyche. That ship sailed, but now the second-year receiver has to contend with the recent addition of Smith. Cooper is better equipped to play flanker than either Smith or Avant, but he's going to have a have a strong preseason if he wants to remain the starter if Maclin isn't back by the start of the season.
22. Anthony Hargrove is more than just a great story. Having conquered a drug addiction a few years ago, the veteran brings an unbridled enthusiasm to practice. He'll also give the Eagles a competent inside pass-rush piece.
23. The gut says Maclin, whether his illness is identified or not, won't be back by the start of the season.
24. Safety Marlin Jackson and defensive end Victor Abiamiri are further examples that chronically-injured players in the NFL never make it back.
25. A lot of credit for Jason Babin's resurrection last season has been given to Washburn, and rightfully so. But Babin's commitment in the weight room looks to be paying off. He's much more toned than he was two seasons ago when he was first in Philly.
26. For all the credit Reid and Mornhinweg gave former quarterbacks coach James Urban in developing Vick it was obvious that Doug Pederson would eventually be his replacement when the Eagles brought their former quarterback in as a coaching intern. Pederson got a raw deal when he held down the quarterback job until Donovan McNabb took over, so he probably understands better than most how Urban felt when he was demoted and eventually left.
27. Colleague Bob Ford wrote a nice piece about quarterback Jerrod Johnson on Sunday, but the undrafted rookie has no chance of hanging around. He can't even throw a tight spiral.
28. Joselio Hanson has had a nice camp playing mostly at his usual nickel spot, but his days as an Eagle are in serious jeopardy. With Asomugha and DRC in tow, Hanson is expendable, as is his $2.4 million cap number.
29. If Henery was a few inches taller and had blonde, curly hair he could pass for Napoleon Dynamite.
30. The competition for the third running back spot is up for grabs. Dion Lewis has an advantage because he was fifth-round draft pick, but Cooper, an undrafted rookie, has been more impressive so far. And then there's Eldra Buckley, who has managed to hang around for two-plus years. Buckley has a slight edge over the other two because he's a known special teams commodity.
31. The Eagles carried four tackles on their 53-man roster a year ago but they may not this season. With guard Todd Herremans, Danny Watkins and Evan Mathis all capable of playing on the outside, King Dunlap, Austin Howard and Fenuki Tupou may have to find employment elsewhere.
32. The Dallas Reynolds era in Philly appears to finally be over. Reid has found a practice squad spot for his fellow BYU alum the last two seasons, but that cup has run dry and Reynolds must either make the 53-man roster or be waived.
33. Losing Mike Patterson creates a giant-sized hole in the Eagles' defensive front. You can't count Patterson out for the season, but the way the Eagles are slow playing his return it's a stretch to think he'll be back any time soon. Patterson and Antonio Dixon are the Eagles' run-stopping starters. They're space cloggers and with the Eagles' ends splitting wide in the nine-technique there will be more space in the middle to fill up.
34. It's a sure bet defensive end Brandon Graham will remain on the Physically Unable to Perform List when the season starts. That'll give the Eagles a roster spot for six weeks as they further evaluate Graham's return from a torn ACL and microfracture knee surgery.
35. There shouldn't be a rush to return Graham. Babin, Trent Cole, Juqua Parker and Darryl Tapp give the Eagles a solid four-man rotation at defensive end. And if either Daniel Te'o-Nesheim or Phillip Hunt can deliver on some of the promise they've showed in camp the Eagles have a few break-glass-in-case-of-emergency replacements.
36. For the 12th time in 13 seasons, Reid will open the season with a new weak-side linebacker. Moise Fokou played all of last season at strong-side, so the switch to WIL is curious, but his focus on stopping the run will remain the same.
37. Asomugha may be one of the few cornerbacks that is actually taller than listed. He's 6-2 on the roster, but could pass for 6-3. Nevertheless, he's as physically imposing as any cornerback the Eagles have ever had. Makes you think he'll play more nickel than any other corner.
38. Coleman added significant muscle during the off-season. One of Steve Saunders' clients at Powertain, Coleman actually didn't add a pound of weight. He's still 195 pounds.
39. While many of the offensive linemen sometimes want to get as far away from Mudd as possible, guard Danny Watkins can often be seen trailing after the coach seeking further knowledge from the o-line sage. Watkins is penciled in as the starting right guard, but it's not a stretch to think he won't be ready by the opener and Mathis will fill the spot until the rookie is ready.
40. While the Wildcat is certainly in the playbook, the Eagles probably won't start practicing that package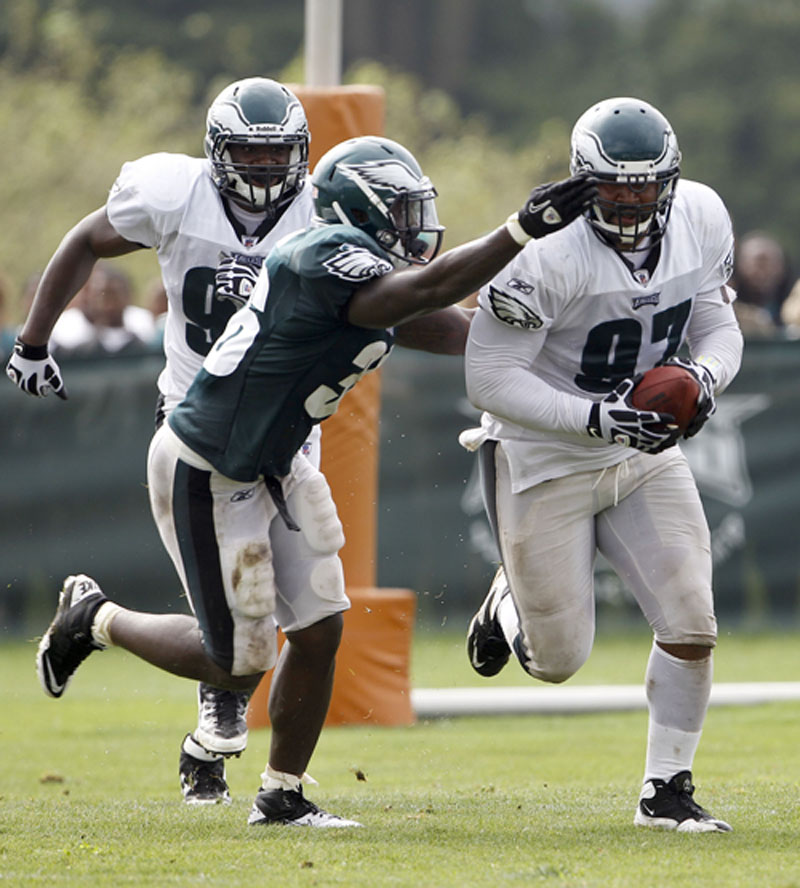 of plays until they leave Lehigh. Ronnie Brown wasn't brought here exclusively to run the Wildcat but the Eagles would be remiss if they didn't use the running back in that set.
41. Green Bay had soured on Cullen Jenkins, left, late last season because a calf injury had limited his production. But the defensive tackle has found new life with the Eagles, at least after a week of camp. His inside swim move was virtually unstoppable during one-on-one drills.
42. Wide receiver Sinorice Moss was bound to be a training camp fan favorite. He's small, quick and sometimes dazzling. But he's been inconsistent and has battled a groin injury of late and has an uphill climb to make the team.
43. Speaking of camp favorites, wide receiver DeAndre Brown was headed to Canton in some fans' eyes. It's easy to become enamored by size (6-6, 233 for Brown), but not many can see what's inside a player. Eagles coaches could and that's why he's gone.
44. Last off-season, Howie Roseman was hamstrung by the limited number of available free agents on the market. Four-year vets became restricted free agents and the Eagles general manager had to resort to trades to get some new pieces. With the free agent system reverting back to 2009 rules, Roseman was able to snap up a number of proven players (Jenkins, Smith, Brown, Harris) that saw their market value drop. The jury is still out on Roseman as a talent evaluator, but he's shown that he's especially adept at getting the most bang for the buck.
45. Johnnie Lee Higgins will return kicks and punts if all goes according to plan. That could mean Chad Hall is on the outs, especially if Smith is ready early in the season. The same could pretty much be said of Jorrick Calvin.
46. Probably the two fastest players to come out of the 2008 draft, receiver DeSean Jackson and Rodgers-Cromartie could be matched up in camp as soon as Saturday. Who's faster? DRC said he's probably faster on the track, but that Jackson has better game speed.
47. With Matthews, Chaney, Fokou and Keenan Clayton all but assured roster spots, the last linebacker to make the team could come down to Rolle, Greg Lloyd and Akeem Jordan. Jordan is the lone free agent the Eagles brought back from last season. He's versatile and can play special teams, while Rolle and Lloyd can be stowed away on the practice squad for now.
48. Mudd may have gotten on tackle Jason Peters early in camp, but the two appear to be seeing eye-to-eye of late. Peters is perfectly suited to Mudd's approach to blocking. He's already versed in Mudd's attack-mode style of pass protection – having used a similar approach in Buffalo – and is starting to round into playing shape.
49. Owen Schmitt is the odds-on favorite to win the lone fullback spot on the roster. Rookie Stanley Havili has a chance to make some headway during the preseason but he looks destined for the practice squad.
50. It isn't written in stone that the Eagles won't carry three tight ends. They've done it before. They have three – Celek, Clay Harbor and Donald Lee -- good enough to keep. But last year only Celek and Harbor made the cut. The Eagles still have high aspirations for Harbor, but Lee is a better blocker and will be hard to release.
51. DeSean Jackson's camp said he added five pounds during the off-season. That may not sound like much but when you weigh 160 pounds any weight could come in handy as the season wears on.
52. The Eagles may or may not carry four safeties. They've carried only three before. If it's three, Allen, Coleman and Jarrett are on the team. If it's four, the last spot could come down to Jarrad Page and Colt Anderson. Page has the experience edge and the Eagles need some of that in centerfield. But Anderson was probably the best special teams performer in the second half of last season.
53. Michael Vick is still maturing as a quarterback. When he came into camp Reid asked him the one thing he wanted to improve upon and Vick immediately said he needed to do a better job of reading the blitz. That may sound obvious, but at the end of last season Vick sounded reluctant to change.