… about this team heading into the first preseason game against the Baltimore Ravens Thursday night. Why 53? Because that's the final roster number. There are 23 days and four preseason games until final cuts, so there is plenty of time for players on the bubble to make their mark. But here's a roundup of tidbits on everyone from Michael Vick to Graig Cooper that I've gathered from watching practices and talking with coaches,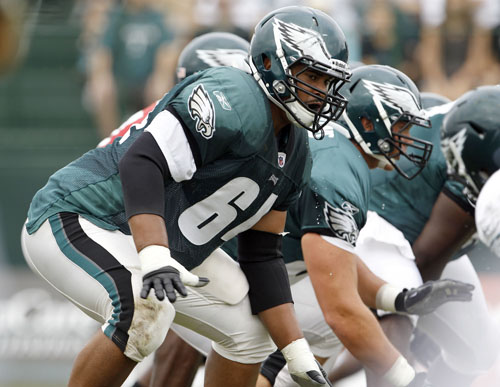 players and front office personnel after the first two weeks of Eagles training camp.
1. I've already seen enough of Ryan Harris, left, at right tackle to know he's better than Winston Justice.
2. It's amazing what one off-season and a new position coach can do to a player. Mike McGlynn started 14 games last season at center and was expected to come in and compete with Jamaal Jackson for that spot this training camp. With Howard Mudd replacing Juan Castillo as the new offensive line coach, McGlynn has slipped down the depth chart. He's third at center and second at right tackle and could be on the outs. I think he stays because of his flexibility, but Mudd has "his guys" and I'm not sure if McGlynn is one of them.
3. Marty Mornhinweg has supreme confidence in his ability to coach up quarterbacks that have either failed or gotten sidetracked elsewhere. Almost all of them have been conducive to change. I think he may have met his match in Vince Young.