Archive: August, 2009
Daniel Rubin
The football team I've come to love just signed a fabulously gifted dog murderer.
The news that the Eagles signed Michael Vick has split me from a couple of my friends, real and virtual.
They think it's a perfect fit.
I can't imagine seeing Vick explode down the field in green without picturing one of those poor dogs, doused with gasoline or hanging from a tree.
Daniel Rubin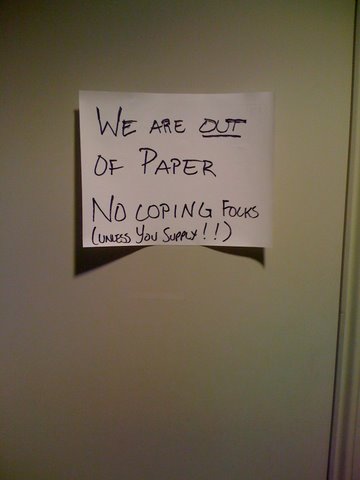 No wonder this sign on the door of the attorneys' file-review room in the Criminal Justice Center disappeared last week. It says "No Coping," not "No Copying."
How did I miss this?
Today's column chronicles some victims of the state's budget impasse: court-appointed defense lawyers. Ones I talked to hadn't been paid since May. Theses are low-overhead, high-volume sole practionners, many of them true believers in work that pays a tiny fraction of what their peers make in private practice.
Daniel Rubin
The team was bad, famously bad, but Vinny Spanelli liked their chances anyway, because he was a 17-year-old street kid from South Philadelphia and they were his beloved Phillies.
How bad?
That April in the Detroit Free Enterprise, beat writer Calvin J. Butterworth predicted another season in the cellar for the 1924 Philadelphia nine:
Daniel Rubin
Decided to give my inbox a rest today. Nothing about cellphone bans, healthcare reforms or Cash for Clunkers.
Instead, today's metro column investigates a 75-year tradition in Downingtown's old Italian neighborhood, Johnsontown, where 1,000 men will gather for an event that celebrates what a group of kids with names like "Skid," "Sparrow" and "Muskie" did for dinner one day during the Great Depression.
They feasted on frog legs plucked from the Brandywine Creek.
Daniel Rubin
We had an editor who was famous around these parts for informing an irate phone caller, "Madame, if you don't calm down, I'm going to have to cancel your subscription."
This comes to mind with my latest e-mail, from a retired General Motors employee, who decided his latest cost-cutting will come from ending his daily relationship to the Inquirer.
And this because of today's column, an ode to our 17-year-old clunker named Bessie, which ends with me buying a Honda.
Wrote he: "There used to be tens of thousands of GM, Ford and Chrysler employees in "The Inquirer" area.
Almost all of them are gone. Hopefully, a Honda employee in Japan will take out a new subscription
to your newspaper."
That my Honda was made in East Liberty, Ohio, of all places, by Americans, and sold in Willow Grove, by Americans, doesn't count for enough.
I wrote back, suggesting he try to find happiness elsewhere and recommending that he not stop the driver of every foreign-looking car and determining his or her place of employment and then threatening to boycott whatever products it made. I also said that those of us in threatened manufacturing sectors have to spend our money on what's going to last the longest. I didn't say anything about those Cadillac-quality
health care benefits
that caused so much trouble for the good GMers.
Anyway, here's to Bessie, and the new car, which the kids haven't yet named.
Didn't know until recently that Neil Young wrote this about HIS old clunker.