Archive: July, 2009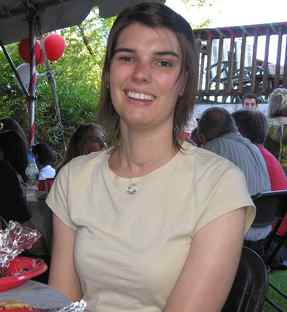 Jacy Good was coming home from her graduation at Muhlenberg when a driver on the phone lost control of his minivan. The accident killed her parents, and ended her plans of working this year with Habitat for Humanity. It also began her career as an advocate for motor vehicle laws that reflect what we're learning about the danger of distracted drivers.
Good luck in PA.
In reporting today's metro column, I talked about the alarming stats delivering in a series of New York Times articles this month, the failed effort to change legislator's minds in Pennsylvania, and then the local legislation that will grow teeth in November and allow police to stop and ticket motorists in Philly who hold the phone to their ear while driving.
When we lived in Berlin, Germany, our dog enjoyed better health care than millions of Americans.
She had a cancerous growth on her right front leg. We took her to our local vet who gave us the grim word -- Krebs in German -- and suggested we go to the Free University for surgery.
The Free University wasn't free, but the price for all they they did for our dog, Twinkle, an adult Bouvier des Flandres, was astonishing.
Just got a call from an old shoeshine boy, looking to catch a ballgame.
Frank Marcellino, 93, had read today's column about Mrs. Jesse Foyle. He wanted to know if he retired to Simpson House whether he'd be able to watch Phillies games on Comcast SportsNet.
"You can as of Thursday," I told him.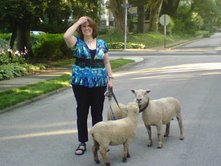 Occasionally you see a photo posted on Facebook that makes you reach for the phone.
So what was Beth Aronson doing in the middle of the road in Melrose Park yesterday with a sheep on a leash?
"Trying to keep it from getting smoshed," she answered.
In Boston they're fast and crazy. In Jerusalem their horns seem wired to their accelerators. In Cairo, well that's the only place in the world where I didn't ever try to drive -- it's those donkey carts.
Driving in Philly? It's an afterthought. You're on the phone, flying down the breakdown lane, you gotta problem with that?
Allstate Corp. has released it's annual, semi-bogus report about the nation's worst drivers, and we're a winner, folks, if you look at the 10 biggest cities. They didn't include Boston, where I learned my bad habits, because Allstate doesn't issue insurance there under its own name. Nervous?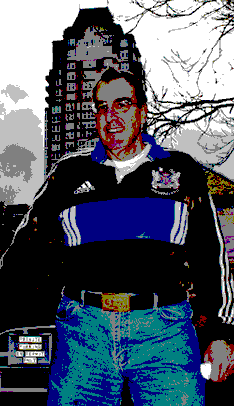 For 20 years Clark DeLeon wrote a daily column for The Inquirer, a reported slice-of-life called The Scene, which back in 1988 was the first place I turned to try to get a bead on my new town. It was reported with love and passion and lots of shoe leather, and through its vignettes and little epiphanies it delivered the big picture in a small space, reliably there in page 2 of the local section. It was required reading for locals and a need-to-be like me.
(I remember sitting in a Philly cheesesteak place that had just opened up in Louisville, Kentucky a few months before coming here and not knowing what to make of the marathon on TV that was a Mummers Day parade on tape. It took knowing Clark for me to understand why a guy would brave 12 hours in Ice Station Zebra temperatures while dressed like Liberace.)
We've kept in touch over the years, sharing a passion for certain Bruce Springsteen songs - "Meeting Across the River" into "Jungleland" - and real life, itself.
The higher we worked in the old house, the farther we went back in time. If the first floor, with its giant dining room table, summoned memories of crowded, chaotic sedars from the '60s, the second floor took me back to times I'd only heard about -- my grandfather coming home smelling of work, dropping the needle on a Xavier Cugat .78, and fixing a bourbon and orange juice. The attic, though, was completely foreign -- ancient wooden trunks and barrels, ornate brass picture frames, a dusty oil painting of my great grandfather, Joseph Shapiro, who had a junk business in Boston, but apparently cleaned up nice.
The family had been there since 1922, 14 relatives sharing one bathroom. That built patience, my mother told me. And humility. Now there was no one in the house, just the stuff of 87 years. And what a lot of stuff. My Cousin Bobby, who died in March at 84, was a collector. That's the polite way to say it.
He was a hoarder, actually. We found cartons of unopened fig bars, giant bags of peppermint candies, untouched socks from discount shops picked up in bulk because the price was right. He had records of almost everything he ever bought - a home economist could map the price of gas in suburban Boston in 1972 with ease, thanks to Bobby. You couldn't breathe in the place. Out it went.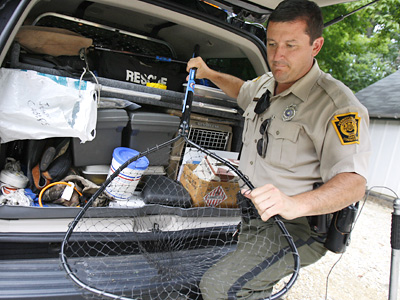 Jerrold Czech is real police, keeping us safe from the animals, and more often visa versa.
Today's metro column springs from a ride-around with the city's sole Wildlife Conservation Officer.
He covers about 2 million people (including Delco these days) and deals with a lot of deer and the occasional peregrine falcon and bald eagle mama. He tells stories, dryly and well.