Archive: June, 2013
Karen Heller, Inquirer Staff Writer
Does Daryl "Insert Outrageous Quote Here" Metcalfe (R., Butler) stay up nights imaging ways to offend people? Certainly, it doesn't take him too long. There are enough whoppers to publish his own Mao-like little red book, though Metcalfe would loathe the comparison.
This week, after the Supreme Court struck down the Defense of Marriage Act, Rep. Brian Sims (D., Phila), the first openly gay member in the Pennsylvania legislature and one of only two out legislators — we're talking out of 303 elected officials, people, in the year 2013 — was granted unanimous consent Wednesday to speak on the House floor about the historic ruling. But instead of listening, halfway through his first sentence, Sims' was silenced by the shouts of other unamed legislators. And consent was withdrawn.
Metcalfe, not to be undone, admitted that he was one of the vocal protestors, telling WHYY-FM that Sims' comments would be an "open rebellion against what the word of God has said, what God has said, and just open rebellion against God's law."
Karen Heller, Inquirer Staff Writer
The bloom is somewhat off the rose at the venerable Pennsylvania Horticultural Society, founded in 1827.
As The Inquirer's Virginia A. Smith reports today, almost 17 percent of the staff was laid off this week.
PHS President Drew Becher has blamed much of the organization's woes on inaccurate weather forecasts that, he claims, battered ticket sales at the this year's Philadelphia Flower Show. The loss was $1.2 million, the amount the layoffs are projected to save.
Kevin Riordan, Inquirer Columnist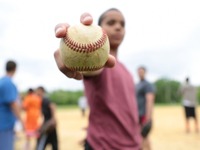 Young suburbanites who visit North Camden's Pyne Poynt Park are liable to be looking for heroin.
But Steve Patrick Ercolani, who hails from Haddonfield, is there to make a documentary about baseball. Footage that he and his collaborators have shot in recent weeks has been crafted into a compelling trailer (the video is below) to promote a $15,000 Kickstarter fundraising campaign.
Ercolani, 26, and Gabe Dinsmoor, 25, of Baltimore, hope to tell the story of activist Bryan Morton and the North Camden Little League, which gives kids in one of America's toughest neighborhoods a chance to enjoy America's pasttime.
Karen Heller, Inquirer Staff Writer
Our mistake in reporting in an earlier blog post on the Girard end-of-year party to be held on the Ben Franklin Yacht.
The event is for teachers and staff, who will attend for free, with generous underwriting from the Christina and Francis Manley Trust.
Writes Girard College spokesman Kevin Feeley:
"A group of Girard faculty members have an informal "tradition" of staging their own night out, at their own expense, aboard the Ben Franklin Yacht;
"Girard normally hosts an end-of-year event for faculty as well, though in the past the event was held on campus;
"In discussion with a faculty member, a Girard administrator learned about the Ben Franklin event and offered to help the faculty identify some financial support for it. He thought it would be a good idea to offer the night out to all faculty and staff. His motive was simply an offer in recognition of the fact that it has been a very difficult year for everyone connected to Girard, including the faculty;
"No school funds are being used for the event. Indeed, no money of any kind is coming from Girard College or the Girard Estate for this event;
"The administrator asked the Girard College Alumni Association if it wanted to serve as a sponsor, and the GCAA declined the request. The administrator then asked alumnus Fran Manley, who has sponsored requests to benefit the faculty in the past, if he was interested in supporting the event, and Mr. Manley agreed."
Kevin Riordan, Inquirer Columnist
The view is lovely. But for $100,000?
Citing a cost estimate as well as opposition by some residents, Laurel Springs, NJ has rejected the notion of purchasing a choice piece of private lakefront property and preserving it as open space.
"We would, of course, like to have those three acres left untouched," borough Councilman Gene Letts says. "However, we all examined the issue thoroughly and there was no choice but to decline."
Kevin Riordan, Inquirer Columnist
The champion of a neglected cottage in a Camden County, NJ park has only begun to fight.
Karen Heller, Inquirer Staff Writer
Sunday marked the last drop of Philly Beer Week, which, as these things sometimes happen, lasted a suds-filled 10 days but who's counting?
Prohibition Tap Room was host Saturday to one of our favorite events "Philly's Worst Beer Geek." The cozy corner bar on N. 5th, "compiled ten truly AWFUL beers along with "eight truly EPIC beers."
The trick was to blind taste test five of the five awful beers and the bar would tap the epic keg of the winner's chosing.
Kevin Riordan, Inquirer Columnist
Increasingly shallow due to erosion, and awash in nutrients from lawn fertilzer runoff and Canada geese droppings, Camden County, NJ's Newton Lake has become a vast vat -- a veritable sea -- of pea-and-watercress soup, seasoned with skunk cabbage.
I'm being metaphorical, as well as kind.
The county says help is on the way in the form of an aquatic contraption called a "Truxor," which may start to chop and chomp the Newton's weedy waters today. All hail, Truxor!