Archive: December, 2012
Kevin Riordan

, Inquirer Columnist
Pitman Bakery, a destination for Philadelphia-area doughnut lovers for 44 years, is closing.
The announcement arrived Thursday on the Facebook page of the beloved business, which opened on South Broadway in downtown Pitman, NJ in 1968 -- decades before Philly's Federal Donuts and the ubiquitous Krispy Kreme came on the region's sweets scene.
"On behalf of the entire Pitman Bakery staff and family, we say thank you for 44 blessed and wonderful years," the announcement says. "We have decided to retire."
Posts by the bakery's Facebook fans lament the loss ("a sad day in Pitman") of a downtown mainstay, as well as of signature delights like orange doughnuts -- a list to which I would add pretty much all of the bakery's selections.
But there's hope: A real estate listing on the LandWatch website says that "
the donut & bread recipes" are included in the sale.
The asking price for the property is $225,000; for the business, $189,000, according to the Prudential New Jersey website.
Kevin Riordan

, Inquirer Columnist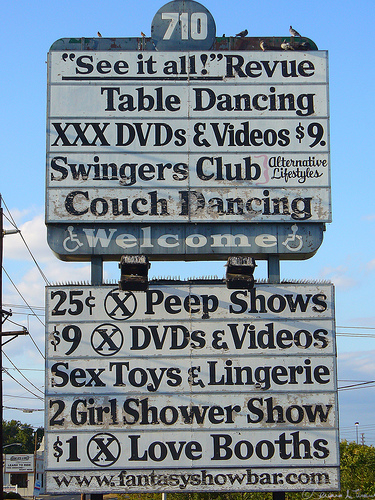 Fast-food will displace fast thrills in Mount Ephraim, NJ, where a Taco Bell is expected to rise on the site of a landmark Black Horse Pike "gentleman's club."
"What a Christmas gift for the borough of Mount Ephraim!" Mayor Joseph Wolk told the Courier-Post on December 18, after the local planning board blessed variances required for the project. A legal effort by the placid Camden County community to get rid of the garish joint altogether went all the way to the U.S. Supreme Court, which rebuffed it in the early 1980s, Philly.com reported.
Most recently called Jersey Girls and perhaps best known for colossal signs promising a "Nude Girl Sex Show," the establishment has loomed over Mount Ephraim's western gateway for close to 40 years. At various times it also offered table dancing, couch dancing, a "2 Girl Shower Show" and "Love Booths."
Kevin Riordan

, Inquirer Columnist
Chris Christie says gun control should be part of a "national conversation about what we're willing to give up to make ourselves safer and our children safer" post-Newtown.
During an appearance on NJ 101.5 radio's "Ask the Governor" Wednesday, Christie - a former U.S. Attorney - put firearms on the table along with mental health treatment and portrayals of violence in computer games and other entertainment media.
"I think we need to have a large, national discussion and gun control has to be part of it too…but anyone who thinks fixing any one of those things solves the problem is kidding themselves – I believe it's a continuum of all those things," the Republican governor said.
Kevin Riordan

, Inquirer Columnist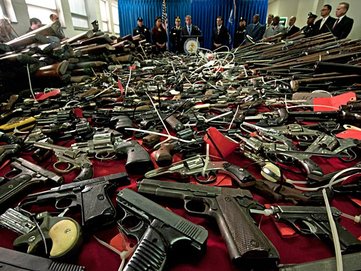 An Uzi 9mm submachine gun -- the sort that can fire 600 rounds a minute -- was one of the 1,137 firearms surrendered for cash in Camden just before and immediately after the slaughter in Newtown, Ct..
Four other automatic assault weapons also were turned in, N.J. Attorney General Jeffrey S. Chiesa said. The annual buyback was open to gun owners throughout Camden County; the number of guns amassed dwarfed last year's total of 57.
The latest arsenal of mass destruction to be taken off the streets was displayed Tuesday during a press conference by Chiesa, Camden Police Chief Scott Thomson, city Mayor Dana Redd and other officials.
Kevin Riordan

, Inquirer Columnist
As Connecticut's massacre, Washington, D.C.'s fiscal cliff-hanger and Sandy's aftermath dominate headlines, yet another calamity looms.
New Jersey faces a $200 billion bill for upcoming pension, health benefit and infrastructure costs, according to a blue-ribbon panel whose findings were released on the eve of the Newtown shootings. Unfunded pension obligations alone total $84.8 billion.
The gloom-inducing 88-page report was published by the bi-partisan State Budget Crisis Task Force, co-chaired by former N.Y. Lieutenant Gov.Richard Ravitch and former federal reserve Chairman Paul Volcker. The panel is examining the budget perils of six large states.
Kevin Riordan

, Inquirer Columnist
In the wake of Newtown, I'm reminded of a saying common in 12-Step recovery circles.
Doing same thing over and over and expecting a different result is the definition of insanity.
Hearteningly enough, the reaction to our latest American massacre does seem different, perhaps because so many small-town Connecticut kids now must be laid to rest the week before Christmas. A prairie fire of grief and outrage on social media quickly overwhelmed the notion that "this is not the right time" to talk about ammo and arsenals.
Kevin Riordan

, Inquirer Columnist
A bi-partisan Gloucester County, NJ highway project named for the state's top elected Democrat has a new title: "Regional Transportation Program of the Year."
The Delaware Valley Regional Planning Commission is hailing the $16 million, 1.5 mile Mullica Hill Bypass -- aka Stephen M. Sweeney Way, after the N.J. Senate president -- as "responsible government at its best."
The website PlanPhilly reports that the bypass, which re-routes through traffic on Route 322 away from the Mullica Hill shopping district in Harrison Township, has largely been welcomed by local businesses and residents.
Kevin Riordan

, Inquirer Columnist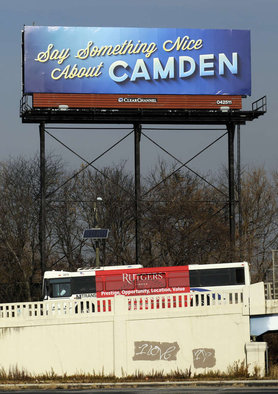 Turns out plenty of people want to "say something nice about Camden."
As I wrote in Tuesday's column, a billboard displaying that suggestion now towers over Admiral Wilson Boulevard as part of a campaign that includes a website, a Facebook page and a Twitter feed: @ssnac.
"The reaction has been so overwhelmingly positive, it is amazing," says Jennifer Barton, a communications professional and former city resident who's behind the campaign. "Reading and hearing the wonderful things people have to say, sharing their memories and their hopes for Camden - it has been incredible."