Media
One can never be certain, but this sign is reminiscent of previous protestations MOVE posted outside the Inquirer's New Jersey office in years past when I asked uncomfortable questions about the unsolved murder of John Gilbride.
Last time, the group blasted me by name and accused me of supporting "murder, violence and terrorism." (As you can see from this slideshow, I kept the poster as a souvenir.)
This time, MOVE's message is more subtle. The signs, placed along on Haddonfield Road in Cherry Hill, do not mention me, Gilbride or the slain man's 16-year-old son, Zackary. They politely ask passersby to phone the Inquirer.
Monica Yant Kinney
In the interest of transparency, I am posting the entire 790-word email I received Friday night from a sender purporting to be from the MOVE organization. The email arrived a week after I left a letter for MOVE matriarch Alberta Africa asking to speak with her and her teenage son, Zack, about the 10-year anniversary of the murder of his father, Africa's ex-husband, John Gilbride. The first of two columns on the case Sunday.
(Please note: This email is reprinted exactly as received, complete with typographical and grammatical errors.)
The Move Organization got your letter. How much is the gov. and the Gilbrides
paying you for this new assault on Alberta Africa and her child? You think we're stupid,
we know what you're trying to do. You think she raised her child to be alienated from
his father and his father's family, but you're wrong; which is no surprise, you been, and
still are wrong about a lot of things when it comes to Alberta Africa. You don't think it's
people like you, the courts and the Gilbrides who's to blame for anything wrong that
would cause alienation in her child, do you? That's your typical racist, bigoted, superior
attitude, and you are a racist. You want to assume the worse when it comes to Alberta
as a mother just because she's black. You ain't got no sense of fairness or equality: if it
ain't white, it ain't right. Right Monica?

Monica Yant Kinney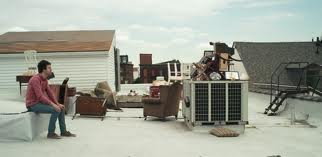 I rarely see music videos anymore, though regular readers know I'm age-inappropriately obsessed with MTV's Teen Mom. Last week's breezy VMAs reminded me that artists still make these mini-movies. And hey, wow, there's Philadelphia starring in a relatively new video by Passion Pit.
The WXPN-friendly song is oddly upbeat given the focus on economic malaise. Philebrity and Uwishunu get the nod for posting the video and identifying the images scrolling across the small screen. (Warning: This is one of those shot-like-you're-flying videos, so be warned if you, like me, are at all prone to motion sickness.)
As excited as I am to see the city/region getting love from the only hipster chipmunks on my running mix, am I the only one tiring of the visual stereotype? (You remember Springsteen's video for "Streets of Philadelphia," don't you? The blight. Oh, the blight.)
Monica Yant Kinney
Watching the Democratic National Convention on C-SPAN has many benefits, not the least of which is this: You can clearly hear the snippets of songs chosen to usher each speaker onto the stage.
I'm sure these bits have specific names -- anyone? The politics of music has long been a campaign subplot. Every four years, it seems, some upset artist sues or threatens a candidate using a song without permission. This year, the most discordant story involves Republican Vice Presidential nominee Paul Ryan's unlikely obsession with angry rap-rockers Rage Against the Machine, and the band's horrified response to the superfan.
I know some professional athletes choose which songs are blasted in stadiums when they take the bat or come back in the game. Does the same hold true for the president of Planned Parenthood or Governor of Colorado? And if the speakers don't have any say, what should viewers read-in to the tunes imposed by the campaigns?
Monica Yant Kinney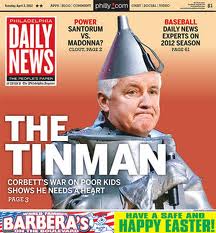 So Pennsylvania Gov. Tom Corbett has replaced his chief of staff. As if one top aide can rehabilitate the image of a politician uncomfortable with the image-making part of the job.
Political foes love to villainize Corbett for what he does, but I've long been as fascinated by all he doesn't. John Street suffered from shyness, but could still charm and churn. Corbett seems biologically incapable (or emotionally unwilling?) to utter a word that would remind voters why they've given him the keys to the commonwealth. He doesn't even hold sway over the legislature, which is controlled by his own Republican party.
As ably reported this week by my colleagues, Angela Couloumbis and Tom Fitzgerald, Republican powerbrokers have their boxers twisted by the prospect that the Governor of Few Words may be silencing himself into early retirement. No one expected Corbett to be another Ed Rendell (God help us), but surely a former prosecutor would have more stage presence than this.
Karen Heller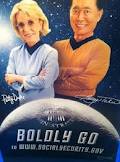 Went to the Social Security Administration's Center City office at lunchtime because someone in our house turned 16 last week and wanted her learner's permit, like yesterday, but aging parents couldn't remember where they put the card they acquired in 1996 because, really, what do you ever need the physicial thing except when you go to get a learner's permit?
Anyway, the digs aren't bad, 20th floor at 2 Penn Center, top floor, penthouse view.
But the odd thing is the SSA has a spokesman, actually two. I was sort of shocked to learn they're Patty Duke and George Takei, who played Hikaru Sulu on Star Trek.
Actually, I had to look up the name.
I always thought Sulu's first name was Mister.
Anyway, who would have ever thought to put these two folks together? Perhaps the thinking was "you know who these people are because they were on television a long time ago when you were young, but now you're not and might need your Social Security benefits."
But, really, why does a mandatory benefit program need an ad campaign?
Social Security isn't facing wicked competition the way the United States Parcel Service is. The postal service could really use Spock and Kirk, and Cathy and Patty Lane, and maybe whoever is left from Gunsmoke and Bonanza.
---Karen Heller
Monica Yant Kinney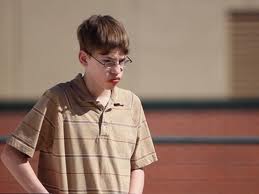 Jim Kenney's children aren't children anymore. The longtime City Councilman has no memory of being a bully, or being bullied, as a kid growing up in South Philadelphia. So he can't really explain why he's so drawn to the forthcoming documentary Bully, why this movie -- with no clear connection to Philadelphia besides the school district's alarming culture of violence -- has become such a personal crusade.
All Kenney knows, after spending much of the last year thinking about bullying and talking to the filmmakers is this: "If every kid could watch this movie, what an impact it might have."
The subject is on my mind, too, having recently written about a Swarthmore boy confronting his own experience being bullied and being the parent of a second grader navigating socially treacherous waters.
Monica Yant Kinney
This just in: St. Laurentius Catholic School will stay open after all, the the delight of Fishtowners who fought valiantly and against great odds.
As my colleague Martha Woodall reports, Holy Trinity (in Morrisville) and St. Laurentius got the good news today.
In all, at least 21 parish schools and three high schools had appealed the commission's recommendations for closure, Woodall writes. The archdiocese is expected to announce Archbishop Charles J. Chaput's appeal decisions Friday.