Lives and Deaths
One can never be certain, but this sign is reminiscent of previous protestations MOVE posted outside the Inquirer's New Jersey office in years past when I asked uncomfortable questions about the unsolved murder of John Gilbride.
Last time, the group blasted me by name and accused me of supporting "murder, violence and terrorism." (As you can see from this slideshow, I kept the poster as a souvenir.)
This time, MOVE's message is more subtle. The signs, placed along on Haddonfield Road in Cherry Hill, do not mention me, Gilbride or the slain man's 16-year-old son, Zackary. They politely ask passersby to phone the Inquirer.
Monica Yant Kinney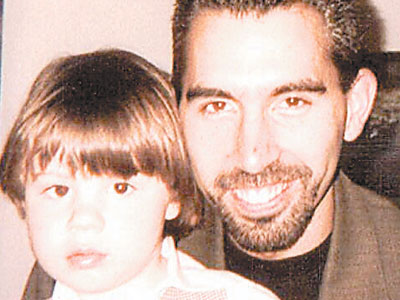 After revisiting the 10-year-old murder of ex-MOVE supporter John Gilbride Sunday and today, I offer a final mini-mystery concerning a work locker which may have contained leads for investigators hunting his killer.
John was a 34-year-old USAirways baggage supervisor when he was gunned down in Maple Shade in September, 2002. He died in the midst of a bitter custody fight with his ex-wife, MOVE matriarch Alberta Africa.
Months earlier, John told family and friends that he had a notebook filled with sensitive information the cult wouldn't want exposed. "An ace up his sleeve," his father, Jack Gilbride recalls.
Monica Yant Kinney
Working on a Sunday column about progress (or lack thereof) amid the many arranged marriages underway between parish schools in the Archdiocese of Philadelphia. In between interviews, got this email from a reader and proud Monsignor Bonner parent who has channeled his memories of the son he lost into a money-making juggernaut for the young man's alma mater.
David Garrison graduated in 2008 after a distinguished athletic career at the Drexel Hill high school. He went on to West Virginia University, but was killed after being struck by a car in early 2009.
"He was going back to school with an upperclassman when they had a flat," explained his father, also named Dave Garrison. "While waiting for help to arrive, someone came along and hit him along the side of the road. He suffered severe brain injuries and died two weeks later."
Monica Yant Kinney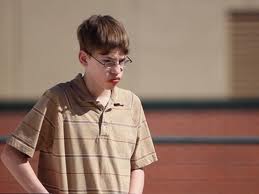 Jim Kenney's children aren't children anymore. The longtime City Councilman has no memory of being a bully, or being bullied, as a kid growing up in South Philadelphia. So he can't really explain why he's so drawn to the forthcoming documentary Bully, why this movie -- with no clear connection to Philadelphia besides the school district's alarming culture of violence -- has become such a personal crusade.
All Kenney knows, after spending much of the last year thinking about bullying and talking to the filmmakers is this: "If every kid could watch this movie, what an impact it might have."
The subject is on my mind, too, having recently written about a Swarthmore boy confronting his own experience being bullied and being the parent of a second grader navigating socially treacherous waters.
Monica Yant Kinney
Writing today's column made me crave the days of old when we could go on and on and on in print. Compelling arguments and lovely people often get stuck in the notebook when you only have 700 words to tell a story.
So, as promised, here are a few more scenes from a group interview I did Tuesday with members of the intellectually disabled community, their parents and service providers -- all of whom are bracing for another round of Corbett administration budget cuts that make their difficult lives even more excruciating.
"We dont want budge cut because we want our programs stay," 53-year-old Northeast Philadelphia group home resident Barbara Romanisky wrote (misspellings preserved for authenticity, see her letter above) at the gathering before Gov. Corbett's somber speech. "I belive that we should not be affard to speak up for our right."
Karen Heller
Much of the reader email we get is angry. A bit of the email is kind.
And then there's this gem sent this weekend to a few Inquirer reporters.
"Hello;
Monica Yant Kinney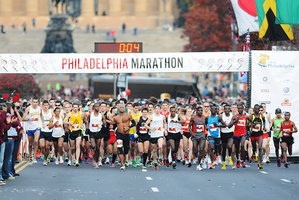 Eighteen months ago, I'd never run more than 3 or 4 miles. Sunday, I completed my first half-marathon, capping a 40th birthday year challenge I set for myself that began with a 10K over the Ben Franklin Bridge last fall and the glorious 10 miler down Broad Street in May.
So yeah, an overstressed, underrested working Mom can pull this off. But if I had to do it all over again, I would have started in my 20s. My knees agree.
I still have yet to experience the elusive runner's high -- unless it's less ecstasy, more prideful satisfaction -- but I've become part of the tribe. You know us and probably loathe us. We talk about running way too much, as if anyone besides other runners cares about how lousy the weather was for our last long run or how thrilled we are about our new shoes.
Monica Yant Kinney
Had lunch on the City hall apron with the Occupy Philly agitators, enjoying my fish tacos and the surprisingly upbeat demonstrators railing against tough times.
I showed up on Day 2 as the General Assembly was in mid-stream, with participants shouting out their message to a crowd ready and willing to repeat, the better for deep thoughts to set in.
Below, a few of my favorites.