Education
Monica Yant Kinney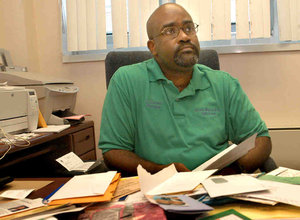 I wish today's column had a happier ending. Five years ago, when I first met Joe Carruth, I thought the rookie high school principal was courageous for going public with allegations that superiors in the Camden School District wanted him to change students' answers on the all-important state assessment tests.
Today, I still think Joe a hero for sticking his neck out and putting his career on the line. But rather than award him a medal, I'd really like to see the man get a job.
That Carruth, the honorable whistleblower. was fired for doing the right thing was unconscionable. That he remains unemployed, criminal. Why has no school district snapped up this engaging, inspiring educator? How is it that the one person who set a positive example for the students at Brimm Medical Arts High is the only person made to pay in this sordid scandal?
Karen Heller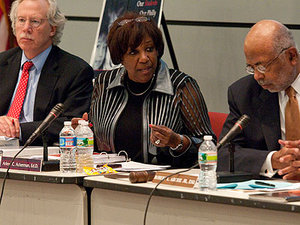 The Philadelphia School District is being walloped with one crisis after another.
While the district is still dealing with the fallout from the Martin Luther King High fiasco, resulting in Mayor Nutter's call for an investigation, it's now facing the brutal reality of a $629 budget gap.
At a Wednesday meeting of the School Reform Commission, the brutality of the fiscal crisis was explained: a proposal to slash staff by 16 percent, 3,820 employees, and the loss of full-day kindergarten.
Karen Heller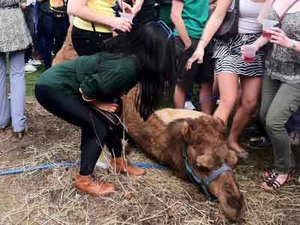 Some mornings, you read the paper and there's a headline that grabs you, one you thought you might never read. Today's winner: "Penn frat cleared of camel abuse." You can read Sam Wood's report here.
Boys, of course, will be boys. And what's a frat without a few pranks, especially once spring blooms? So the inventive folks at Zeta Psi brought a 5-year camel in from the Peaceable Kingdom Petting Zoo in Bucks County for Spring Fling.
A post-doctoral fellow at the medical school complained about the scene, saying "There was loud music and drunk college students everywhere."
Karen Heller
Take a gander at the Inquirer's article on the local impact of Governor Corbett's proposed whacking of education funding. http://www.philly.com/philly/news/20110405_School_districts_brace_for_big_cuts_in_Corbett_budget.html
Dan Hardy and Adrienne Lu report that aid to the state's schools will be cut by $1.1 billion, about $438 million less for regional schools. How does this make him "the education governor?"
Hardest hit would be the Chester Upland School District, which would see 17 percent of its funding reduced. Almost half the students live below the poverty level.
Daniel Rubin
The best minds of their generation, destroyed by boredom:
A Web site captures what Penn students are typing when they should be studying.
(via Phillyist)
Daniel Rubin
University of Pennsylvania President Amy Gutmann, right, threw a costume party at her place Halloween night. Entertained a little controversy.
At left is Saad Saadi, who came dressed as your basic suicide bomber, with plastic dynamite belted to his chest and a toy automatic weapon, according to Winfield Myers, director of Democracy-Project, which posted the photo, as well as pictures of mock executions.
Democracy-Project found the pics on Saadi's Web site. On his Facebook page the engineering-school senior posted this note:
Daniel Rubin
Boing Boing's Xeni Jardin asks whether school shootings, such as the one Monday in Amish country can be charted, and links a suicide-prevention researcher and author named Loren Coleman, who says yes, and watch out for more mid-month.