City Life
Karen Heller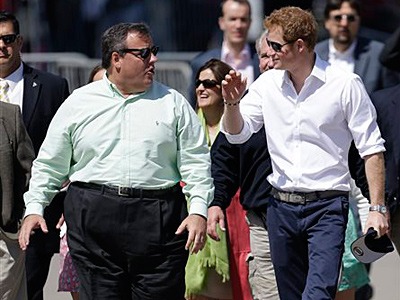 Prince Harry's visit to tour the ravages of Sandy on the Jersey Shore, reported by The Inquirer' Amy Rosenberg, is good for business and attracting the international press.
Because, you know, Gov. Chris Christie isn't getting enough attention these days. Christie even gave the Prince one of his trademark fleece jackets.
Karen Heller
True story.
I am an Eagles fan, but not particularly a fan of Eagles' owner Jeff Lurie.
That's because taxpayers coughed up $171 million to build Lincoln Financial Field, though most of will never, ever score season tickets.
Karen Heller
In a wacky but sort of just sentence, former state Supreme Justice Joan Orie Melvin was ordered Tuesday to pen handwritten apologies to every judge in the Commonwealth.
On photographs of herself.
In handcuffs.
Karen Heller
The big news isn't that Gov. Chris Christie had weight-loss surgery in February, as the Inquirer's Matt Katz and Christie Chronicler reports.
No, the big news is that the slightly smaller Big Boy (that's President George Bush's nickname for him) managed to do something and not announce it to the world or have it recorded for posterity by his ever-present court videographer.
Karen Heller
Six is a not a good number when it comes to court.
An even number can be odd for judicial decisions. That is, it is often not good for rendering judgment.
The Pennsylvania Supreme Court has been lacking a seventh judge since Joan Orie Melvin, of the famed political Pittsburgh Melvins, was suspensed in May 2012 when she was indicted on nine criminal counts alleging that she employed her judicial staff to perform campaign work.
Karen Heller
That old maxim "you get what you pay for" is especially true in the judicial system where the "haves" hire top legal talent and the "have-nots" get court-appointed attorneys for as little as $2,000 for an entire murder trial.
Today's Inquirer editorial on the pathetic payments to court-appointed lawyers is important reading.Shoddy legal representation helps no one. A flat-fee system is flat-footed, seemingly penny wise while being justice stupid, especially in a state with the death penalty.
Pennsylvania has 194 people on death row. The most famous inmate on death row was cop-killer Mumia Abu-Jamal, the subject of a recent documentary and column who is now serving life without possibility of parole. That's s a far more humane and less costly solution to serious crime.
Karen Heller
Mayor Nutter is not winning popularity contests these days. Close to the top may be with District Attorney Seth Williams, who has been on a local, highly vocal campaign expressing his displeasure with Hizzonner, to whom he shows little honor.
On Monday, Williams blasted the Nutter administration's budget process as being "inadequate and disrespectful."
The DA wants a "conservative, bare-bones request" of an additional $2 million for his budget, while Nutter does not appear to be budging from the $31.6 appropriation, basically unchanged since 2008. Williams noted that what he really needs is $4.5 million extra to keep up with inflation during the last four years.
Karen Heller
Will Kermit Gosnell, former operator of country's most notorious abortion clinic, be acquitted?
On Tuesday, Common Pleas Judge Jeffrey P. Minehart dismissed three of the seven first-degree murder counts against the West Philadelphia doctor, who performed abortions on poor women in his Lancaster Avenue clinic.
Minehart did not elaborate on why the charges were dismissed. If convicted of first-degree murder, the 72-year-old doctor could face the death penalty.