Blinq Favorites
Karen Heller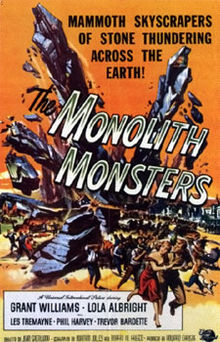 The 1957 geo-science fiction-horror-thriller Monster Monoliths predicted, by more than half century, the horrors that rock formations can inflict on an unsuspected populace, though I'm not sure it includes the damage that lobbyists can do in assisting their grip on industry.
A tip of the hat to my esteemed and cinematically astute colleague Kevin Riordan.
--Karen Heller
Karen Heller
Thank you, State Rep. Mike Sturla! Thanks to the Democrat from Lancaster for taking our minds off Hurrican Irene, earthquakes and various nations in turmoil, and focusing our attention on sex and the Marcellus Shale.
As I wrote in today's column,
"Indeed, what I hear is that some local womenfolk see opportunity in these well-paid, gas-enriched strangers with their trucks sporting Texas and Colorado plates, An Officer and a Gentleman playing out in the Endless Mountains.
Karen Heller
Sometimes a photo can say so much more than words.
Karen Heller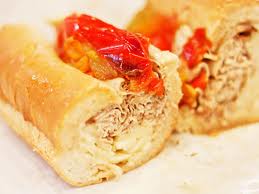 Gawker.com is our favorite time-wasting website when we should be reporting columns but, instead, troll the internet for amusing diversion.
Today brings the second installment of Gawker's "Worst 50 States in America." We thought, given that the writers are from attitude-challenged New York (gee, big surprise, ranked "the least worst state"), we would rank No. 1 but Pennsylvania arrived at a lovely 37. In other words, not so bad.
The post gives a couple of props to Philadelphia but gets some things wrong: "Philadelphia, despite its history of being mean to Tom Hanks and Antonio Banderas, is a great city — an old and decaying place where you can still smoke in bars (right?) and get the sandwich of your dreams."
Karen Heller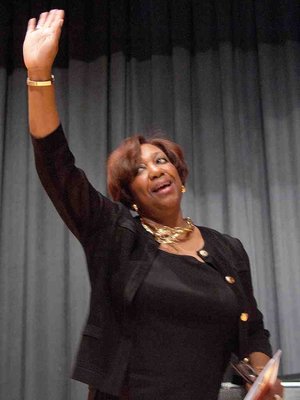 After a tumultuous summer -- actually, a tumultuous year -- Arlene Ackerman is out as superintendent of the Philadelphia School District.
Ackerman arrived in June 2008. Her payout after three years and change: $905,000 to walk away, of which $405,000 is coming from anonymous private donations.
Yes, it's great taxpayers don't have to foot almost half the bill, but is this really what successful people should be doing with their money to help our children? What about the feckless School Reform Commission, which ostensibly supervises the superindent and district, which extended Ackerman's contract even with a whopping budget crater (now at more than $650 million) and her disastrous oversight on school violence, especially at South Philadelphia High?
Karen Heller
How many Congressfolk does it take to represent Montgomery County? Two? Three? Four?
No, my friends, it takes six, an astronomical feat of creative cartography and gerrymandering, as I wrote in my column today, that is unlikely to change wihen the districts are redrawn and Pennsylvania's U.S. House delegation shrinks from 19 to 18.
Only one of the six representatives, Allyson Schwartz, lives in Montco, yet she doesn't represent the county seat of Norristown.
Karen Heller
If you haven't read former Inquirer reporter Patrick Kerkstra's terrific two-part series on Philadelphia's delinquency to collect delinquent taxes, please do so.
The city has failed to collect almost half a billion in back property taxes. As I wrote in Sunday's column, "When owners don't pay their taxes, the rest of us pay - through weakened neighborhoods, deprived schools, fewer services, and depressed property values - while we endure increased sales and property taxes.
"Those are lousy incentives for attracting the residents and businesses essential to Philadelphia's prosperity."
Karen Heller
Parisian cobbler Christian Louboutin lost his legal fight in a New York federal court Wednesday against YSL to be the exclusive Scarlet Leather, that is, the only pricey purveyor of red-soled shoes.
Luxury goods continue to sell, according to the New York Times, even in these queasy times. The day the article ran celebrating the strong sales in German cars, Tiffany jewelry and high-priced footwear, the stock market slumped 512 points. (The story also resulted in one of my favorite recent corrections, where a photo caption misidentified the designer of a $1,495 pair of peek-toe pumps.)
My column Wednesday questioned whether it was wise for women to spend so much of their income on high heels that, literally, get them absolutely nowhere. I'm not immune to the charms