Americana
Monica Yant Kinney
Apologies for going dark on Blinq for most of the last week. Was out of town mentoring would-be journalists, then back hunting down column material and shopping for galoshes.
So busy this afternoon, I nearly deleted a timely email from my friends in the Alpaca Owners and Breaders Association. Regular Blinq readers know how excited I've been about National Alpaca Farm Days. Whoo, hoo! The wait is over!
Alpaca Owners and Breeders Association (AOBA) invites you to visit their member farms and ranches on National Alpaca Farm Days on September 24th and 25th. This is a unique opportunity for the public to explore the many aspects of the alpaca livestock industry in the United States and Canada.
Karen Heller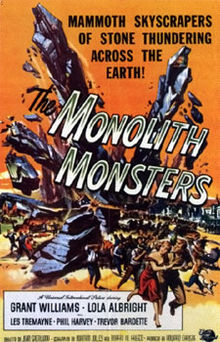 The 1957 geo-science fiction-horror-thriller Monster Monoliths predicted, by more than half century, the horrors that rock formations can inflict on an unsuspected populace, though I'm not sure it includes the damage that lobbyists can do in assisting their grip on industry.
A tip of the hat to my esteemed and cinematically astute colleague Kevin Riordan.
--Karen Heller
Karen Heller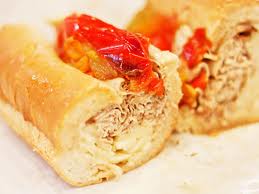 Gawker.com is our favorite time-wasting website when we should be reporting columns but, instead, troll the internet for amusing diversion.
Today brings the second installment of Gawker's "Worst 50 States in America." We thought, given that the writers are from attitude-challenged New York (gee, big surprise, ranked "the least worst state"), we would rank No. 1 but Pennsylvania arrived at a lovely 37. In other words, not so bad.
The post gives a couple of props to Philadelphia but gets some things wrong: "Philadelphia, despite its history of being mean to Tom Hanks and Antonio Banderas, is a great city — an old and decaying place where you can still smoke in bars (right?) and get the sandwich of your dreams."
Monica Yant Kinney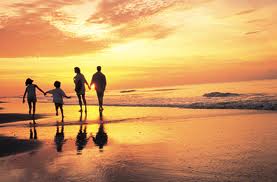 Just a quick post to apologize in advance for a week or silence. I'm taking a brief family vacation and don't want to be one of those people who updates the blog with rub-it-in-your-face photos of postcard sunsets and white sand beaches.
As any working parent of young children knows, no vacation is really a vacation. I'll be lucky to finish one book in between all the peanut butter sandwich-making and sunscreen applying. My cocktails will be consumed on the deck after the wee ones are in bed -- if I can stay up that long.
Last year, we made one expensive trip to the local medical clinic for my daughter's ear infection. This year, I'm sure my son will come down with something wicked. It's a Kinney Family Tradition.
Monica Yant Kinney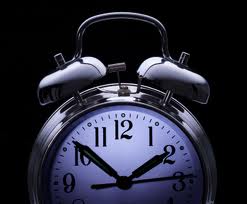 I'll read almost anything about sleep. Often, I read about sleep while thinking about sleep. I've fought my brain over my body's need for rest since childhood. As a kid, I'd fret in bed most Sunday nights over the school week ahead. Yes, I laid out my clothes the night before to ease morning stress. No, it didn't help.
I got by on fumes for the year I nursed each of the Mini-Kinneys. These days, I go to bed thinking about how early I have to get up and how much I need to get done in the morning before they wake.. The later I hit the hay, the longer I ponder.
Today, I spied an NPR health blog post suggesting that I can blame motherhood for becoming a chronic insomniac.
Monica Yant Kinney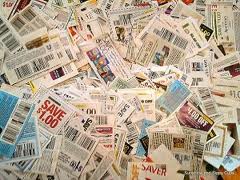 I'll admit it: I've watched Extreme Couponing, the TLC reality show about people (Moms) so obsessed with saving money at the checkout line that they spend up to 60 hours a week just preparing to go to the grocery -- where they spend pennies on hundreds of dollars worth of non-perishables they may never need or eat.
I call the show "Pre-Hoarders," given how gaga these gals get about their storage shelves stocked with 300 bottles of Vitamin Water and enough junk food to feed a middle school. One of these reality stars will wind up crushed by cans of soup stacked floor-to-ceiling in her home. When the authorities find her, she'll be surrounded by cats and expired coupons.
Until now, the most startling discovery of Extreme Couponing was the mysterious absence of fruits and vegetables in these families' diets.
Monica Yant Kinney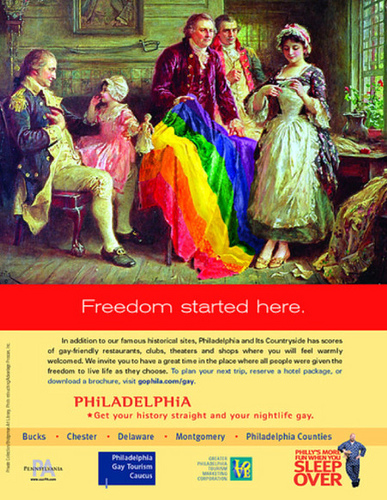 Philly has more than earned its rep for being hopelessly nostalgic and stuck in the past, so it's a delight to read my colleague Melissa Dribben's piece today about one area where city leaders turned our obsession with history upside down: marketing to gay tourists.
This city (and newspaper, for that matter) has had its share of lame slogans and pathetic come-ons. (Remember the Inky's "Best to Read it Every Day" campaign? It seemed like such a threat. Like if you didn't subscribe, a beefy reporter would storm your house and club you in the knees at the breakfast table.)
For my money, Philly tourism officials (who include, in full disclosure, my friend Jeff Guaracino) came up with one of their best-ever pitches in attempting to lure the ultra-lucrative LGBT tourist market to the City of Brotherly Love:
Monica Yant Kinney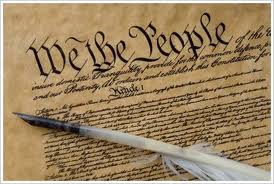 How's this for patriotic programming: A cool Time.com package on the Bill of Rights, including a mini-documentary -- co-starring yours truly! -- on my personal favorite amendment, the First.
The Time.com producers were kind enough to film me and fellow Inquirer writers Karen Heller and George Anastasia reading the First Amendment in our newsroom. Amazing how much more powerful the words sound when said out loud.
Happy July 4th, a second Thanksgiving for journalists.