Archive: June, 2011
Kevin Riordan

, Inquirer Columnist

Leaders of New Jersey's public employee unions fear Gov. Chris Christie may simply impose a settlement if negotiations on new contracts fail.

NJ Spotlight reports that a 1968 law authorizes a governor to do so; labor agreements with unions representing about 48,000 state workers expire June 30.

Enabled by a culture of entitlement among some in organized labor, Christie has shrewdly stoked public resentment of unions.
Karen Heller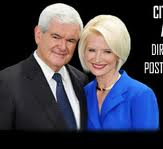 As if Newt Gingrich didn't have enough problems, what with much of his presidential campaign staff quittting, two promiment finance advisers left him this week.
Now, it turns out that the former House Speaker and his third wife, Callista, had a second, larger line of credit at Tiffany's, the Washington Post reports.
The second credit line had a limit of $1 million. All bills have been paid and the account is now closed. Gingrich had to reveal the account in his personal financial disclouse forms in his run for the presidency. The first credit line was for $250,000 to $500,000.
Kevin Riordan

, Inquirer Columnist
For better or worse, weed has been part of our culture, pop-wise and otherwise, for the better part of a century.
And as with likewise mind-altering but arguably far more dangerous legal substances such as alcohol and nicotine, our relationship with cannabis is chronically conflicted.
Exhibit A: Chris Christie, adrift in a smokescreen of legalese as his administration impedes the implementation of New Jersey's medical marijuana law.
Daniel Rubin

, Inquirer Columnist
That Franken Tree in New Hope that I wrote about yesterday? The one that vandals cut down, but was resurrected by loving locals? Gone again.
This time, blame the borough.
Punk Rock Meshell Kimbel, owner of God Save The Qweens on West Mechanic Street, said she showed up for work this morning to find an orange cone covering a two-foot stump that used to be her hideously ugly, but well-loved shade tree.
Daniel Rubin

, Inquirer Columnist
You know how it works. We write a nice piece about when bad things happen to good people or places. The public steps up. A follow-up appears bearing a happy ending.
No guaranteeing that's going to happen to the Stiffel Center. At all.
The organizers of the Save Our Stiffel (SOS) campaign - the grassrots movement to raise at least $200,000 by the end of the month to keep open the doors of the senior center in South Philly - haven't been able to find an angel with deep-enough pockets.
Kevin Riordan

, Inquirer Columnist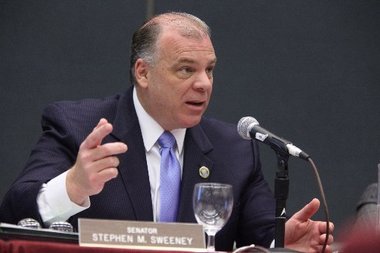 As President Obama's views on marriage equality continue to "evolve," NJ Senate President Steve Sweeney is proof that evolutionary change is real.
Sweeney, who with several other leading Democrats was infamously AWOL regarding New Jersey's marriage equality legislation in 2010, now calls it "the biggest mistake" of his career.
"I made a decision based purely on political calculations not to vote in support of marriage equality," Sweeney said Monday from the floor of the Senate. "I failed in my responsibility as majority leader…to actually lead.
Kevin Riordan

, Inquirer Columnist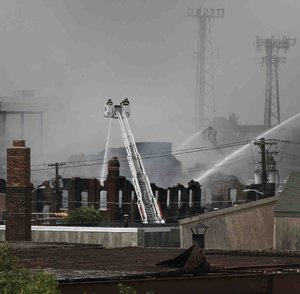 Camden has been burning down for decades, but the recent spate of infernos in vacant factories is as ominous as it is suspicious.
It's also sad.
In 1950, the year its population peaked at about 125,000, the city had just over 43,000 manufacturing jobs. The imposing walls of dozens of factories rose over downtown and neighborhoods like North and South Camden, where a man or a woman could walk to work and make a decent living without a college (or high school) diploma.
Annette John-Hall
Boy, here's a lesson for you: Don't ever be late for Germantown High's graduation or you'll get locked out. Even if you're two minutes late.
Talk about a grace period.
That's what hundreds of angry parents who attended the 10 a.m. commencement exercises at Germantown High discovered last week. Many arrived at 10:02 or later, but by then doors were locked, and many missed the pomp-and-circumstance march down the aisle by their grads.