Archive: April, 2011
Monica Yant Kinney
Hats off to our pals at Phawker, who never fail to excite and delight with these Scrapple TV segments.
Please Comcast, let us watch the Flyers so I won't be sad anymore.
-- Monica Yant Kinney
Monica Yant Kinney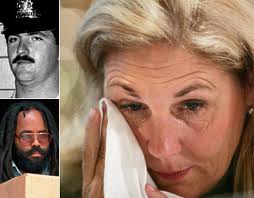 The first and only time I heard a heckler at an alt-country concert involved the outspoken singer-songwriter Steve Earle. He was playing the TLA and railing on about the death penalty. An impatient (and likely drunk) fan hollered for Earle to zip it and get back to playing the hits. Earle fired back that it was his damn concert and he could preach as long as he liked.
Eventually, Earle got to "Hard Core Troubador," but no one left that show in the dark about where he stood on the most controversial tenet of the American justice system. (If you still are, listen to "Over Yonder.")
Perhaps the heckler just wanted to hear "Galway Girl." Or maybe he had Mumia fatique?
Kevin Riordan

, Inquirer Columnist

Snooki.

Oscar Wilde.

How's that for a mash-up?
Annette John-Hall
I can't believe Barack Obama fell for the old okey-doke.
Did he honestly think that by releasing his birth certificate, Donald Trump -- or any other birther for that matter -- would suddenly stop with their claims of the president's non-citizenship?
Sorry Mr. President, but that's about as likely as Trump having a natural part.
Karen Heller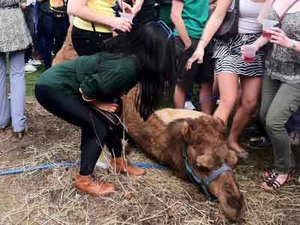 Some mornings, you read the paper and there's a headline that grabs you, one you thought you might never read. Today's winner: "Penn frat cleared of camel abuse." You can read Sam Wood's report here.
Boys, of course, will be boys. And what's a frat without a few pranks, especially once spring blooms? So the inventive folks at Zeta Psi brought a 5-year camel in from the Peaceable Kingdom Petting Zoo in Bucks County for Spring Fling.
A post-doctoral fellow at the medical school complained about the scene, saying "There was loud music and drunk college students everywhere."
Kevin Riordan

, Inquirer Columnist

Fireworks and dancing in the streets are among the more restrained responses to news the Episcopal Church won't welcome former New Jersey Governor Jim McGreevey into the priesthood, at least not in the near future.

Most online reactions start somewhere between gleeful and vengeful. And those are the nicer ones.

I like a good comeuppance tale as much as anybody, but I enjoy redemption stories more -- probably because I've been fortunate to escape the former and lucky to live the latter.
Annette Hall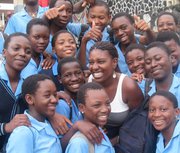 I use two cell phones and two laptops. I don't say this proudly. I say this to because I'm starting to feel like I'm sinking under an avalanche of technology.
As I write in today's column, my friend Heather Faison has taken baby steps to solve this problem. A teaching fellowship in Cameroon proved to her that she doesn't have to be all synched up to be able to communicate effectively.
And an effective communicator she is. Check out Heather's web site here. And make sure to take a look at her fabulous multimedia project, "Beyond Baby Fat," which explores childhood obesity among African Americans in North Philly.
Monica Yant Kinney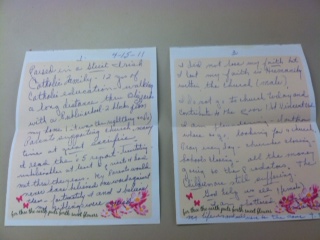 Back from a weeklong furlough to find a rarity in my mailbox: An actual handwritten letter from a reader.
After hearing so much about the U.S. Postal Service's woes, I sometimes forget people still send letters. In ink. In cursive. On lovely stationary inscribed with inspirational messages like for thee the earth puts forth sweet flowers. (No, it's not scented.)
This simple note, like most that arrive the old-fashioned way, was unsigned. The writer says she's 77 years old and was raised in a "Strict Irish Catholic family," walking "a long distance through blizzards" to parochial school. She followed her parents' lead with her own children even though paying the tuition was "many times a struggle."