Archive: April, 2009
Daniel Rubin, Inquirer Columnist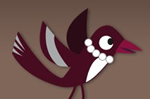 A day after I was telling someone how I actually have come to like Twitter, for its snapshot of what everyone's reading and saying, comes the party's-over news that people are getting paid to Tweet about various products.
We've seen it in the blogosphere. So why not Twitter?
ReadWriteWeb got onto to this by noticing that a testimonial about Skype redirected readers to a service called Magpie, which pays people to write about different products.
Daniel Rubin, Inquirer Columnist
Been following the story out of Denver, where Division of Motor Vehicles officials put a stop to a woman's plan to declare the joy of tofu on her license plate?
Officials worried that Kelly Coffman-Lee's short-hand suggested a very different sort of love.
Her proposed plates?
Daniel Rubin, Inquirer Columnist
It's a beautiful thing, inarticulateness. My boss greets me in the parking, asks how my twins are doing, and I take several paces alongside of him before the words I can want can make their way to my lips.
The story was a rambling one, beginning with The Great Barrier Reef and Mohawks and laying out for Ultimate Frisbee before doubling back to a summer in San Francisco and a meeting with Dan Hicks and The Hot Licks, who happen to be coming to town on Friday.
So let's just cut to the video, from 1972 and the Flip Wilson Show. This is the classic Hot Licks, with Sid Page on strings and my favorite Lickettes, Naomi Eisenberg and Maryann Price, who was running around the Marin County house in a bathing suit if memory serves in the story I tell toward the end of today's metro column.
Daniel Rubin, Inquirer Columnist
So what's a Darmouth man, rep tie and all, doing in front of a handful of Gratz High School kids, who are thumbing though their playlists, checking last night's game stats and knocking calculators onto the floor like it's contagious?
Teaching Geometry.
Really well.
Daniel Rubin, Inquirer Columnist
They were best friends since boyhood, "two Cheshire cats," recalls Rachel Moyer. Nine years ago her son, Greg, a strapping 15-year-old, collapsed at halftime during a high school basketball game. Cardiac arrest. The game was being played in a brand new Monroe County school, but it had no difibrillators. He was dead before he arrived at the hospital.
His friend Mark Peters joined the Moyer family crusade to put these $1,300 devices in as many high schools and other public places as possible.
Then, on February 25, while working at a Main Line health club, Mark Peters went down the same way. He thanks his late friend for helping him get back up. That's today's metro column.