Archive: April, 2008
Daniel Rubin

, Inquirer Columnist
Back in college, my roommate and I took the Boston - New York rivalry personally. He was for the Yankees and Mets, I was for the Red Sox. He was for Walt Frazier, I was for John Havlicek. When it came to music, I was mad for WBCN-FM, which had been my guide to the '60s, the foundry for my tastes in rock and blues, and my general sense of cultural superiority. (Ok, I've gotten over it.)
He, meanwhile, wouldn't stop selling WNEW-FM, the dulcet tones of Alison Steele, aka the Night Bird, the Murderers Row line-up of Jonathan Schwartz, "Professor" Scott Muni, Peter Fornatale, Dave Herman, Vic Scelsa and so on.
Since we were living in Chicago, I had no way to see if his station was as strong as mine at the time (mid '70s) or if this was just another example of the confidence that's so annoying in New Yorkers.
Daniel Rubin

, Inquirer Columnist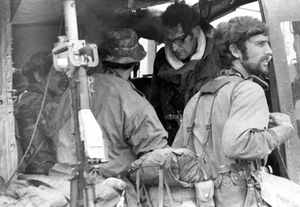 You couldn't help but be moved by the image: Sherry Potter Walker, sitting in the front row of the memorial ceremony at the Newseum, under a towering glass panel that bore the name of 1,843 journalists who had died on the job, and sobbing inconsolably.

Her daughter clutched her arm. Walker seemed alone and unreachable. In a way, the opening of the Newseum brought her a measure of closure. There her brother, Kent Potter, had found his final resting place, 37 years after he and three other Vietnam War photographers were shot down over Laos.

A book-size stainless-steel canister is buried under the plaque that honors the men. Inside are teeth and bone shards, wrapped individually in plastic and kept together because forensic scientists could not determine what belonged to whom.
Daniel Rubin

, Inquirer Columnist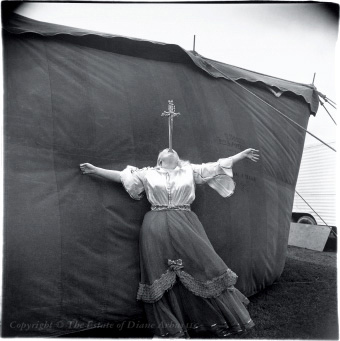 That auction of rare Diane Arbus photos that a Center City collector hunted and gathered? It's off.
It was to have happened Tuesday in New York. A lawsuit from the man who sold the photos and other contents of a circus trunk salvaged from storage has sued, contending Bob Langmuir tricked him. Langmuir denies, saying this is how business is done, but the auction house, Phillips de Pury, wanted the legal matter resolved before the sale, which the New York Times has estimated will bring in hundreds of thousands of dollars.
The photographs show performers at Hubert's Dime Museum and Flea Circus, a freak show on 42nd Street in Manhattan, where Arbus shot the locals before finding fame for her distinctive style. A Brooklyn collector named Bayo Ogunsanya sold them to Langmuir for $3,500 in 2003 and contends the Philadelphia dealer knew their worth. Langmuir, the subject of a column in March, told me he only learned they were Arbus prints long after acquiring them.
Daniel Rubin

, Inquirer Columnist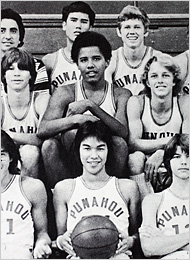 Chris Rabb, writing in Afro-Netizen, watches Barack Obama blithely bowl and is not impressed. What Obama should do, Rabb argues, is do what he does more naturally, what he did for the Punahou School, what white voters would be far more comfortable with.
Barack is a baller. Be that baller, Rabb says:
Quiet as it's kept, many millions of White guys dream of being Black basketball players. And whatever draw bowling may have on that demographic, it will never surpass the beauty and catharsis of basketball. And it is this game that will indelibly mark Obama's viability and unique vitality in this race for president.
Daniel Rubin

, Inquirer Columnist
C'mon, people. You are one face away from a trip to the Blinq treasure chest of CDs. You guys have identified 10 of the 11 famous people gracing the top of this page. One more, and the winner gets to pick a free disc. One more ....
And I'm not even asking you to name the guy on the bottom left, under the letters BLIN (although if you can, that's got to be worth something.)
Daniel Rubin

, Inquirer Columnist

Lead an elephant to an easel and he will paint himself.

Follows nicely the column today on the cat that plays the piano.

And I can't teach my sons to make their beds.
Daniel Rubin

, Inquirer Columnist

For Betsy Alexander — dumpster diver and found-object artist — the gray tabby she rescued from a Cherry Hill shelter and named after a surrealist painter is proving to be her most celebrated pick.

You might know her discovery as Nora, the piano-playing cat. Eleven million views on YouTube and climbing.

Alexander and her husband, the artist Burnell Yow!, realized one night three years ago they had a feline phenom. They were upstairs in their rowhouse/studio on Naudain Street in Center City. Nora — named for Leonora Carrington — was downstairs in the music room.
Daniel Rubin

, Inquirer Columnist
Springsteen plays Vancouver. Reunites with Anne Murray, Geddy Lee and a furry friend. From Backstreets, the Boss mag.