Kevin Riordan, Inquirer Columnist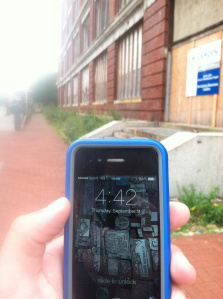 Four weeks after a Camden blogger questioned the stability of a vacant downtown building -- and a day after he posted two-week-old municipal inspection documents urging immediate action -- the city is finally moving to secure the structure.
"If sounding a little alarmist is what it took to make sure people aren't killed by falling objects, so be it," said Brian K. Everett, whose NJ Poverty Reality blog suggested the Cooper Street landmark may be in danger of collapse, or could be demolished.
"There are no structural problems with the building," Camden spokesman Vincent Basara declared Friday, citing a city inspection as well as a preliminary review of outside consultant's inspection. "There is no structural damage to the building."
Kevin Riordan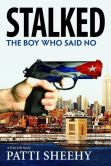 Patti Sheehy discovered that writing is merely one part of a novelist's job. Promoting, and hand-selling, the finished product are essential tasks, too.
"I had no concept of the kind of response we would get," says the Haddon Heights resident, 67, whose debut novel 'The Boy Who Said No' was brought to market by Oceanview Publishing last year.
Sheehy and Frank Mederos -- his 1967 escape from his Communist homeland inspired the book -- will be on hand at the Friday, September 12 launch party for 'Stalked,' the sequel (also published by Oceanview). About 200 guests are expected for the 6 p.m. event at the Tavistock Country Club in Haddonfield; proceeds will benefit the Haddon Heights Library.
Kevin Riordan, Inquirer Columnist
Camden's Parkade Building was a monument to the follies of the urban renewal era. A block-long box built atop what had been a park and garden, this unwieldy mashup of parking garage and office building at Fifth and Federal was dysfunctional, ugly, and unloved. And when it was demolished three years ago, few mourned (although city filmmaker Jesse James Jackson Jr's short video, linked below, does offer an elegiac meditation on the Parkade's fall).
The demolition immediately liberated street-level views of the magnificently odd Art Deco milk bottle that is City Hall, and the resulting Roosevelt Park became an instant oasis. It also became home to an ever-growing field of crosses erected to protest the city's skyrocketing homicide rate in 2012.
Lately the carnage has eased and the city is basking in some positive national publicity. So it seems an auspicious time for a 'placemaking' project at Roosevelt Park. As my colleague Julia Terruso reports, $30,000 from the William Penn Foundation helped pay for imaginative 'pop-up' amenities aimed at attracting people and building a bit of buzz.
Kristen Holmes
A few moments after the gates opened, Matt Rego and his roommate Jack Abrams were standing in the front-row by the Rocky stage. They expected to be in that spot wel into the night. The Temple students wound up about 200th in line Saturday morning, which required that they show up about 11:30 a.m.
"Matt loves Kanye West and I'm here to support him," Abrams offered.
The roomies have a poster of Kanye hanging in their dorn room. Over Rego's bed.
Kristin Holmes
The gates had opened. The crowd was moving toward the stages. But walking along Pennsylvania Avenue, a group of out-of-towners was wondering what the fuss was about. The men had come to see the Rocky statue by the Art Museum steps.
They're members of the Nueva Generacion Domino Club and the La Familia Domino League from around Chicago.
Not a great day to jog up the steps, they learned. But the Made in America line-up caught their interest. For a moment.
Michaelle Bond
Mia Argentieri knows she's lucky. She has an apartment with a balcony in The Philadelphian on the Parkway. Her balcony has a great view of the Philadelphia Museum of Art.
Last week, Argentieri went out for some fresh air, her morning coffee and newspaper. But she had to wear earplugs to block out the construction noises as the city readied itself for the thousands expected to attend this weekend's Budweiser Made in America music festival.
"It's a two-day event, but it's not a two-day event," she said, as music floated up to her door Friday morning.
Kevin Riordan, Inquirer Columnist
When Kahra Buss founded Live Civilly three years ago, she wanted to help youngsters like her own do service work in their communities.
The Moorestown mom and her husband, Joe, hoped the new nonprofit organization (livecivilly.org) would satisfy not only a hunger for service, but hunger itself.
"We have two community supported gardens that support food pantries in Moorestown," Buss says. "This summer, we made over 600 lunches for scholarship students at the township summer camp."
Kevin Riordan
More than 800 people have signed an online petition against changing the name of a Willingboro, NJ municipal complex from the Kennedy Center to the Obama Center.
The Change.org petition was started by Dawn Donnelly, a Burlington Township grandmother who grew up in Willingboro, graduated in 1977 from what was then Kennedy High School, and still works in the township.
"To me, this has nothing to do with President Obama," Donnelly, 55, says. "I voted for President Obama, and I would vote for him again. This is about taking away the name [that honored] a president who at the time the school was built was a huge deal. It's a change that's disrespectful of history."