Karen Heller
Did you know that Tom Corbett's true oponent in the gubernatorial race is not Tom Wolf but a creature named Obama-Wolf?
Yes, there's a new critter in the political bestiary, according to daily missives from the Corbett campaign.
To wit, Monday's "WHAT THEY ARE SAYING ABOUT THE JOB-KILLING OBAMA-WOLF WAR ON COAL." Cap letters are critical tools in political warfare.
Karen Heller
A spooky, sad coda to a Halloween controversy in Springfield occurred last week.
A Springfield, Delaware County man who hung a skeleton from his maple tree wearing an Obama T-shirt at Halloween -- infuriating neighbors and sparking peaceful protests -- allegedly fired a shot at a local police officer last week that shattered a neighbor's window, the Delco Times reports. George Vucelich was arrested Thursday and charged with attempted first-degree murder.
Karen Heller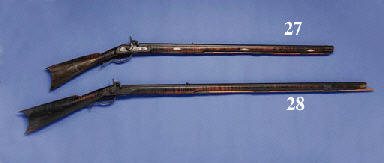 Pennsylvania has a state bird (ruffed grouse), tree (hemlock), fish (brook trout), hound (great Dane), even animal (white-tailed deer, because apparently the grouse, trout and Dane don't qualify).
But, until now, it has not had a state firearm.
Yes, state firearm.
Kevin Riordan
I had the pleasure of working with Marcella 'Marcy' Dalsey, who along with Inquirer co-owner Lewis Katz perished in a private plane crash May 31.
I never met the five other people on board who also lost their lives (may they rest in peace). But I knew Katz (read my column here) for decades. And as communications director of Volunteers of America Delaware Valley six years ago, I worked on several projects with Dalsey.
The former Eagles cheerleader, mother of four, and Haddonfield entrepreneur was a bright, down-to-earth, and energetic woman whose enthusiasm really was contagious. "She was a real go-getter," says Debbie Brown, who lives in Moorestown and volunteered with Dalsey at charity thrift shops in Camden and elsewhere. "She knew how to get things done."
Kevin Riordan
I can't figure out why the New Jersey legislature is once again considering a change in the venerable -- and, arguably, quaint -- governance structure of Rutgers University, which has a board of governors as well as a (less powerful) board of trustees.
Wasn't it enough that the public resoundingly rejected that horrendous 2012 plan to amputate Rutgers-Camden from the rest of the state university system and turn it into a semi-subsidiary of Rowan University? Could it be that the pesky trustee board threatened to sue if such a plan were executed?
So I ask a spokesman for state Senate President Steve Sweeney, the formidable force behind the latest Rutgers reformation proposal, to help me understand. Graciously, the Senate president himself responds to my request.
Karen Heller
New Jersey Senate President Stephen Sweeney has proposed including 12 political appointees on an expanded Rutgers' board of 19 governors.
Which sounds like a dozen types of trouble.
Big surprise, Sweeney's proposal is gaining traction in Trenton. A legislative panel has backed the plan.
Karen Heller
Another day, another indictment.
The Philadelphia District Attorney's indictment Wednesday of a nearly $5 million insurance fraud involved a collision center, insurance company adjusters, a city cop, a city official, tow truck drivers.
You know, the usual.
Kevin Riordan
Hothouse Theatre, South Jersey's newest stage company, debuts this weekend with a production of 'No Exit.'
The curtain is set to rise at 8 p.m. Friday, May 30 at the Walt Whitman Arts Center, 2nd and Cooper streets, in Camden. Performances are scheduled to continue with a 3 p.m. matinee June 1; 8 p.m. on June 5, 6 and 7; and a final show at 3 p.m. June 9. 'No Exit' is directed by Connie Norwood.
A group of South Jersey theater devotees established the nonprofit company in 2013 to "bring more quality theater to this side of the Delaware River," producer Gerald van Wilgen says. He describes 'No Exit,' written 70 yeras ago by the French philosopher Jean-Paul Sartre, as the sort of "intriguing, challenging work" the company hopes to showcase on a regular basis.