Kevin Riordan
Hothouse Theatre, South Jersey's newest stage company, debuts this weekend with a production of 'No Exit.'
The curtain is set to rise at 8 p.m. Friday, May 30 at the Walt Whitman Arts Center, 2nd and Cooper streets, in Camden. Performances are scheduled to continue with a 3 p.m. matinee June 1; 8 p.m. on June 5, 6 and 7; and a final show at 3 p.m. June 9. 'No Exit' is directed by Connie Norwood.
A group of South Jersey theater devotees established the nonprofit company in 2013 to "bring more quality theater to this side of the Delaware River," producer Gerald van Wilgen says. He describes 'No Exit,' written 70 yeras ago by the French philosopher Jean-Paul Sartre, as the sort of "intriguing, challenging work" the company hopes to showcase on a regular basis.
Kevin Riordan, Inquirer Columnist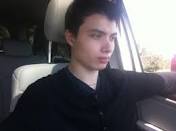 Reflexively protective, if not unabashedly fetishistic, about firearms, fright wing warriors often react to mass murders by suggesting that better mental health programs, rather than saner gun laws, could cut down on the carnage.


But not Erick Erickson, whose astonishing lament about alleged Santa Barbara shooter Elliot Rodger blames "the left" for the malignant misogyny showcased in the suspect's videos.

Erickson sees Rodger himself as a victim -- a casualty of a supposedly feminized culture in which "masculine" values have become passe. Rodger "lived the very lifestyle the cultural left thinks men should live," Erickson fumes, apparently conflating one wealthy young man's delusions with the nerdy leisure world of Pajama Boy. "For all the talk of a 'war on women,' there actually has been a war on masculinity...[and] some young men can't cope."
Joseph A. Gambardello
The Devon Horse Show is underway this week.
Here are some photos from Sunday.
Kevin Riordan
My father, Thomas J. Riordan, enlisted in the U.S. Navy on December 6, 1940. He was 18, war was in the air, and if he ever told me why he was so keen to serve his adopted country (he emigrated here from Wales), I must have forgotten.
I do know that he was a turret gunner's mate on the USS Wisconsin, the great battleship about which he told many a story. The Wisconsin sailed majestically in a commemorative photo on the wall above the TV for decades in our house in North Adams, Massachusetts. "She was like a floating city," my father often said.
World War II was far from being ancient history while I was growing up in the '50s and '60s. My uncles were veterans, my parents often socialized at the American Legion, and on Memorial Day we bought those little plastic poppies the veterans sold. And we always visited the cemetery, where countless little flags waved.
Kevin Riordan, Inquirer Columnist
On May 9, 1992, N.J. Superior Court Judge Lee Solomon -- whom Gov. Christie nominated this week to the state Supreme Court -- went boldly where many of his fellow Republicans feared to tread.
Then a member of the state Assembly, Solomon made an appearance at 'Dancing with Dolphins,' a fundraiser sponsored by the AIDS Coalition of Southern New Jersey. Several prominent Democrats, including the governor, Jim Florio, publicly endorsed the gala or were in the crowd at the Camden Aquarium, but I can't recall seeing any elected Republicans save for Solomon.
It's worth remembering that in 1992, great numbers of gay men were dead or dying of AIDS. The first lifesaving treatment was more than three years away, and same-sex marriage was as far-fetched a notion as gays serving openly in the military.
Karen Heller
Jon Stewart apologized to Philadelphia Wednesday.
Also to the Phillies and Phanatic.
Sort of.
Karen Heller
On Tuesday's Daily Show, Jon Stewart took on the Phillies, the Phanatic, Rocky, cheesteaks (he actually loves them), and cream cheese.in trashing our fair city (a city "so dumb it uses its art museum as exercise equipment'), all because the Phils' Ryne Sandberg got sick at a Shake Shack -- mind you -- in New York.

And it was all pretty great.


The Daily Show
Get More: Daily Show Full Episodes,Indecision Political Humor,The Daily Show on Facebook

',width:'100',height:'100'" width="100" height="100" align="" />.
Karen Heller
A glorious spring morning for the Pennsylvania primary and the voting is....not really happening.
At least not in the politically active neighborhood of West Mt. Airy.
Took my daughter, a first-time voter, to the polls around 9:30 a.m. -- they opened at 7 a.m. -- and she was 57th of 791 registered voters, almost all of them Democrats. The Greens and Independents outnumber Republicans. Veteran poll watchers, all volunteers for decades, believe there may 14 GOPers, maybe 16 at best in our division.