Traffic
Karen Heller
The Downeast Maine expression "you can't get there from here," made famous in the Bert & I stories, held true Wednesday in Philadelphia's Northwest.
You can't get from here to basically anywhere, especially Center City. Kelly Drive, Lincoln Drive, West River Drive -- all you cannot drive, though a rowboat might come in handy.
So much for living on higher ground. While some places in the country are land-locked, we're water-locked.
Monica Yant Kinney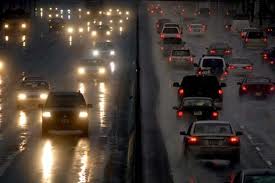 I take a lot of grief for living in New Jersey, but today felt fortunate on my morning commute. While the rest of the region dodged mudslides and flooded roads, I zipped over the Ben Franklin Bridge without incident.
Anyone who takes the Admiral Wilson Boulevard knows it's typically underwater in a drizzle. So how, after all this pounding rain, was the normally flood-prone route bone dry?
Low tide in the Cooper River! Timing is everything.
Monica Yant Kinney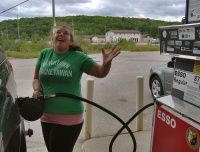 This just in from my pal Amy Worden in our Harrisburg bureau: Walmart, which recently wriggled out of a potentially costly class-action workplace discrimination case involving as many as 1.6 million women, has decided to spread the celebration to its gas pumps.
June 29, 2011 – Today, Walmart announces a 90-day Rollback at the pump to give customers a savings of 10 cents a gallon on all fuel, gas and diesel, at participating Murphy USA and Walmart gas stations. The discount applies to gas purchases made when using a reloadable Walmart gift card, reloadable Walmart MoneyCard® or Walmart credit card from June 29 through September 30, 2011.
Now that's what I call summer lovin! So the discount giant can continue to promote men at the expense of women, but Moms in minivans can save $1.50 every time they fill-up? What could be more all-American than that?
Karen Heller
Payback is a PPA ticket on a PPA car.
Makes you believe in miracles.
What other prayers would you like to see answered?
Daniel Rubin
>
I'm not sure what's my favorite part of "Shut The Duck Up!" the mini-documentary shot by Drexel filmies and posted this week to YouTube.
Daniel Rubin
I have enough problems using my cell and shaving while dealing with distracted drivers on the Schuylkill.
Now there's FlirtingInTraffic.com to contend with.
The idea is to help you make a pass at those you pass on the road. You know, you're looking up from the small TV you balance on your lap and see someone fine driving next to you. You just wish they had their cell phone number printed on license plate - and what a good idea that would be. Here's the next best thing.
Daniel Rubin
52 shelters get them, courtesy of the Center City District. One side shows where each bus goes, nearby attractions, fares, etc. The other shows local color.
Daniel Rubin
Those cute little amphibious tourist-movers that quack so gracefully through this old city?
Silence them! commands the Stop The Duck movement.
Ride The Ducks - their Web site calls them "Quacktacular" - are in Baltimore, Memphis and Seattle, too, having started in Branson, Mo. Why? the movement asks: