Sports
Monica Yant Kinney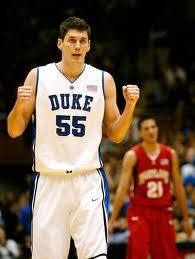 I have heard about athletes reinventing themselves, but nothing takes the cake like the creamy second act of Duke basketball standout, Brian Zoubek.
Zoubek, a 2006 Haddonfield High grad, helped the Blue Devils win the 2010 NCAA crown. He's 7-foot-1, weighs 265 and is easily recognizable on the means streets of our shared South Jersey suburb.
I had heard rumors that Zoubek, sidelined from the NBA with back troubles, was back in town and on the make. But the talk seemed so fantastic -- a jock opening a bakery? -- that it had to be a joke.
Monica Yant Kinney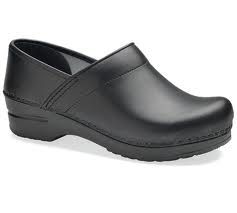 So everyone's gushing about the Phillie Phanatic appearing on 30 Rock last night, speaking for the first time (!) and finally answering the age-old question about whether lady bits or boy parts are hiding under all that green fur.
I got a kick out of the Philly segment as much as the next viewer, but would be remiss for not pointing out the show's other regional shout-out. Look down, on Liz Lemon's feet. Yup, the TGS basket case wears Dansko clogs.
Lemon, like her real-life homegirl creator, sports Dansko black professionals. I've seen them before, but last night's episodes offered one of the better views after the character bent down to pick something off the floor.
Karen Heller

From From the Things We Can't Make Up Dept: People were trying to sell tickets to Penn State coach Joe Paterno's memorial service on eBay.
On Tuesday morning, one seller had 71 bids for two tickets that went up to an astonishing $98,100 before -- poof! -- vanishing from the site.
A seller identified as "gopsuone" sold two tickets for $500 for 3rd Row!!!!!" for Thursday's 2 p.m. public memorial service at Bryce Jordan Center in Happy Valley.
Karen Heller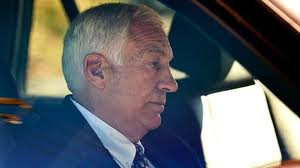 Former Penn State assistant football coach Jerry Sandusky waived his preliminary hearing Tuesday. Guess how many morning shows immediately broke away for the news?
One. CNN.
The Today Show and Good Morning America continued with their morning dribble, holiday entertaining and lesser celebrities, while breaking news erupted on their watch.
Monica Yant Kinney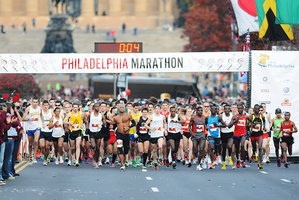 Eighteen months ago, I'd never run more than 3 or 4 miles. Sunday, I completed my first half-marathon, capping a 40th birthday year challenge I set for myself that began with a 10K over the Ben Franklin Bridge last fall and the glorious 10 miler down Broad Street in May.
So yeah, an overstressed, underrested working Mom can pull this off. But if I had to do it all over again, I would have started in my 20s. My knees agree.
I still have yet to experience the elusive runner's high -- unless it's less ecstasy, more prideful satisfaction -- but I've become part of the tribe. You know us and probably loathe us. We talk about running way too much, as if anyone besides other runners cares about how lousy the weather was for our last long run or how thrilled we are about our new shoes.
Karen Heller
"What if Michael Vick Were White?" reads the stupid headline on an otherwise thoughtful Toure essay.
"What if Michael Vick Were A Vegan Ice Cream Cone?" the twittersphere blogged back.
More?
Monica Yant Kinney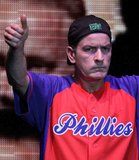 According to everyone - of late, The Wall Street Journal and my business writer colleague Maria Panaritis - the Philadelphia Story is the only story worth telling in sports.
I'm all for bandwagons that bring the city money and acclaim. So why does it pain me so to keep seeing this picture of one of our freakiest famous fans?
-- Monica Yant Kinney
Monica Yant Kinney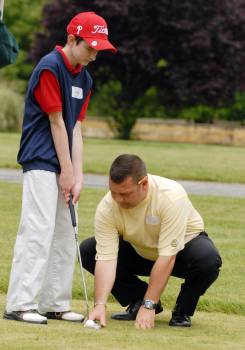 The first time I met Patrick Molloy, I was told to look for the 16-year-old with a swing like Phil Mickelson.
When I pulled up to the Walnut Lane Golf Club to watch Patrick take a lesson, he was indeed in gorgeous form, sinking 12-foot putts, I wrote in a 2009 column.