Poli Sci
Karen Heller
Neophyte candidate Kathleen Kane ran a smart, disciplined campaign for Pennsylvania's Attorney General using the purported "war against women" and won big, garnering in excess of three million votes Tuesday - more than the Pennsylvania totals of President Obama or Sen. Bob Casey - and besting her opponent by more than 14 percentage points.
As I wrote in my Sunday column, Kane's success is even more striking because she did this in Pennsylvania, the land where progress goes to die. She is the first woman and Democrat elected attorney general in a state that has never elected a woman governor or senator, only one mayor of either major city, and has precisely one female representative in Washington.
Let me remind you that the year is 2012.
Monica Yant Kinney
Watching the Democratic National Convention on C-SPAN has many benefits, not the least of which is this: You can clearly hear the snippets of songs chosen to usher each speaker onto the stage.
I'm sure these bits have specific names -- anyone? The politics of music has long been a campaign subplot. Every four years, it seems, some upset artist sues or threatens a candidate using a song without permission. This year, the most discordant story involves Republican Vice Presidential nominee Paul Ryan's unlikely obsession with angry rap-rockers Rage Against the Machine, and the band's horrified response to the superfan.
I know some professional athletes choose which songs are blasted in stadiums when they take the bat or come back in the game. Does the same hold true for the president of Planned Parenthood or Governor of Colorado? And if the speakers don't have any say, what should viewers read-in to the tunes imposed by the campaigns?
Daniel Rubin

, Inquirer Columnist

Fernanda Marroquin, 22, had little hope to offer when I talked to her about Obama's announcement Friday to allow hundreds of thousands of young people without documentation to stay in the country two more years.
The president's order will let her get a social security number and a driver's license. She will have an easier time helping her parents - who arrived here from Peru a dozen years and overstayed their tourist visa - pay for her tuition at Eastern University.
But she noted that the administration has selectively pursued people here without documentation, and wants a long-term solution, such as passage of the Dream Act, which Senate Republicans put to sleep in late 2010, despite - or because of - White House Support.
Monica Yant Kinney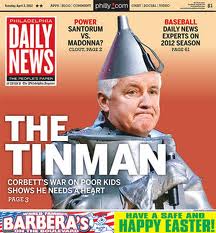 So Pennsylvania Gov. Tom Corbett has replaced his chief of staff. As if one top aide can rehabilitate the image of a politician uncomfortable with the image-making part of the job.
Political foes love to villainize Corbett for what he does, but I've long been as fascinated by all he doesn't. John Street suffered from shyness, but could still charm and churn. Corbett seems biologically incapable (or emotionally unwilling?) to utter a word that would remind voters why they've given him the keys to the commonwealth. He doesn't even hold sway over the legislature, which is controlled by his own Republican party.
As ably reported this week by my colleagues, Angela Couloumbis and Tom Fitzgerald, Republican powerbrokers have their boxers twisted by the prospect that the Governor of Few Words may be silencing himself into early retirement. No one expected Corbett to be another Ed Rendell (God help us), but surely a former prosecutor would have more stage presence than this.
Monica yant Kinney
Today's column gave me a chance to introduce readers to a colorful Center City character, Leroy Mickens II, hotel doorman extraordinaire.
The piece ran with an iconic photo of Mickens on the job hailing a cab in his signature white gloves. The image, taken by street photographer Michael Penn, captures the timeless elegance of a man who views service as both his calling and "an opportunity.
Alas, we didn't have room to run a second fabulous photo of Mickens, so I'm including it here. He may be 70, but the doorman knows how to work a smartphone and a scanner. So he could easily share this gem from an era when both men had more hair.
Karen Heller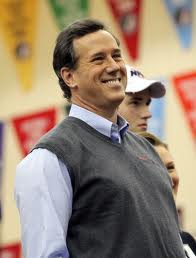 Since recovering Pennsylvanian Rick Santorum suspended his presidential campaign today, can we also suspend the sweater-vest trend?
Know Rick worked hard at rocking that look but, really, it never worked for us and certainly not for spring. Can you imagine the vest coupled with bright-colored jeans?
Uh, no.
Monica Yant Kinney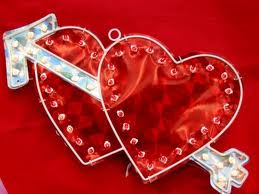 For those of you still scrambling to find the perfect Valentine's Day gift for your sweetums, the team at The Chris Stigall Show has a swell idea: A verbal smackdown from the Governor of New Jersey, because "nobody says 'love' like Chris Christie."
I caught the biting mock commercial for "Christie Cards" driving to work while listening to the WPHT 1210 AM radio talk show. Think Hallmark, but with instantly classic Christie-isms like "Numnuts" and "You must be the thinnest-skinned guy in America." (Stigall's producers kindly shared the clip below.)
Listening to the bit, I thought of an easy way Christie could have fun with his tough-guy image and raise much-needed new revenue for his cash-strapped state: Record custom voicemail for a fee.
Monica Yant Kinney
Sometimes, Blinq needs to refer readers elsewhere for edification. Today is one of those days, so I'll be sending you briefly to the Star-Ledger of Newark to peruse this must-read by my columizing colleague, Tom Moran.
If only our papers could have paired Moran's piece, about New Jersey Gov. Chris Christie risking his ethics-enforcing rep on an Essex County mover-shaker with my Sunday column lamenting the virtual silence in both states on matters of electoral reform.
In my piece, I point out that Christie made his name on cleaning up Garden State politics, but hasn't been as focused on the issue since he took the state's highest office. Moran, meanwhile, shows that the governor has chosen to stand by Essex County mahoff Joe DiVincenzo, a walking, talking, Super Bowl trip-taking example of the double-dipping and high-on-the-hog living voters (and Christie) supposedly abhor.