On the Job
Monica Yant Kinney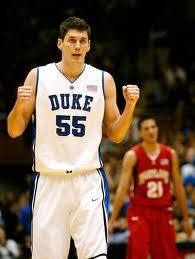 I have heard about athletes reinventing themselves, but nothing takes the cake like the creamy second act of Duke basketball standout, Brian Zoubek.
Zoubek, a 2006 Haddonfield High grad, helped the Blue Devils win the 2010 NCAA crown. He's 7-foot-1, weighs 265 and is easily recognizable on the means streets of our shared South Jersey suburb.
I had heard rumors that Zoubek, sidelined from the NBA with back troubles, was back in town and on the make. But the talk seemed so fantastic -- a jock opening a bakery? -- that it had to be a joke.
Karen Heller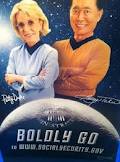 Went to the Social Security Administration's Center City office at lunchtime because someone in our house turned 16 last week and wanted her learner's permit, like yesterday, but aging parents couldn't remember where they put the card they acquired in 1996 because, really, what do you ever need the physicial thing except when you go to get a learner's permit?
Anyway, the digs aren't bad, 20th floor at 2 Penn Center, top floor, penthouse view.
But the odd thing is the SSA has a spokesman, actually two. I was sort of shocked to learn they're Patty Duke and George Takei, who played Hikaru Sulu on Star Trek.
Actually, I had to look up the name.
I always thought Sulu's first name was Mister.
Anyway, who would have ever thought to put these two folks together? Perhaps the thinking was "you know who these people are because they were on television a long time ago when you were young, but now you're not and might need your Social Security benefits."
But, really, why does a mandatory benefit program need an ad campaign?
Social Security isn't facing wicked competition the way the United States Parcel Service is. The postal service could really use Spock and Kirk, and Cathy and Patty Lane, and maybe whoever is left from Gunsmoke and Bonanza.
---Karen Heller
Karen Heller

Another day, another dumb publicist pitch ostensibly tied to a holiday.
Today's email links drinking and St. Patrick's Day -- actually, drinking too much on St. Patrick's Day -- and a "must have" hangover remedy because there's really nothing Irish Americans like more than being reduced to a stale stereotype for the sake of hyping a client:
"Hi Karen,
Monica Yant Kinney
Having previously blogged about the strange semen fixation of Corbett administration official Robert W. Patterson, I feel duty-bound to report on two exciting developments.
For starters, Mr. Patterson is finally leaving the building. Or, at least, he will next Tuesday, according to an update from my Harrisburg colleague Angela Coloumbis.
Patterson, if recall, made $104,470 to work in the Department of Public Welfare, which administers programs he bashed in a side job as editor of a conservative faith-based journal.
Monica Yant Kinney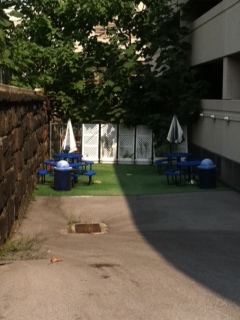 And now for something completely random:
For I don't know how many years, I have passed this sad little al fresco dining area, located at the bottom of a ramp-to-nowhere between the parking garage and surface lot used by the Inquirer, Daily News and employees of KYW Channel 3, among others.
Yes, that's astroturf. Yes, that's a white privacy screen. No, I've never seen a single soul even stopping by for a smoke.
Karen Heller
Thank you, State Rep. Mike Sturla! Thanks to the Democrat from Lancaster for taking our minds off Hurrican Irene, earthquakes and various nations in turmoil, and focusing our attention on sex and the Marcellus Shale.
As I wrote in today's column,
"Indeed, what I hear is that some local womenfolk see opportunity in these well-paid, gas-enriched strangers with their trucks sporting Texas and Colorado plates, An Officer and a Gentleman playing out in the Endless Mountains.
Monica Yant Kinney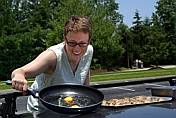 Procrastinating as I think about walking a few blocks to a lunch appointment when it's almost 100 outside, I'm reminded of the last few times I've tried to get smart about sweltering.
In June of 2008, I willed myself into labor in a heatwave, spending two exhausting (but cool!) days in comfort at Virtua Hospital in Voorhees. In June of 2003, I turned my husband's Ford Ranger into an outdoor stove to show that if you have to work when it's scorching, you should at least try to have fun on the job.
So here, just in time for lunch (best eaten at your desk), a little light reading from the archives:

Monica Yant Kinney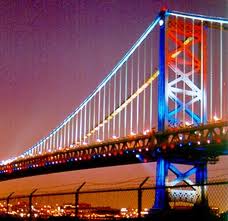 And now from the department of "More reasons to dread going to work:" $5 bridge tolls!
Yup, the time has come -- again -- to gin up your hatred for the Delaware River Port Authority.
This morning's commute cost me $4. Starting July 1, those dearies at the DRPA will begin charging $5 for the same privilege of getting stuck behind morons who drove into the E-ZPass lane before realizing they don't have E-ZPass.