Hunting News
Karen Heller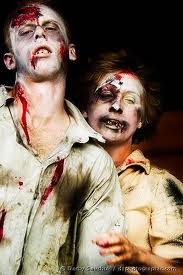 The normally staid Centers for Disease Control is helping the masses preparing for the Rapture, coming Saturday in case you didn't know, which is potentially putting a damper on your summer plans.
Yes, the CDC has compiled Preparedness 101: Zombie Apocalypse which is obviously, given the lowly number, a beginning course. Or, as a zombie might put it, a gut class.
Your federal tax dollars are hard at work, folks.
Daniel Rubin
Go to the American Debate if you want well-considered words on Hillary Clinton's "misspeaking" about having been under fire when she landed in Bosnia in 1996.
But stay here if you want to see newly discovered video of just how battle-tested she really was back in the day.
Daniel Rubin
Couldn't help getting sucked in by the tale of mysterious, short-snouted, blue-eyed beast found in the Maine woods when we were on vacation.
Local journals have been flooded by emails from those offering opinions about the nature of the creature. Some described it as the state's Chupacabra, a predator in the Southwest and Mexico. Others wagered it was extra terrestrial. Another suggested it was a mythological American Indian bogeyman called a Wendigo.
It was long thought something horrible lived in those woods.