Games
Monica Yant Kinney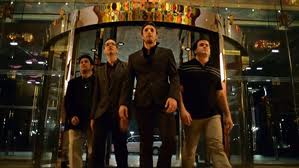 Coming Sunday: A column about a most intriguing art exhibit inspired by real-life gamblers at SugarHouse Casino.
The painter, Mat Tomezsko, told me he found inspiration both in the faces of the players and the casino's incessantly upbeat advertising.
Wonder what he'd think of this (new?) doozy from the competition at Parx Casino?
Monica Yant Kinney

Fancy yourself a sharp shooter? Put your photos to the test. They could wind up gracing the pages of the official Philadelphia Parks & Recreation 2012 Calendar.
City officials are again inviting anyone who has taken a digital image of a Philadelphia park or recreation scene to submit them for consideration. Landscapes, animals, historic sites, rec centers, parks, athetic fields -- all will be considered as long as they're 300 dpi.
For more information and to submit photos, click here. (Deadline: Oct. 30.)
Annette Hall
Every time Shirley Turpin Parham, professor emeritus at Cheyney University, calls me, I prepare myself to be schooled.
Today was no different.
"I always know the people who aren't from Philadelphia," she told me in a voicemail, "by what they advocate."
Daniel Rubin

, Inquirer Columnist

"Putting the IQ in Risque" is Johnny Goodtimes' bald pitch for press today, as he aims to get some pub for his Third Annual Quizzo Bowl, scheduled for Feb. 3 at the World Cafe Live.

Observers of counter-programming will notice that Saturday's gig shares a weekend with Wing Bowl, the annual Taste of Fellini held at the Wachovia Center.

"This is about more than making Quizzo sexy," he writes by e-mail. "It's about making Philadelphia sexy." The 215 unsexiness, he offers, is "a stereotype perpetuated by the Neanderthal eating contest that takes place every year. Trashy has had it too good in this town for too long. On February 3rd, sexy fights back."
Daniel Rubin

, Inquirer Columnist

The idea for the Wii Workout hit Mickey DeLorenzo in late November as he stood in his South Philly living room, virtually boxing his fiance.

They were playing one of the those new Nintendo systems that allow you to control the game by actually waving your hands. (Movement of the remotes directs the on-screen action.)

"We just went at each other, throwing punches," he said by phone Tuesday. "Ten minutes later, we're dripping with sweat. We couldn't even breathe. I'm thinking 'Oh, my God - this thing is working us out pretty good.'"
Daniel Rubin

, Inquirer Columnist

Wanna see something really scary?

No, not the picture of the four-legged Yoda, left. Or the Dog Bride, below right. It's this number: we're forking over about $4.96 billion on Halloween costumes, decorations, candy and cards - about five times what we'll spend on elections this year, a BBC blogger figures, noting that mid-terms are an "an equally horrible occasion populated by some equally scary characters." (A number of U.S. readers promptly tell the British blogger what he can do with his outrage.)

And I'm not even sure that number includes the growing pet-costume sector.
Daniel Rubin

, Inquirer Columnist

You know those back-of-the-book caption contests in the New Yorker where they draw something and you're supposed to come up with a clever bit of word play to win fame and a signed version of the cartoon?

If you're as bad at it as I am, maybe you'd do better with Radosh.net's anti-caption contest.

Take this drawing....
Daniel Rubin

, Inquirer Columnist

What was Chevrolet thinking when it green-lighted a competition for budding Madison Avenue types to make their own ads for the gas-guzzling, small village-crushing Chevy Tahoe?

Yeah, yeah - free pub, a little buzz.

But tag lines lines like "Chevy: Screwing us over since 1911?"